Yesterday, International Business Machines Corp (NYSE:IBM) announced that it just selected a new chairman for its board. IBM's Chairman, Sam Palmisano will be succeeded by the current company's CEO, Ginni Rometty. The 55-year old powerful woman will take the new role on October 1, the same day that Palmisano will step down. Palmisano will become a senior adviser for three more months before retiring in the beginning of December.
Ginni Rometty had a computer science and electrical engineering background. She joined IBM in 1981, and handled several business functions in IBM including Global Business Services, Sales, Distribution, Marketing and Strategy. She became president and chief executive officer earlier this year. Rometty has global business experience and an affiliation with leading businesses and public policy associations. In addition, she has outside board experience as a former director of American International Group (NYSE:AIG).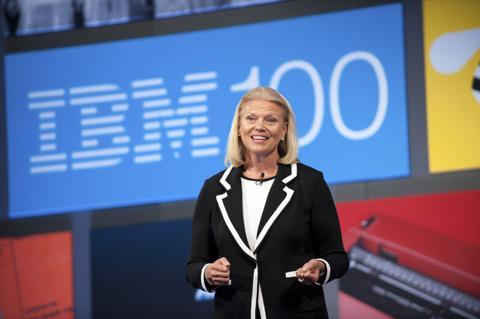 Click to enlarge
(Click to enlarge)
In 2002, when IBM purchased PwC's IT consulting business for $3.5 billion, Rometty was the general manager of IBM Business Consulting Service. She managed the integration of 30,000 PwC consultants into her group of 150,000 IBM employees. The acquisition wasn't successful until she convinced PwC consultants to stick around. She had to negotiate with PwC's top executive partners to have as much as a 40% cut in cash compensation to be comparable with IBM peers. Using stock options as an offset, Rometty also motivated new employees to stay with IBM for around at least 4 years. After she had done the marvelous integration job for that deal, IBM top executives began to pay attention to her.
During two years of being the head of the Consulting unit, she has boosted the unit's profit up to 42%. Laurence Balter, an analyst of Oracle Investment Research, said: "She's an operation and a sales person. That bodes well for the role as IBM starts to focus on their global growth, and she's really a global-minded leader. It's a good move from the board's point of view." Furthermore, Palmisano also shared his thoughts about Rometty in an interview with Michael Ussem, a Wharton management professor: "Ginni [Rometty] was great. She earned the job. She's been here for 30 years. She's been all over the company just like I had been all over the company. There were lots of other candidates for the job, but she won, to her credit."
In an interview with Fortune in October 2011, she said about her leadership style: "And I truly believe that part of that as a leader is I do very simple things. I mean, I ask everyone's opinion when they don't speak up. And then when they have an opinion, I'll ask others to talk about it. I mean, these are really basic, but I think you're often in environments where people don't do that. And if it's the norm and it's expected and everybody has to speak up, you have to have an opinion, and you have to argue. You know, you have to stick up for what you believe in. And that, to me, is the biggest thing you can do about driving inclusion."
Rometty is lucky to inherit an extraordinary global company with good historical growth. Its past CEOs, Lou Gerstner and Sam Palmisano, did extremely well in turning IBM from near-bankruptcy 20 years ago into a $230 billion company today. The annualized growth of net income has been 16% for the last 10 years. Nevertheless, Rometty, when taking over IBM as chairman, will have to deliver on the high expectations listed in IBM's 2015 roadmap, which Palmisano outlined before. He mentioned that the company would deliver at least $20 per share in 2015 and generate $100 billion in cash flow between 2010 and 2015. It would also spend $20 billion on acquisitions between 2011 and 2015.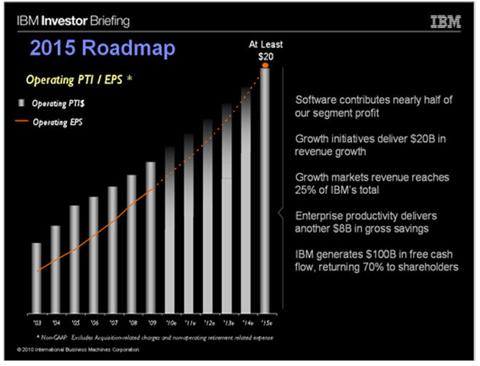 Click to enlarge
(Click to enlarge)
In Fiscal 2011, IBM's EPS was $13.06, cash flow from operation was $19.8 billion and free cash flow was $15.7 billion. So in order to have $100 billion in free cash flow and returning 70% to shareholders in 3 years to come, it is really a challenge for Rometty.
In 2011, Warren Buffett invested $10.7 billion to own 5.4% of IBM. One of the reasons he likes IBM is because IBM has been doing a great job of laying out where it's going to go and then goes there. He said: "They have laid out a road map and I should have paid more attention to it five years ago where they were going to go in five years ending in 2010. Now they've laid out another road map for 2015. They've done an incredible job. First, Lou Gerstner, when he came in, he saved the company from bankruptcy. I read his book a second time, actually, after I read the annual report. You know, "Who Said Elephants Can't Dance?" I read it when it first came out and then I went back and reread it. And then we went around to all of our companies to see how their IT departments functioned and why they made the decisions they made. And I just came away with a different view of the position that IBM holds within IT departments and why they hold it and the stickiness and a whole bunch of things. And also, I read very carefully what Sam Palmisamo has said about where they're going to be and he's delivered big time on his first venture along those lines." So for Warren Buffett, management is extremely important in assessing investment opportunities. For his IBM purchase, he did study the management to see whether they could be counted on.
Currently IBM is trading at $204.98 per share, the market capitalization is $234.25 billion. The market is valuing IBM at 14.9x P/E, 11.4x P/B and 11.8x cash flow. Comparing it to other big technology companies such as SAP AG (NYSE:SAP), Microsoft (NASDAQ:MSFT), Intel (NASDAQ:INTC), Oracle (NASDAQ:ORCL), Hewlett-Packard (NYSE:HPQ), VMware (NYSE:VMW) and Cisco (NASDAQ:CSCO), IBM ranks first in return on equity.

Click to enlarge
(Click to enlarge)
I think it is hard to know exactly how IBM will turn out under Rometty. However, with her 30 years of experience in the company and the abilities as well as the achievements she has achieved with IBM in the past, I think she can lead IBM to bright prospects in the future.
IBM's management has repeatedly shown to investors that IBM can be a stock for the long-term. Investors can follow Warren Buffett to buy IBM shares at the moment, and hold them in the portfolio in the long run.
Disclosure: I have no positions in any stocks mentioned, and no plans to initiate any positions within the next 72 hours. I wrote this article myself, and it expresses my own opinions. I am not receiving compensation for it (other than from Seeking Alpha). I have no business relationship with any company whose stock is mentioned in this article.