Marathon Oil's (NYSE:MRO) share value has just crossed the $30 mark. Not surprisingly, investors are wondering if this stock is really worth $30.76 per share, which is what it closed at on Friday, September 21st. Perhaps the company is poised to expand its production in the near future, but it is still showing negative income growth.
In the latest set of numbers, Marathon registered income growth of -9.30%, but it did show sales growth of 18.7% at the same time. So this company is increasing its sales, and the sales growth is outpacing the drop in income growth. This does translate into a rather interesting net profit margin of 11.43% and an earnings per share ratio of $1.30. Marathon is also paying a dividend rate of $0.68, and it has a debt to equity ratio of .30%. Marathon has strong fundamentals, but does it have a future?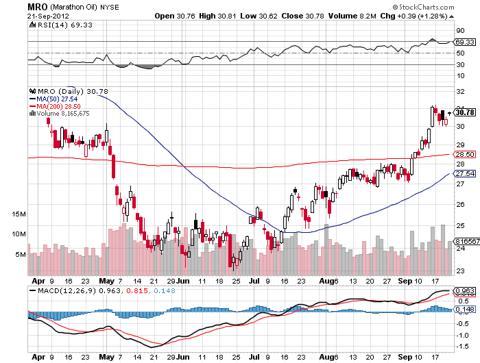 Investors are saying yes. Marathon has been rising steadily since July, having survived a steep drop off over the summer. The question value investors have to ask is whether or not Marathon can deliver increased production as well as increased sales in the future. Some stock pundits seem to think the answer is yes because Marathon is heavily invested in new projects, such as the Athabasca oil sands in the Canadian province of Alberta. Athabasca is the only oil sands deposit in the world that is suitable for open pit mining. The International Energy Agency estimates that there are 171 billion barrels of oil in the sands.
Marathon has some impressive holdings there including a 20% outside operated interest in the Athabasca Oil Sands Project. This project contains the Muskeg River and Jackpine Mines as well as the Scotford Upgrader. Marathon also has access to 216,000 acres of land that might contain oil. The company also has leases that cover 143,000 acres of land near Fort McMurray, Alberta, that contain an estimated 1 billion barrels of net bitumen. The oil near Fort McMurray will have to be recovered with the in-situ process.
Marathon's other holdings in the area include a 100% interest in the Birchwood Project, an in-situ production facility in the Cold Lake Oil Sands. Other holdings in the area include a 60% working interest in the Namur Project, a 20% interest in the Ells River Project, which is shared with Chevron (NYSE:CVX), and a 33.33% interest in the Saleski Project, which is operated by Royal Dutch Shell (NYSE:RDS.A). Laricina Energy Ltd is the project operator at Saleski, and it has plans to expand the project to produce 12,500 barrels of oil a day.
What this means is that Marathon has large holdings at one of the world's fastest growing oil fields. More importantly, the oil sands are located in one of the world's most democratic and politically stable countries: Canada, a country that is located directly to the north of the United States.
Marathon also has some impressive operations elsewhere in the world. The most important of these is in the Kurdistan Region in Iraq, which is right next to Turkey. The company has exploration blocks that give it access to 279,000 gross acres. Exploration has not begun there yet, so nobody knows how much oil Marathon has access to in Kurdistan. Even though Kurdistan is unstable, it is right next to Turkey, so it will be easy to ship oil from Kurdistan to the European Union.
In the African nation of Equatorial Guinea, Marathon owns a 63% interest in the Alba field, a 52% equity interest in the Alba liquefied petroleum gas (NYSE:LPG) plant, a 45% equity interest in the Atlantic Methanol Production Company, and a 60% interest in another liquefied natural gas facility on Bioko Island.
What this means is that Marathon has some highly diversified operations. More importantly, it is not betting its future on just one project; it has operations all over the world, and it is developing important new sources of oil, such as the oil sands.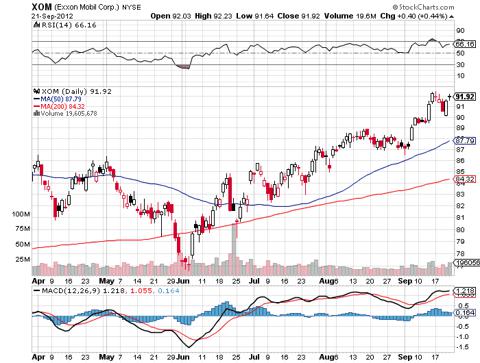 The best thing about Marathon, though, is its P/E ratio of 11.93, which makes it appealing when compared to larger oil producers, such as Exxon Mobil (NYSE:XOM) at 9.66, Chevron at 8.68, and Royal Dutch Shell at 8.35.
Marathon is definitely a value buy in the oil sector. It has a comparatively high P/E ratio and tremendous growth potential. Unfortunately, the share price may not remain low for long.
Disclosure: I have no positions in any stocks mentioned, and no plans to initiate any positions within the next 72 hours. I wrote this article myself, and it expresses my own opinions. I am not receiving compensation for it (other than from Seeking Alpha). I have no business relationship with any company whose stock is mentioned in this article.