In our May 14th research report on CenturyLink (NYSE:CTL), we couldn't help but notice how CenturyLink and its rural telecom competitors have had numerous dealings with Verizon Communications (NYSE:VZ). We have decided to explore this further by comparing how each rural telecom company's deals with Verizon have worked out by comparing each firm in a series of head-to-head reports. We first compared FairPoint (NASDAQ:FRP) against CenturyLink because FairPoint acquired Verizon's Northern New England operations. Despite FRP surprising us with a higher broadband customer growth rate, we could see that CenturyLink's deals with Verizon worked out better than FairPoint's purchase of Verizon Northern New England. We can make this conclusion because CenturyLink has not been forced into bankruptcy, unlike FairPoint. On September 11, we compared Frontier (NYSE:FTR) against CenturyLink and we could see that CenturyLink is a much stronger company than Frontier and that Frontier should not have purchased the legacy GTE leftovers that Verizon was selling. In this report we will be comparing Windstream (NASDAQ:WIN) versus CenturyLink. We believe that Windstream is a much better competitor to pit against CenturyLink than FRP and FTR because Windstream acquired the regional data center and managed data solutions firm Hosted Solutions in 2010 and followed CenturyLink's acquisition of cloud-computing infrastructure firm Savvis with the acquisition of PAETEC (NASDAQ:PAET). We also like the fact that CenturyLink boasts a 6.92% dividend yield and Windstream's yield is 9.14% as of September 24th.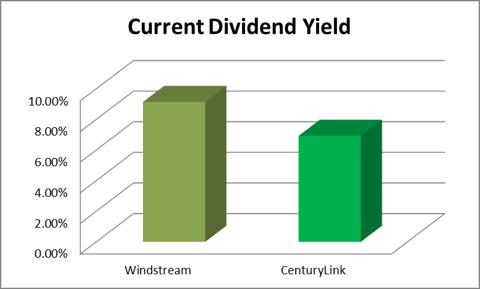 Source: Morningstar Direct
Evaluating Company Dealings with Verizon
Windstream: Windstream was formed in 2006 from the merger of Alltel's wireline business with VALOR Communications Group. VALOR was founded in 2000 through the acquisition of assets from GTE Southwest that Verizon had disposed of in order to gain regulatory approval to acquire GTE in 2000.
CenturyLink: CenturyLink had also acquired assets from GTE Southwest from 2000-2002 (Arkansas, Oklahoma, and Missouri). CenturyLink also acquired GTE's Alabama operations from Verizon in 2002. CenturyLink paid for these acquisitions by selling its wireless operations to Alltel in 2002. Alltel Wireless was later acquired by Verizon Wireless in 2009. CenturyLink's predecessor Qwest Communications (NYSE:Q) had turned its Qwest Wireless MVNO over to Verizon Wireless in exchange for earning the right to be a reseller of Verizon Wireless products and services. When CenturyLink acquired Qwest in 2011, it assumed Qwest's reseller agreement with Verizon Wireless.
Advantage: We would give a slight advantage to CenturyLink because of CenturyLink's relationship with Verizon Wireless
Evaluating Cloud Computing Operations
Windstream: Windstream entered the cloud-computing infrastructure services and solutions business with the acquisition of Hosted Solutions Acquisition LLC. Hosted Solutions Acquisition LLC was a leading regional data center managed hosting provider focused on enterprise-class Infrastructure as a Service (IaaS) solutions (managed hosting, managed services, colocation, cloud computing and bandwidth) for business customers. Windstream paid $312.8M in cash to acquire Hosted Solutions and added five state-of-the-art data centers to its existing portfolio of seven data centers as of 2010. The acquisition of PAETEC allowed it to expand its data center footprint to 21 data centers as of 2011 and Windstream has 22 data centers as of H1 2012. The one knock we have on Windstream's cloud business is that it is lumped in with total business revenue rather than broken out separately in the financial statements.
CenturyLink: Windstream had a head start on CenturyLink in the cloud computing infrastructure services business but CenturyLink's acquisition of Savvis helped CTL catch up and surpass Windstream. Savvis has overcome its history of being a money-losing dot-bomb which had to renegotiate its naming rights deal with the St. Louis Blues hockey team. Savvis had prepaid the first six years of the naming rights deal with stock that went from $9/share in 2000 to $.65 in 2001 before rebounding to $1.40 in 2002. The decline in Savvis' shares resulted in the company having to pay an additional $1.25M in cash each year for the naming rights deal until 2006, when Scottrade took over the naming rights deal. We can see this because Savvis' revenue has increased from $186M in 2000 to $1B in 2011. This revenue growth was due to the acquisition of Cable & Wireless's CWA network and hosting services operations in 2004, the acquisition of Fusepoint in 2010 and organic growth. Savvis has over 50 data centers worldwide with over 1.4M square feet of sellable floor space.
Advantage: We would give a strong advantage to CenturyLink because CenturyLink has kept Savvis as an autonomous subsidiary of CenturyLink. We can see that Savvis has more data centers than Windstream and that it has more business customers than the legacy Hosted Solutions business. CenturyLink also provides more detailed financial reporting than Windstream on Savvis than Windstream does for its cloud operations.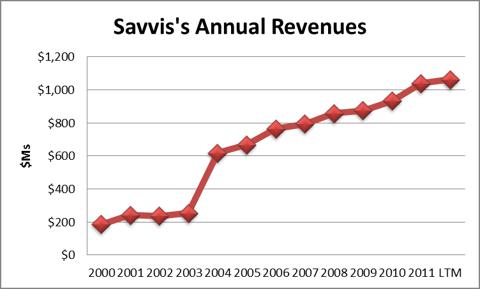 Sources: Savvis's 2000-2010 10-K reports and CenturyLink's Earnings Releases
Dividends
Because both companies need increases in strategic communications services such as broadband internet, cloud computing infrastructure services, business communications and wireless backhaul services to offset steady declines in consumer wireline revenue, we do not expect any material dividend growth from either company. At the same time, these companies offer exceptionally high yields relative to the S&P 500. In fact, Windstream is the third highest dividend yielding stock in the S&P 500 and CenturyLink is the sixth-highest dividend yielder. While each of these companies pays dividends well in excess of GAAP-basis EPS, each firm's EPS has been influenced by large depreciation and amortization expenses which has served to increase operating and free cash flows well in excess of GAAP-based net income. We are pleased to see that both companies have had dividend payout ratios between 55-80% in H1 2012. WIN will be going ex-dividend on September 26th and CTL went ex-dividend earlier this month.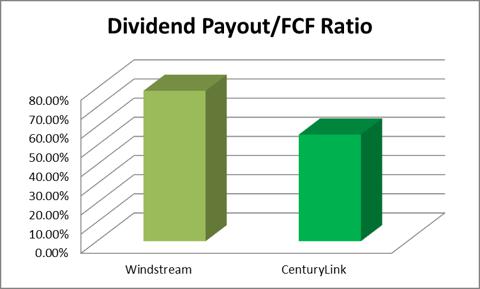 Source: Morningstar Direct
We would give a slight advantage in this category to CenturyLink in this category because although it has a lower dividend yield than Windstream it has a significantly lower payout ratio even though its free cash flows were negatively impacted due to changes in working capital for Q2 2012 and year-over-year increases in capital expenses to integrate Qwest and Savvis. As much as we crave the 220bp yield pickup by switching from CenturyLink to Windstream, we are interested in seeing Windstream's payout ratio converge with CenturyLink's.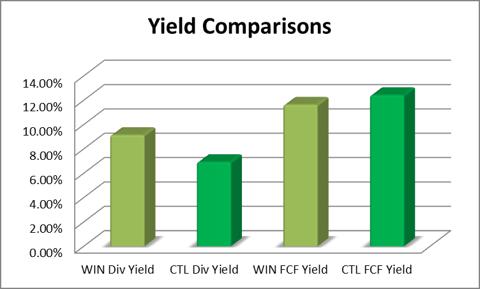 Source: Morningstar Direct
Conclusion
In conclusion, we are intrigued by Windstream's annualized dividend yield of 9.14%, as it represents a yield pickup of over 220bp versus CenturyLink's. Despite the fact that Windstream has gained 18% since bottoming out after its weak Q2 2012 earnings report, we are not ready to say that Windstream is no longer facing any headwinds. One thing that would compel us to switch our rural telecom allocation to Windstream from CenturyLink would be if the company struck a wireless telecommunications resale deal with Verizon, AT&T, Sprint or even T-Mobile USA. We like that Windstream has seen numerous insider buying transactions, albeit for trades that were not for much in the way of shares and dollars. Entering this year, we were considering replacing CenturyLink with Windstream but based on Windstream's struggles in the Wholesale Market, we have strengthened our confidence in our CenturyLink holding.
Disclosure: I am long CTL. I wrote this article myself, and it expresses my own opinions. I am not receiving compensation for it (other than from Seeking Alpha). I have no business relationship with any company whose stock is mentioned in this article.
Additional disclosure: This article was written by an analyst at Saibus Research. Saibus Research has not received compensation directly or indirectly for expressing the recommendation in this article. We have no business relationship with any company whose stock is mentioned in this article. Under no circumstances must this report be considered an offer to buy, sell, subscribe for or trade securities or other instruments.