Investors Can Find Total Return With CAD
With benchmark policy rates at all time lows and the Fed and the ECB pursing unprecedented levels of asset purchases, it may seem impossible to ascertain a decent risk-adjusted yield in high credit quality debt. Alas, investors can find this total return with CAD, which is PIMCO's Canadian Bond Index Fund. The Canada Bond Index Fund is the only ETF that aims to provide focused exposure to the Canadian dollar-denominated, investment grade bond market. The fund seeks total returns that closely correspond, before fees and expenses, to the Bank of America Merrill Lynch Diversified Canada Bond Index. Already CAD has a YTD return of over 4% and a distribution yield of 2.65%. Investors seeking quality investments can diversify with CAD as the global macroeconomic conditions places additional value in Canada.
Fundamentally Speaking
In an environment of subdued economic growth, Canada remains one of the developed nations' only stalwarts. Recently, Canada produced GDP growth of 1.8% for the 2nd quarter of 2012, marginally surpassing US GDP growth of 1.7% during the same period. The table below shows the IMF's forecast for GDP growth.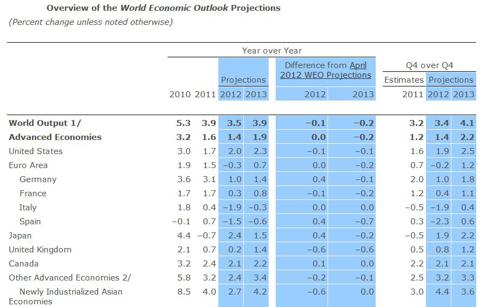 Click to enlarge
Source: IMF, World Economic Outlook Update, IMF
Along with outperforming US growth, Canada is one of the few countries that has managed to maintain the trophy credit rating of AAA. For investors seeking sovereign stability, investing in the CAD provides this avenue.
Global monetary policy has gone in the direction of balance sheet expansion and asset purchases. The Fed has stated that it will expand its balance sheet by purchasing US$40Bn in MBS per month to maintain price stability and keep its interest rates low. The ECB also indicated that it will purchase European Sovereign debt along with increasing its deposit base, thereby mitigating the effect of balance sheet expansion. Furthermore, the BoJ pursued monetary expansion to keep interest rates low and stimulate demand. However, to date, the BoC has not traveled along the road of monetary expansion. Over the past two years, Canada's benchmark rate has remained at 1%, above the benchmark rates of the ECB, the Fed and the BOJ of 0.75%, 0-0.25% and 0-0.10% respectively. The chart below shows historical central bank policy rates in major advanced economies.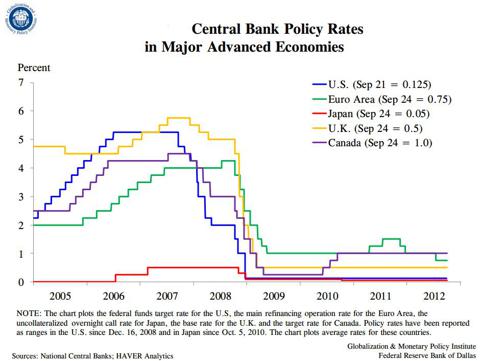 Click to enlarge
Source: Global Economic Conditions, Globalization and Policy Institute Federal Reserve Bank of Dallas
When investors compare CAD to yields of the US, Europe and BoJ fixed income ETFs of comparable credit quality and duration, investors will find that CAD offers an attractive yield pick-up while maintaining exposure to investment grade sovereign debt.
| | | | | |
| --- | --- | --- | --- | --- |
| Ticker | Security Name | Distribution Yield (%) | Average Maturity (yrs) | Yield to Maturity (%) |
| CAD | PIMCO Canada Bond Index Fund | 2.65 | 13.19 | 2.48 |
| | Barclays Government/Credit Bond Fund | 2.40 | 7.95 | 1.55 |
| | Barclays 7-10 Year Treasury Fund | 1.64 | 8.45 | 1.44 |
| | S&P/Citigroup International Treasury Bond Fund | 1.81 | 8.48 | 1.96 |
| IBGL | iShares Barclays Capital Euro Government Bond 15-30 | 3.78 | 22.06 | 3.77 |
Technically Speaking
After a pullback in May, CAD, the PIMCO Canada Bond Index Fund rallied, making 52-week highs of 108.90 on September 25th 2012. CAD seems to be in an overbought position, as seen in the RSI which is in the chart below. Therefore the Buy the Dip Strategy, as seen in my previous article Mario and Ben Lightened My Winter, may be utilized.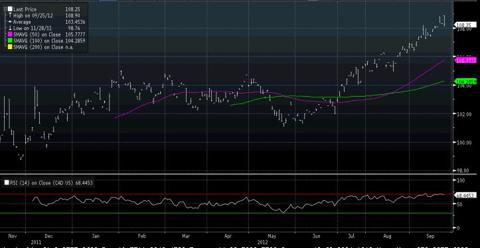 Click to enlarge
CAD Daily RSI Chart
CAD's DMI, as seen in the chart below, also seems to be indicating that the security is oversold and ready for some type of short term pullback. Demand for the bonds in the Index Fund or the Index Fund itself may be exhausted, causing the price of the security to decline in value. Short term support may be held at the Smoothed 50-Day Moving Average, which is in purple and is currently around the 105.78 price level. This is a 2.95% decline from the highs which is consistent with a pullback.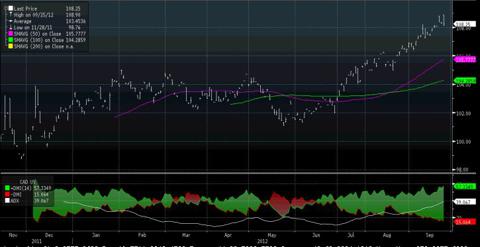 Click to enlarge
CAD Daily DMI Chart
Can With CAD
Investors seeking price stability and a higher distribution yield than other AAA sovereigns can invest in a position in CAD. The country has been performing better than its peers in terms of GDP growth and has a higher interest rate environment, as seen by its benchmark rate. Investors can consider a 10-15% geographic allocation of their fixed income portfolio in Canadian assets, including CAD.
Disclosure: I have no positions in any stocks mentioned, and no plans to initiate any positions within the next 72 hours. I wrote this article myself, and it expresses my own opinions. I am not receiving compensation for it (other than from Seeking Alpha). I have no business relationship with any company whose stock is mentioned in this article.