For most people, a visit to the gas station is about as mundane and routine as it gets. Pull up to the pump, swipe your credit card, fill up, and move on with your day. But behind that simple (albeit expensive) experience there is a massive and global infrastructure. Trillions of dollars are invested throughout the world to build the wells and rigs in the middle of the ocean, to develop the technology to access natural gas shale miles beneath the surface of the earth, and to build the thousands of miles of pipelines and mega processing facilities to convert the raw oil into the 87 octane you put into your vehicle.
Today we dive into this world of pipelines and processing plants with a diversified play within the sector. With a 10% dividend yield, strong cash flow, and a solid balance sheet, we've taken a long look at the Cushing MLP Total Return Fund (NYSE:SRV) and recommend you do as well.
A Diversified Play in a Volatile Market
Several weeks ago, the WSF analyzed alternative investment strategies to play the Bakken oil and natural gas fields in North Dakota. Our thesis was simple -- this region is booming and the giant multinational players are an inefficient vehicle to invest in the Bakken's growth. Today we expand this thesis more broadly across the entire oil and gas sector. Specifically, the WSF recommends a long position in SRV, a closed-end oil and natural gas fund investing in master limited partnership (MLP) companies in this sector.
SRV is a strong, well-capitalized fund that has strong distributable cash flow derived from a well-diversified portfolio of MLP across the oil and natural gas sector. It supports an excellent dividend yielding 10.0% as of the Sept. 10, 2012, market close based on the most recent quarterly distribution of $0.225 per unit. Beyond being fundamentally sound, SRV's portfolio is structured to address the key significant risks in this industry. We recommend this dividend play as a safe way to invest in the current low-yield, low-rate investing environment.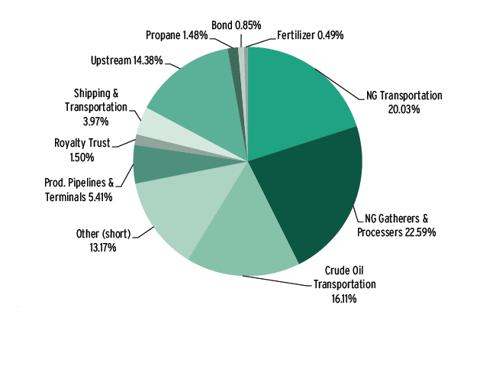 Compared to peer and alternative MLP investment vehicles, SRV is the recommended choice due to its fund performance relative to benchmarks. Over the three-, five-, and seven-year periods ended Dec. 31, 2011, SRV has outperformed each of its benchmarks -- most notably outperforming the Alerian MLP Index Total Return by 14.8%, 23.0%, and 22.6% for the three-, five-, and seven-year benchmarks, respectively.


As of June 30, 2012. Source: www.cushingcef.com.
SRV is fundamentally sound and supports continued high performance above the benchmark. The fund has net assets of $220.9 million as of June 30, 2012, with leverage of just 28% of total assets. SRV's debt-to-equity ratio is 0.48 times. As of its annual report in November 2011, the fund reported $72 million in short-term borrowings, which accounts for 63% of its total liabilities. This short-term leverage is more than adequately mitigated by $69 million in cash (a near 1:1 ratio). It should be noted that this ratio fluctuates naturally throughout the year as dividends are paid. As of June 30, 2012, this ratio stood at 63%, which is still sufficiently prudent given the semi-liquidity of its equity investments. The resulting picture is a well-capitalized, safely leveraged, and sufficiently liquid balance sheet that supports continued dividend payments from investment income.
On the income statement, the funds income received from MLP investments have increased 163% from fiscal year-end 2008 to fiscal year-end 2011. Over the same period, distributable cash flow has increased 165% from $9.4 million to $24.9 million. This coincides with an increase in net assets per common share of 95% over the period. While the distributable cash flow per share has decreased roughly 25% over this time period, this is no cause for concern given the dramatic increase in the raw numbers and the strong yield of 10%. This decrease is a result of the legal structure of MLPs, which require 90% or more of investment income be distributed to shareholders. This requirement forces the MLP to raise capital through debt and/or equity to finance new projects, causing predictable equity dilution with growth. Therefore, the key metrics to focus on in this structure is the raw distributable cash flow to maintain the dividends and yield per unit to assess return on investment.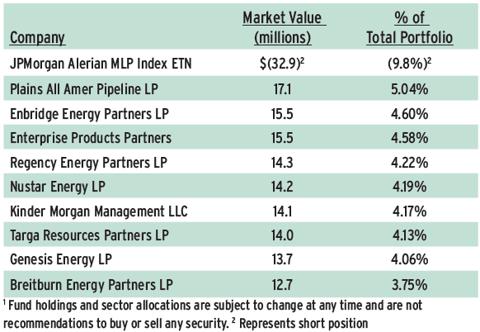 As of June 30, 2012. Source: www.cushingcef.com.
At 9.8% of total portfolio, the fund's largest holding is a short interest on AMJ, the JPMorgan Alerian MLP Index ETN. This short interest is in anticipation of JPMorgan ending new note creation for the fund, effectively converting the fund to a closed-end model. This change will eliminate the in-kind exchange process, one of the key checks and balances keeping the market price per unit of the ETN in balance with the net asset value of the fund (basically meaning that volatility in share price will increase with the decoupling of market value and net asset value). As a closed-end fund, the ability to monitor and manage per unit pricing decreases significantly; SRV is anticipating a flight of capital from AMJ when this change goes into effect, as income investors will avoid the risk of significant capital depreciation eroding yield.
Headwinds -- What Are the Risks and How Are They Mitigated?
While MLP investments in the oil and natural gas sector are currently performing well, there are significant risks that should be noted and mitigated.
First and foremost is the risk of a change in the tax treatment of the MLP corporate structure. Currently, these partnerships are eligible to pass through tax liability via IRS Form 1099 and are then taxed at the dividend tax rate. Therefore, the majority of the holdings in SRV's portfolio do not themselves pay taxes and thus avoid the "double taxation" of the more common C-Corporation structure. This provides a material tax advantage of investing in MLPs. If the political environment is such to change the tax advantaged treatment of MLPs, then there is significant risk of asset depreciation in the markets on a per unit basis for SRV. However, this is not an immediate risk in the next 12 months.
We see this risk first being highly dependent on the outcome of the November presidential election. A Republican win would largely put this risk to bed for at least four years. While the Democratic platform does call for raising the capital gains tax, our assessment is that risk is sufficiently small over the next 12 months to merit a medium-term investment. First, the political partisanship currently pervading the nation's capital is such to cause a prolonged legislative battle before any clear outcome will emerge. Second, the Democratic platform is calling for a return to the Clinton-era capital gains tax rate-a marginal increase from today's rate. As such, we feel this investment is worthwhile for the next 12 months, but will require monitoring the political situation through at least this election cycle.
Another risk is volatility in the commodity pricing for both petroleum and natural gas. SRV has structured its portfolio to mitigate this risk by investing primarily in transport, processing, and terminals. With little to no exposure in the drilling and selling of the commodity itself, the company is largely unaffected by these price fluctuations. The business model is similar conceptually to a credit card processor. The processors simply collect a fee every time a buyer uses a credit card without shouldering any of the credit risk.
The oil and natural gas industry is very capital intensive. Firms are required to invest in expensive, specialized equipment to extract the oil and gas, transport it, store it, process it, and distribute it. Currently, borrowing costs are very low driven by the monetary policy of the Federal Reserve. If the Fed were to raise rates, the cost to borrow money to fund these capital requirements would increase and reduce profitability. This event would reduce the distribution potential of the MLPs in SRV's portfolio and thus reduce the total return of SRV. This risk is sufficiently mitigated over our investment timeline given the likelihood of continued low rates based on current slow growth in the U.S., continued high unemployment rate, and low inflation. The Fed has made it clear that it intends to keep rates low.
Conclusion
In conclusion, SRV represents a high-yield dividend, fundamentally strong, and well-positioned play on the energy industry, specifically oil and gas. The fund has a strong balance sheet and excellent cash flow that together support a continued dividend payout. The company is well positioned to manage the macroeconomic risks in the industry, and we believe the risks both economically and politically are sufficiently mitigated to justify an investment for the next 12 months. The markets today are yield-starved, volatile, and uncertain. SRV is a high-yield and stable investment, supported by the financial and economic fundamentals.
Disclosure: I have no positions in any stocks mentioned, and no plans to initiate any positions within the next 72 hours. I wrote this article myself, and it expresses my own opinions. I am not receiving compensation for it. I have no business relationship with any company whose stock is mentioned in this article.