Occidental Petroleum (NYSE:OXY) has become the quiet success story in the energy business. The company has racked up some impressive numbers while attracting little or no attention. It has also maintained a share price that exceeds that of better-known energy players such as BP (NYSE:BP) and Royal Dutch Shell (NYSE:RDS.A). Yet the interesting thing for value investors is that Occidental's share value has been dropping lately despite some good fundamentals.
Click to enlarge images.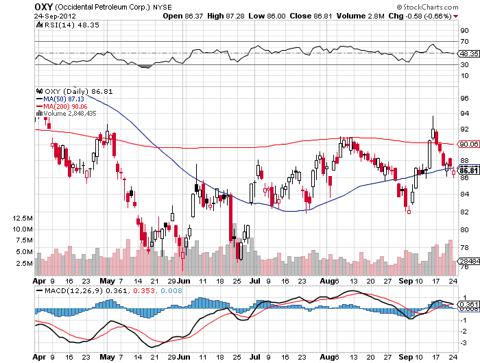 Click to enlarge
As you can see, Occidental had a very rocky summer, but it managed to come back and drop again. Like a number of its competitors, such as Apache (NYSE:APA), Occidental has been hit by falling oil and gas prices, but not that badly. Shares seem to be falling because analysts think the 24% profit days for oil and gas companies are over. The big drag on profits though seems to be natural gas prices, which have fallen by 70% since 2008.
Despite the collapse in gas, Occidental is still a good company with good fundamentals and good capabilities. Occidental reported 25.9% sales growth and 45.3% income growth for the last year. At the same time, it displayed a 0.19% debt-to-equity ratio and a 24.38% increase in net profits. The numbers at Occidental are still great even as its stock falls.
The company still offers an earnings per share number of $7.74, so it has managed to weather the collapse of gas prices brought on by the Chesapeake Energy (NYSE:CHK) debacle. Even if its profits fall, Occidental is still in a place that most companies would kill to be in. Even if its net profits dropped by half it would still be 12.9%, which is a good figure.
Lots of U.S. Energy Reserves
Occidental's best asset might be all the energy reserves it owns or has access to right here in the U.S. It owns mineral rights to 1.7 million acres in California alone. The company is the Golden State's largest oil and gas producer and it is expanding.
Occidental has launched an aggressive drilling and expansion program in California. Among other things, Occidental is trying to revive several historic oil fields in California, including the Dominguez Field in Carson in South Central Los Angeles. The Dominguez Field contains an estimated 52 million barrels of oil and it is right in L.A., so transportation costs will be low.
News articles indicate that Occidental has developed an impressive capability to drill for oil in urban areas. Among the examples of new techniques it has mastered include working with local residents and disguising extraction operations as warehouses.
In addition to the Dominguez, Occidental has properties in 50 other older oil fields in California. These are managed by its Vintage Petroleum California LLC, which owns rights on 1.5 million acres. Vintage's business plan is to use modern Enhanced Oil Recovery techniques to pump out the oil that older techniques couldn't get.
These capabilities show that Occidental is in a position to develop new, lower-cost oil fields in the United States. It also has the technology and expertise to revive older fields and reduce some of the ancillary costs associated with energy production, such as transportation.
Occidental has also been making extensive purchases in North Dakota, including acreage in the Bakken and Three Forks Formations. The company has also been buying land in the Williston Basin in North Dakota. That state is now the second largest oil producer in the U.S., and some experts believe that the Bakken Formation there contains 900 million barrels.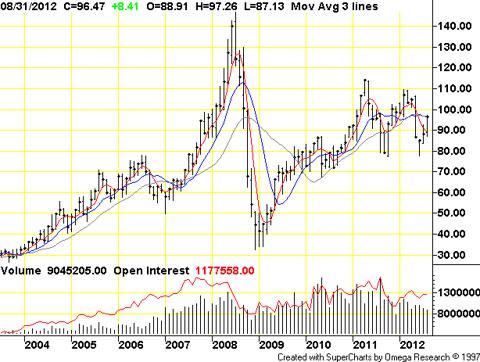 Click to enlarge
Oil Prices Justify Occidental's Strategy
There is an obvious danger to this business model of concentrating on U.S. assets. Oil prices will have to remain high enough to cover the additional costs of drilling and pumping in the United States. Prices are going up, and the current one-year forecast is for $106 a barrel, which seems to justify Occidental's spending campaign in America. We probably won't see $110/barrel oil again anytime soon, but prices will certainly justify Occidental's policies.
Occidental may not be as well known as Exxon Mobil (NYSE:XOM), Chevron (NYSE:CVX) or Royal Dutch Shell, but it is certainly worth considering. It is a very profitable company that is in a good position to expand its production and cash flow. The market's pessimism about Occidental is misplaced; this stock is a value buy.
Disclosure: I have no positions in any stocks mentioned, and no plans to initiate any positions within the next 72 hours. I wrote this article myself, and it expresses my own opinions. I am not receiving compensation for it (other than from Seeking Alpha). I have no business relationship with any company whose stock is mentioned in this article.