Lately, there have been growing speculations about the world's largest fertilizer producer, Potash Corp. of Saskatchewan (NYSE:POT), being taken over by a Chinese company. The following note analyzes whether it is a possibility. In addition, it highlights the comparative advantages that POT enjoys, and pinpoints the reasons behind our bullish stance on the company.
Is History Repeating Itself?
More than two years ago, POT received a hostile takeover bid of $38.6 billion from BHP Billiton (NYSE:BHP), the world's largest mining corporation. However, the offer was termed as "grossly inadequate" and rejected because the Canadian government was not willing to allow such a strategic resource falling into foreign hands. Even at that time, there were speculations about a Chinese buyer, Sinochem International Corp, which is China's largest chemicals trader. However, Sinochem was not able to make any credible offer because it could not finance the deal on its own.
A takeover by China still seems unlikely. According to Xu Hongzhi, a Beijing-based analyst, "China's potash demand will be more substantial in the long run than that of Brazil's or India's. Who would want their biggest customer to take control and tell them what to do with their product's sales prices?"
Potash Corp controls around 20% of global potash supplies. Supplies are limited because they are normally found deep underground, and hence new developments entail long lead times and high capital intensity. Furthermore, production is concentrated in a limited number of countries, with Canada, Russia and Belarus being the three largest producers of the world.
Canpotex
Canpotex, short for Canadian Potash exporters, is a Canadian potash exporting and marketing consortium based in Saskatchewan. It is owned by three major fertilizer companies, namely, Potash Corp., The Mosaic Company (NYSE:MOS) and Agrium Inc. (NYSE:AGU).
The following chart shows the ownership structure of Canpotex: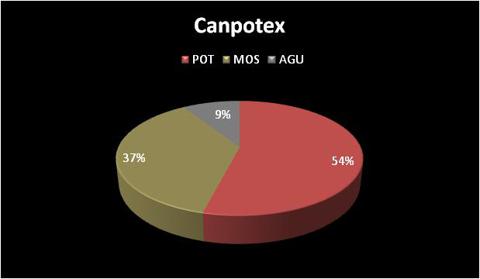 Click to enlarge
(Click to enlarge)
As Canpotex is the world's largest exporter of Potash, having the largest share in it gives POT a competitive advantage over its peers. Canpotex has recently signed a five-year deal to supply potash to Indonesia. According to its president and CEO, Steven Dechka, "Indonesia is one of the most exciting, rapidly growing potash markets in the world, and Canpotex is the largest supplier of potash to this important market." It is a good strategy to secure long term potash buyers because recent forecasts suggest that by the year 2020, worldwide potash reserves will exceed the demand by 59%-100%.
Potash Corp.
The company is not only the largest producer of potash, but also the third largest producer of nitrogenous and phosphate fertilizers. The company recently increased its quarterly dividend by 50%, and has a strong cash flow position. After the year's severe drought in the U.S. decimated grain output, the company expects demand for fertilizers to increase, as farmers target higher crop yields in the next planting season.
The following table shows important valuation metrics for Potash Corp. and its peers, The Mosaic Company, Agrium Inc. and CF Industries Holdings Inc. (NYSE:CF). Although POT is not our top pick among fertilizers, we continue to remain bullish on the stock.
| | | | | |
| --- | --- | --- | --- | --- |
| | POT | MOS | AGU | CF |
| Forward P/E (1 year) | 11.51 | N/A | 10.13 | 8.69 |
| EV/EBITDA (TTM) | 10.01 | 6.97 | 5.81 | 4.27 |
| Dividend Yield | 1.90% | 1.00% | 1.00% | 0.70% |
| Share price performance (YTD) | 4.83% | 14.11% | 51.64% | 47.70% |
Disclosure: I have no positions in any stocks mentioned, and no plans to initiate any positions within the next 72 hours.
Business relationship disclosure: The article has been written by Qineqt's Basic Materials Analyst. Qineqt is not receiving compensation for it (other than from Seeking Alpha). Qineqt has no business relationship with any company whose stock is mentioned in this article.