FirstEnergy (NYSE:FE) is doing the "merchant power shuffle" -- one step forward, two steps back. Like many of its competitive power brethren, FirstEnergy has been expanding its regulated utility base as merchant power markets remain under duress. FirstEnergy offers meaningful exposure to all aspects of the electric utility sector -- regulated electricity, transmission, and merchant power.
Here's a good description of the company from Wikipedia:
FirstEnergy Corporation is a diversified energy company headquartered in Akron, Ohio. Its subsidiaries and affiliates are involved in the generation, transmission, and distribution of electricity, as well as energy management and other energy-related services. Its ten electric utility operating companies comprise the nation's largest investor-owned electric system, based on serving 6 million customers within a 67,000-square-mile (170,000 km2) area of Ohio, Pennsylvania, West Virginia, Virginia, Maryland, New Jersey and New York. Its generation subsidiaries control more than 23,000 megawatts of capacity, and its distribution lines span over 194,000 miles.
FirstEnergy should generate about 70% of earnings from regulated businesses, such as state-regulated Ohio Power and Allegheny Power in addition to FERC-regulated transmission and distribution (T&D). With the largest contiguous marketing area of U.S. electric utilities, FirstEnergy services a wide swath of coal and natural gas resources area, creating the potential for a higher-than-average electrical consumption growth. FirstEnergy operates the second-largest T&D network, giving it critical mass for favorable expansion approvals.
However, like many merchant power producers, especially in the Northeast and Midwest, power prices remain at recessionary levels. A revealing table is available in FirstEnergy's latest investor presentation dated Sept. 19-20:
Click to enlarge images.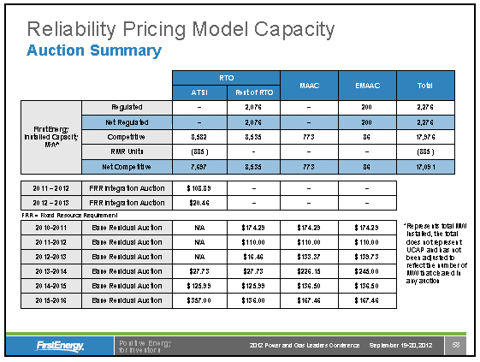 This table lists the "Reliability Pricing Model Capacity Auction Summary" from 2010 to 2016. With PJM purchasing power contracts using rolling three-year contracts, it becomes evident that better days should lie ahead for merchant power pricing in FirstEnergy's service area.
Coal is currently categorized as a "four-letter word," and FirstEnergy is in the process of getting its mouth washed out with soap as about 60% of current power generation is from coal. There have been a lot of articles written about the EPA's stance on coal emissions and its impact on coal-fired power generation. Reacting to the current environmental and political climate, FirstEnergy has closed coal-fired facilities equal to about 11% of total generating capacity. In addition, the company has been exploring co-generation utilizing coal and natural gas simultaneously, with gas replacing upward of 60% of current coal consumption, and is under consideration at five of its nine coal-fired plants. Below is a graphic of the fuel sources for FirstEnergy's total power generation: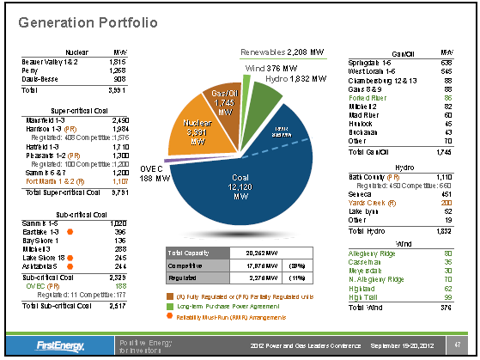 FirstEnergy has 416 million shares outstanding and a market cap of $16.6 billion. Long-term debt and l-t deferred liabilities stands at $22.7 billion. Trailing 12 months return on invested capital clocked in at 4.1%, down noticeably from a five-year average of 5.3%. The reduction in profitability is directly tied to the weak power price market. This weakness is also showing up in declining earnings per share, with 2011, estimated 2012, and estimated 2013 of $3.55, $3.36, and $3.07, respectively. The annual dividend of $2.20 creates a current yield of 5.0%. The payout ratio is currently a high 80%, and investors should not anticipate a dividend increase until the power market improves in 2015 or so. However, at a 5.0% current yield investors are getting paid to wait.
The four-year stock price chart is not pretty for FirstEnergy shareholders who would have been better off buying the broad-based S&P Utility ETF (NYSEARCA:XLU), as shown by the chart below. However, there are similar charts strewn all around the merchant power sub-sector.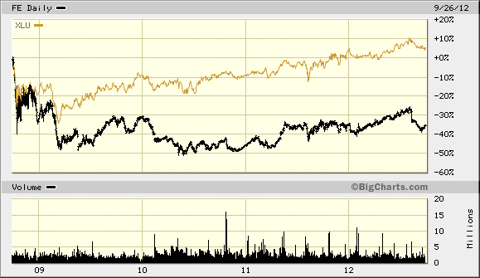 There are other investor issues besides coal exposure and weak power prices. FirstEnergy took a $600 million operating cash flow hit during the first six months of 2012 to further fund its pension obligations. Like other utilities, FirstEnergy has unfunded pension liabilities that weigh on future cash flow. The $600 million is a huge increase from the $77 million reported in 2010 and the $384 million reported in 2011. While the company presentation states this recent contribution will result in 91% obligation funding, it also assumes a 7.75% investment return, which could be aggressive.
2013 and 2014 seem to be the anticipated trough years for earnings, with the potential of improvement to around $3.80 by the end of 2015. At a 13 P/E, this may generate share prices in the $50 to $53 range. FirstEnergy has offered a five-year average dividend yield of 4.6%, which would equate to a market price of $48 at the current $2.20 dividend. Currently trading at $44, future capital gains potential may be a bit muted, but total return is supported by the high current yield.
There is a lot to like about FirstEnergy -- a large T&D asset base, growing electrical demand hand-in-hand with the Marcellus and Utica natural gas shale expansion, and a turnaround in merchant power prospects. Patient utility investors should be amply rewarded, and FirstEnergy is worthy of further investor due diligence.
Disclosure: I have no positions in any stocks mentioned, and no plans to initiate any positions within the next 72 hours. I wrote this article myself, and it expresses my own opinions. I am not receiving compensation for it (other than from Seeking Alpha). I have no business relationship with any company whose stock is mentioned in this article.
Disclaimer: Click here for an important disclaimer.