I really hated to do this.  After owning this stock for one whole day (if you don't count the weekend) I bailed.
I hit my 8% loss limit and sold my shares.  
I know what all of my 'Seeking Alpha' critics will say. Trading publicly and writing about every one of your trades, including your mistakes, is just something I do around here. It must be one of my masochistic tendencies :).
However, rules are rules, and after a purchase of a position, I sell the shares if they decline 8% - no matter what.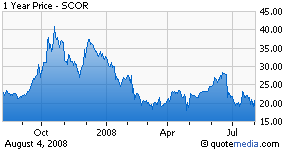 Yesterday morning, I sold my 280 shares of comScore (NASDAQ:SCOR) at $19.52. These shares were purchased this past Friday on August 1, 2008, at a cost of $21.505.  Thus, I had a loss of $1.985 or 9.2% on this position.
I still like the stock and am selling the stock not because of some fundamental reason that I know about, but rather because the sheer negative price pressure resulted in a loss that triggered my sale.
Therefore, I am reducing my rating a notch:
COMSCORE (SCOR) IS NOW RATED A HOLD
Unfortunately, I can already hear the hoots and howls over at SA. They are well deserved.
How can I reduce my rating so quickly? I can only answer, would it be fair to leave my rating as "BUY" when I go and SELL?
Furthermore, would it be fair to lower my rating to "SELL" just because I have sold my own shares, especially when I use my own idiosyncratic approach to buying and selling my shares?
I don't have a good answer for these questions.
I do know that trading in the public's eyes isn't easy.  However, I shall be sticking to all of my rules as I try to make heads or tails of investing on my Blog and in my actual trading account.
Disclosure:  The author does not own SCOR.