S&P/Case-Shiller home price indices for July were released this week, and the data continues to get better. Housing had a pretty nasty double dip in 2011, but things have turned around in 2012. On a month-over-month basis, every single one of the 20 cities tracked by Case-Shiller increased in July. And 16 of the 20 cities are up year-over-over year, with Phoenix up the most at 16.59%. Minneapolis, Detroit, Denver and Miami are the four other cities with YoY gains of more than 5%.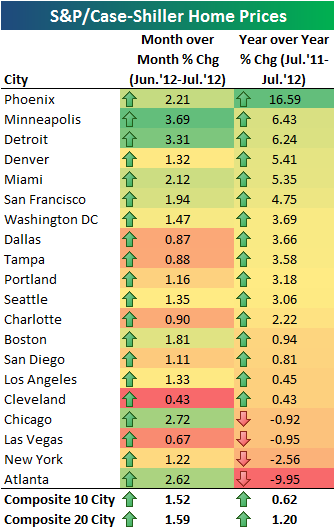 Below is a chart showing how much each city has increased from its post-housing bubble low. At the start of 2012, a third of the cities were at their lows, but as shown, all 20 have now bounced at least 4.9%.
San Francisco has bounced the most from its low at +20.4%, followed by Detroit (19.7%) and Phoenix (17%).
Interestingly, New York is the city that has bounced the least off of its low at just 4.9%. A lot of housing data coming out recently has shown that the Northeast is struggling, and this further confirms the trend. Washington DC, however, is up 15.8% off of its lows.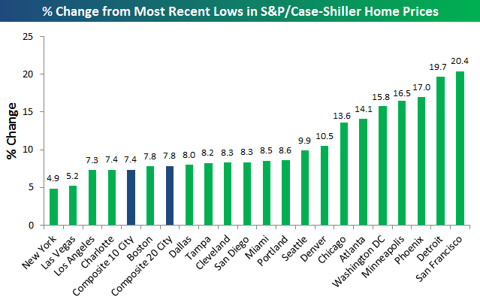 But even though we've seen a nice bounce in home prices across the country, most cities still have a long, long way to go to get back to the highs seen in the mid-2000s. Las Vegas is the farthest from its highs at -60%, while Tampa, Miami and Phoenix are all still 40%+ below their highs. The two composite indices are 30% below their highs, while New York and DC are both at -23%.
Don't look now, though, because Dallas and Denver are just 5% below their all-time highs as tracked by Case-Shiller!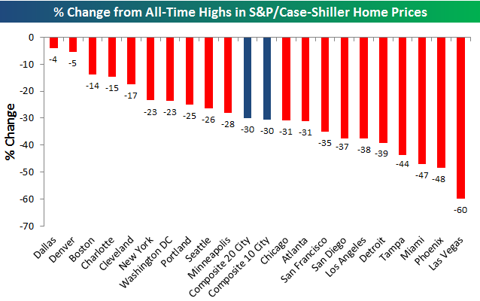 Below we have created charts showing the year-over-year change in the Case-Shiller home price indices for 20 cities and two national composites (on a monthly basis). The recent upside reversal in housing is pretty apparent, but you can see where cities like New York and LA haven't quite gotten going yet.