It was a only a week ago when Apple share price euphoria contributed to an exceptionally bullish tone on the "Street." In essence, with the world's central banks determined to depress interest rates at any cost, many insisted that electronically-printed money would continue finding its way into stocks.
What was forgotten in the excitement of bond bailouts by monetary policy institutions (e.g., Bank of Japan, U.S. Federal Reserve, European Central Bank, etc.) was the probability that the actions would do little to help the global economy. Until recent profit warnings by business cycle bellwethers like Caterpillar (NYSE:CAT), until Philadelphia Fed Chief Plosser announced that mortgage-bond buying stimulus would not lower unemployment, investors seemed content to ignore economic difficulties altogether.
Adding fuel to global recession fears, Spanish 10-year yields have worked their way back above 6%. Until and unless Spain formerly applies for the ECB's bond bailout, risky assets may continue to lose some of their luminescence. In fact, even after a formal request for bailout funds, the conditional nature of the funding may only deepen Spain's horrific economy.
At the end of August and at the beginning of September, I advocated that total market investors consider downshifting to yield producers and inflation fighters. Inflation-fighting "faves" included funds like Vanguard REIT (NYSEARCA:VNQ) and SPDR Gold (NYSEARCA:GLD), while yield producers with wide historical spreads over comparable treasuries included funds like iShares FTSE NAREIT Mortgage REIT (NYSEARCA:REM), Guggenheim Multi-Asset Income (NYSEARCA:CVY), SPDR Barclays High Yield (NYSEARCA:JNK), iShares S&P U.S. Preferred (NYSEARCA:PFF), and PowerShares Emerging Market Sovereign (NYSEARCA:PCY).
Out of the September gate, it appeared that I may have underestimated the Fed's ability to shock and to awe. Yet with two trading days left in the month, my more conservative stance is allowing my clients to sleep soundly at night.
Seven Top Holdings In September (9/1-9/26)
Approx %
SPDR Gold Trust (GLD)
3.4%
iShares FTSE NAREIT Mortgage REIT (REM)
2.6%
Guggenheim Muli-Asset Income (CVY)
1.5%
PowerShares Emerging Market Sovereign (PCY)
1.5%
iShares S&P U.S. Preferred (PFF)
0.7%
SPDR Barclays High Yield Bond (JNK)
0.3%
Vanguard REIT ETF (VNQ)
-2.2%
SPDR S&P 500 Trust (NYSEARCA:SPY)
2.0%
I may have been a tad early in seeking lower-risk alternatives that minimized broader stock exposure in September. Nevertheless, my preference for October remains the same. Specifically, I am still pursuing a combination of yield production and capital appreciation from the ETFs in the table above, and I will use oversold conditions, as well as trendline support, for purchasing broader stock exposure.
For example, the iShares Russell 1000 (NYSEARCA:IWB) exhibits strong price support between 77.25 and 77.75. This also happens to be where IWB's 50-day moving average resides. It follows that I might put a small amount of cash back to work at this level. If U.S. stocks slide further, I would consider another increment at the 200-day, currently 74.46. And in all instances, I would use stop-limit loss orders to protect against bearish erosion of principal.
(click image to enlarge)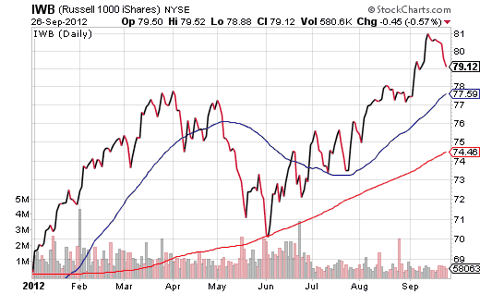 Click to enlarge
Disclosure: ETF Expert is a web log ("blog") that makes the world of ETFs easier to understand. Gary Gordon, MS, CFP is the president of Pacific Park Financial, Inc., a Registered Investment Adviser with the SEC. Gary Gordon, Pacific Park Financial, Inc, and/or its clients may hold positions in the ETFs, mutual funds, and/or any investment asset mentioned above. The commentary does not constitute individualized investment advice. The opinions offered herein are not personalized recommendations to buy, sell or hold securities. At times, issuers of exchange-traded products compensate Pacific Park Financial, Inc. or its subsidiaries for advertising at the ETF Expert web site. ETF Expert content is created independently of any advertising relationships.