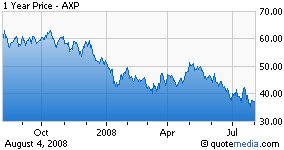 Over the last couple of weeks, American Express (NYSE:AXP) has become a favored whipping boy of the financial shorts, who point to the company's recent bad quarter and exposure to consumer credit as reasons the stock will continue to decline. While the idea that Amex will continue to face problems isn't wrong on the face of it, what a lot of people are missing is the fact that Amex is still outperforming the other credit card companies - and it took a year for the problems facing the rest of the credit card industry to catch up with Amex.
This, along with several other reasons, is why I think Amex will recover faster than its competitors once the economy picks up.
Charge Cards: One key difference between Amex and its competitors is that Amex isn't really a credit card company - it's a charge card and travel services company that also issues credit cards, and in the U.S. nearly 80% of Amex's cards in force are charge cards, not credit cards. This is important for a couple of reasons: 
Charge Card customers have to pay their balances in full each month, so they can't really use their charge cards to extend their purchasing power the way a credit card holder can.
A delinquent balance on a charge card is roughly 4-6 weeks' worth of spending, while a delinquent credit card balance can have months, if not years' worth of spending.
Credit customers often pull back on their spending due to being maxed out/forced to by debt levels, while a charge customer is often pulling back due to cash flow, wanting to restrain spending, etc., more so then debt levels. As a result, when the economy picks up or their finances recover, it's much easier for a charge card customer to resume spending.
When we look at the charge card business we find that the provision for losses and benefits only increased by 3.43% YoY, the delinquency rate grew by 14% and the net loss rate increased by 47% to 0.44%. We also see that net card fees (primary generated by the charge card business) increased 15% on a YoY basis. While these metrics are negative for AXP (in comparison to past performance), they would constitute stellar performance for any other credit card company.
Despite the issues mentioned above, the underlying charge card business is relatively healthy when you consider the current consumer credit environment and how AXP's competitors are doing in comparison. This also means that the problems at AXP are primarily confined within its smaller credit card unit, and are probably the result of AXP acquiring weaker customers as it aggressively marketed credit cards during the housing boom. Once these weaker customers are "shaken" from the tree, AXP will still see higher delinquencies than the historical average, but will still have a strong core of customers to move forward with in the future. 
Better yet, those customers will still be the strongest group of credit card customers in the industry.
Travel Services: AXP's travel business is doing very well right now and saw a 17% YoY increase in revenue in Q2. This, despite higher fuel costs and the economic downturn. This seems to indicate that while there are some issues across Amex's businesses, they still have a strong core of customers who are increasing their spending on travel and other discretionary items.
Credit Quality: FICO scores have actually increased since 2004 and are actually higher than 2006-2007 levels, indicating that AXP has managed to increased overall credit quality during a time period where nearly every other banking firm has seen credit quality decrease. It also means that nature of the economic difficulties facing Amex's customers are of a different flavor then the ones facing other lenders - think "struggling to make ends meet" vs. "not being able to meet your obligations at all."
Proprietary Network & Partner Cards: Something else that American Express has going for it is the fact that they own the proprietary network that their cards are processed on, a network that charges higher fees than MasterCard (NYSE:MA) or Visa (NYSE:V).
Additionally, Amex now has partner arrangements with other banks that are now issuing American Express Cards. For the most recent quarter, Amex reported a 28% YoY increase in cards issued by partner banks, a 42% increase in spending on global network cards, and their Global Network & Merchant Services unit saw a 12% YoY increase in net income.
Outside of Visa and MasterCard, I can't think of another company in the credit card business that can tout a double digit increase in net income in a business segment that's related to credit cards. Not only will their network businesses help Amex mitigate its credit losses but it will also give Amex a piece of its competitor's recovery. If they can generate a 12% YoY increase in net income in this environment, how will this unit perform once the economy comes back?
Affluent Customer Base: Amex has built its business by catering to high income people with stellar credit ratings; the fact that Amex was slower to succumb to the consumer credit bubble and has significantly lower magnitude problems is a testament to this. It also means that Amex's high-end customers should enable the company to recover faster than its competitors. Amex's affluent customers coupled with their charge card and travel services businesses are assets which, when compared to its competitors, better position the company for recovery.
Mortgages: Unlike practically all of its competitors, Amex isn't losing billions on mortgages, using write down related accounting tricks to inflate its balance sheet with paper profits and raising cash to offset losses. One of the reasons I like Amex is that beyond the structural advantages, it's not suffering under the weight of the malaise infecting the rest of the financial industry. I don't have to worry about the company suddenly announcing billions in write-downs related to mortgages.
Overall, I think the best way to view Amex is as a company whose weaker businesses (traditional credit cards) are overshadowing strong growth in its fee, network services and travel businesses. I also think that Amex's current problems need to be viewed in the proper perspective vs. their competitors' because at the end of the day they're still out-performing the other credit card issuers. This means that Amex is still the cream of the crop in the credit card business. If you're looking for a beaten down credit card issuer to invest in so you can profit when the market recovers, you could do a lot worse than investing in Amex and all of its strengths.
Does this mean that Q3 won't be worse or that I expect the company to recover in 3-6 months? No. It means that Amex still has the strongest business amongst credit card issuers and will be the one to recover first. 18-24 months from now, I expect Amex shares to be trading higher than where they are now, even if they go down a bit first.
Source:
American Express: "Q2 2008 Earnings Report" -- July 21, 2008.
Disclosure: At the time of publishing, the author didn't own a position in any of the companies mentioned in this article.