Introduction
Starbucks (NASDAQ:SBUX) has a goal of obtaining an operating margin of 15-17% in the EMEA segment (Europe, Middle East and Africa) in 2016. Intuitively, this seems like an almost impossible task, as the TTM operating margin is only 6.5%. But you can't always rely on intuition; sometimes we need to invest a lot of time in researching and studying the company before we can come up with a reliable estimate. So in this article I have tried to dig a little deeper than usual.
One of the first things I did in my due diligence was to write down a number of questions that I didn't quite understand or that I believed were important to analyze/ make further research on. In this article I have chosen to answer/analyze the following six questions:
Question 1: In which EMEA countries does Starbucks have most of their stores?
Question 2: Why are margins so thin?
Question 3: Can the European crisis explain the mediocrity of EMEA?
Question 4: How come Starbucks, despite the European crisis, has been capable of growing revenues and improving margins at the same time?
Question 5: How will management increase revenues and improve profitability?
Question 6: By how much will revenues grow and will operating margin improve in the future?
Before I answer the question, I will begin my article with a short introduction of the segment.
Starbucks International/EMEA
In a similar fashion to the American segment, Starbucks has expanded rapidly over the last decade in its International segment. As can be seen in the below graph, the annualized growth rate has been over 25% from 2003-2008. Revenues declined in 2009 as Starbucks closed some of its least profitable stores (read my most recent article for an in-depth explanation of Starbucks' turnaround plan).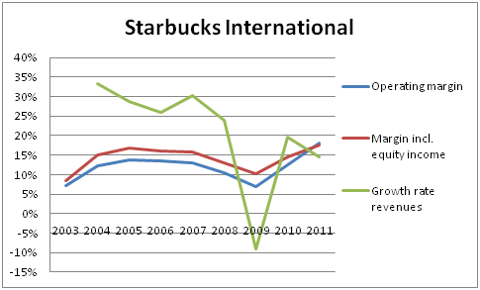 Click to enlarge
In 2012, Starbucks decided to divide the international segment into an EMEA segment and an Asia Pacific segment. As you can see in the below table, the EMEA segment has improved its profitability over the last couple of years, though margins are still relatively low.

Click to enlarge
Question 1: In which countries does Starbucks have most of their stores?
As you can see in the below diagram, UK is clearly the largest market in this region, as Starbucks has around 750 stores in the region (though that is peanuts compared to the 12,000 in the United States).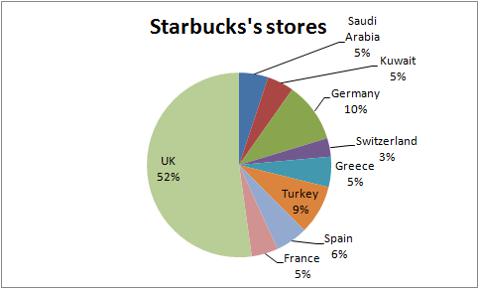 Click to enlarge
Source: Quezi.com
Question 2: Why are margins so thin?
Starbucks isn't the only US-based company which has problems making money in its European segment. In general, high real estate costs and strict labor laws makes it difficult for companies to operate. So if we look at the margins on a bigger perspective, Starbucks isn't doing that bad. However, that doesn't imply that there aren't specific problems. Two examples the problems are related to France and Germany/Austria:
Over the last eight years Starbucks has opened around 70 stores in France, but it has yet to make a profit in the country. While Americans like to buy and coffee and walk away with it, French people prefer to sit down and drink the coffee which increases the store costs of Starbucks, as they have to invest in more chairs and space.
In Germany and Austria, Starbucks faces much tougher competition from McDonald's than what they are used to in North America, as McCafé has over 750 locations combined in the two countries.
Question 3: Can the European crisis explain the mediocrity of EMEA?
In my most recent article on Starbucks, I compared the US consumer confidence to the same store sales growth (also known as "comp growth") in Starbucks. From 2008 q1 to 2009 q2, the consumer confidence index declined by an average quarterly rate of 13%. At the same period, comp. sales declined by an average of 5%. Since 2010 Q1, comp sales grew by an average of 8%, while the consumer confidence grew at an average quarterly rate of 4%.
Assuming the same degree of correlation can be applied to the EMEA region, I thought it would be interesting to look a bit closer on the historical consumer confidence of the EMEA region.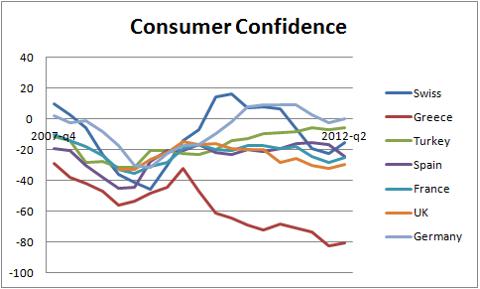 Click to enlarge
Sources: Ycharts, Tradingeconomics (Note, Saudi Arabia and Kuwait are missing as I was not capable of finding historical values of consumer confidence for those two countries)
As one would expect, the consumer confidence of Greece has declined at a very high rate throughout the whole period, and in general, consumer confidence of all the countries has declined since the economic crisis began, with Turkey being the one exception.
But instead of looking at each country individually, I have designed an "EMEA-adjusted"-consumer confidence, which weight countries with a high number of Starbucks stores more than countries with fewer stores. As you can see in the below diagram the "adjusted EMEA index" grew at a decent rate in 2009, broke even in 2010, and declined a bit in 2011.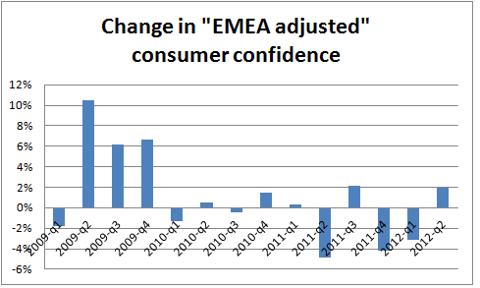 Click to enlarge
According to my estimations, we can make the following connection between comp growth and consumer confidence: If there had been no change in the consumer confidence index in 2011 and 2012, comp sales would have grown at a rate of 3%, instead of 1%. This would have lead to a revenue growth rate of around 11% in 2012 instead of 9%.
To conclude this question, I do not think the European Crisis has hit Starbucks particularly hard, as Starbucks isn't very exposed to Southern Europe. My calculations estimate that the difference in revenue growth rate is only 2%, and Starbucks has (despite the crisis) been capable of producing growth in revenue and higher margins.
Question 4: How come Starbucks, despite the European crisis, has been capable of growing revenues and improving margins at the same time?
There are a few explanations. Below are the most important ones:
Introduction of Starbucks Reward loyalty program i UK had a positive effect on revenues.
UK has recorded 10 consecutive

quarters

of positive comparable store growth.
Starbucks acquired full ownership of the joint ventures that operated Starbucks stores in Switzerland and Austria in 2011, which increased revenues.
There is a lot of focus on the problems of Southern Europe, but Starbucks is actually doing pretty decently in Eastern Europe/Middle East.
"Trouble-countries" such as Spain and Greece "only" accounts for 11% of total stores in the EMEA region, and Starbucks has no stores in Italy and only three in Portugal.
Question 5: How will management increase revenues and improve profitability?
Despite the positive trend, the EMEA region currently doesn't live up to the expectations of management that wants an operating margin in the mid-teens, and they have therefore hired Michelle Gass to turn EMEA around. Michelle is a 15-year Starbucks veteran and was responsible for the US restructuring. So she definitely has the required credentials. Through my due diligence of the EMEA segment, I have come to the conclusion that there are five main areas where Michelle Gass is changing or planning to change the way Starbucks operates:
She wants to open a lot of new stores in profitable locations
She wants to close a few non-profitable locations
She wants more TV-advertising
Better adjustment to different cultures
Supply chain efficiencies
1) Michelle Gass has identified the UK as a market that isn't saturated yet. In a recent interview she made the following comment:
In the UK, the estate of 700 cafes will be increased to over 1,000 over the next three to five years. New outlets in service stations, drive-throughs and concessions in airports, stations and hotel lobbies will also be considered. Starbucks has already opened an outlet in the lobby of the Novotel in Paris and will look at expanding its food operation.
Besides the UK, Starbucks is expected to expand its operation in France, Germany, North Africa and the Middle East.
2) Starbucks isn't just expanding blindly as they did in the US a couple of years ago. At the most recent earnings conference, CFO Troy Alstead made the following comment:
As a result, we may revise our equity position in certain geographies and potentially close more stores in Europe over the next few quarters beginning in the fourth quarter.

Depending on the outcome of the evaluation work we're doing, it is possible that we might incur additional charges in the fourth quarter related to the store portfolio work. While we don't yet have a final determination of numbers of stores to close, I anticipate any potential charges in Q4 related to the store closures and to the many other initiatives in place to transform EMEA will be less than $20 million with perhaps up to an additional $10 million during the first half of 2013.
I believe that when Troy Alstead uses the phrase "certain geographies" he is most likely referring to Greece and/or Spain, where Starbucks has a combined amount of 150 stores. If Starbucks can reduce their exposure to the "troubled" regions, it will remove some of the uncertainty related to the European crisis.
3) Starbucks is also planning to advertise on TV; something it has shied away from doing in the past, where it has relied on word-to-mouth or social media. But as Starbucks plans to expand its operations into other segment than coffee, it might be beneficial to use the TV as part of its advertising strategy.
4) In order to better understand the culture in the EMEA region, Michelle Gass recently took a tour around the region, and she made the following observation:
In markets where there is an entrenched coffeehouse culture, like Paris or Vienna, I was expecting to hear more requests to be like them. But I heard the opposite - people want the true Starbucks experience.
But what is the true Starbucks experience exactly? Well, that differs from country to country, and while Starbucks doesn't want to change their basic concept, they have found it necessary to make a few adjustments. Below are three examples:
In British stores, customers now receive an extra free shot of espresso in their lattes, as many Britons considered the old version to be to watery.
The Britons are also very fond of Take-away coffee, so Starbucks is planning to build drive-through locations in Britain.
60% of French people prefer espresso over an "

Americano"

. And yet, many find that Starbucks espresso tastes too charred, even by French cafe standards. So Starbucks introduced a lighter espresso roast in March 2012.
5) If you have read my previous article on the Americas segment, then you probably have a decent understanding of the problems management had back then with the supply chain. As the company grew, supply chain inefficiencies rose in relation to revenues, which is an example of a reverse scale advantage. But thanks to Michelle Gass and others responsible for the restructuring, Starbucks was capable of reducing supply costs. Since Starbucks management often tell analysts that they should look at "how we did in America in 2007-2008" as an response to how they plan to restructure EMEA, I believe there is a decent probability that we could see a more efficient supply chain in a couple of years in the EMEA segment.
Question 6: By how much will revenues grow and will operating margin improve?
Regardless of whether the economy of Europe improves, revenues will grow. This region has a lot of potential if everything goes as expected. Over a longer period, I expect Starbucks to expand into Scandinavia, and possibly Italy if McDonald's is successful with their expansion.
I believe EMEA will grow by double digits until 2017, but I am not convinced that Starbucks is capable of getting margins into the mid-teens. Sure, it will be nice if they can reduce their exposure to Spain and Greece, but there are charges related to closing stores as well, which will hurt margins in the short run. Another factor which could hurt short-term profit is the startup related costs of opening new stores; though I think this will be partially offset by my expectations of lower commodity costs. But even over the long haul, I just don't see how they can go from an operating margin of 6.5% in 2012 to a margin of 15%-17% in 2016. I think supply chain efficiencies and a better economy in the Eurozone will help, but I don't expect these factors to add more than 2-3 percentage point to margins.
So while I think management is a bit optimistic on their mid-teens target, I think less can do it as well. As you can see in the below table, I estimate that margins will be between 8% and 13% in the budget period. Giving the decent growth in revenues, EMEA will have income of $275 million in 2022 compared to $75 million in 2012

Click to enlarge
EMEA is the smallest segment in terms of income, and therefore you should not invest in Starbucks due to income increasing more than four times in the segment. Invest in Starbucks, only if you think the present value of the future income of every segment combined is significantly above the market value of the company. While Starbucks has a high P/E and P/FCF, I think these metrics are misleading for Starbucks, and as I will argue in my next article I believe every single segment has great growth opportunities, and therefore I think the company is undervalued.
Disclosure: I am long SBUX. I wrote this article myself, and it expresses my own opinions. I am not receiving compensation for it (other than from Seeking Alpha). I have no business relationship with any company whose stock is mentioned in this article.