This week's market is behaving according to form. Last week I wrote that the week after September options expiration is usually a difficult one, with some selling to be expected. There is often buying pressure leading up to the futures print on expiration Friday; once accomplished there is some easing out of positions. The sell-off late that day was in part due to positioning for the current week.
The business press looks for quotes and data releases to try to explain this, but the two main engines driving this effect comprise above all portfolio rebalancing, followed by the disappearance of expiration-related buying. If the market is up going into the end of the third quarter, then equities are at risk of being sold off as asset allocations rejigger. Traders know this. If the market is down on the year, then allocators will add to equities and the week is likely to be up, as it was in 2008. It's especially true of the last day of the quarter, so be careful of reading too much into any Friday selling. For similar reasons, there is potential for more selling pressure on Monday.
However, Thursday (today) could easily see a bit of a bounce if nothing really bad happens with durable goods and weekly claims. New orders for durable goods orders are expected to rebound when transportation is excluded (July saw a big slug of aircraft orders, notoriously lumpy), and if so that would aid the calendar effect, which in this case is Yom Kippur. The old saw is to buy Rosh Hashanah and sell Yom Kippur, but in recent decades it's been the opposite. Markets are also somewhat oversold on a very short term basis, and so between the two there's a chance for a Thursday rebound, signaled by some last-minute buying at the Wednesday close.
All else being equal, though, it would be quite typical behavior for Friday and Monday selling to take the S&P 500 down to the 50-day exponential moving average, seen below as sitting at around 1414. We've broken through the 20-day, which should act as resistance (1439) to any rebound Thursday.
click to enlarge images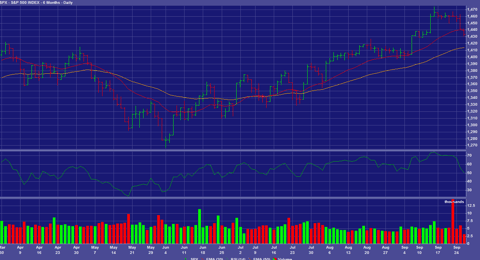 S&P 500, trailing six months
Note also, though, that the relative strength indicator seen below the price region has cooled considerably from its overbought levels in the wake of the FOMC meeting. Were equities to continue to retrace down to the 50-day average on Monday, that would take us into oversold territory and set us up nicely for a potential rally.
Why should prices rally? It isn't because of the economy, we can tell you that. Don't be misled by Tuesday's consumer confidence number from the Conference Board. To begin with, the cut-off date for the survey was September 13, when QE-infinity was announced and equities rocketed higher. Not only does the index closely track stock prices, it tends to act as a great contrarian indicator as well.
In my recent SA column on the diverging economy and market, I pointed out the rarity of the stock market rising while the New York and Philadelphia Fed surveys were posting consecutive declines (you can see the charts there). In every case, the tension has been resolved by equities turning lower to follow the economy.
Now take a look at the following graph for the Chicago Fed National Activity Index and S&P 500: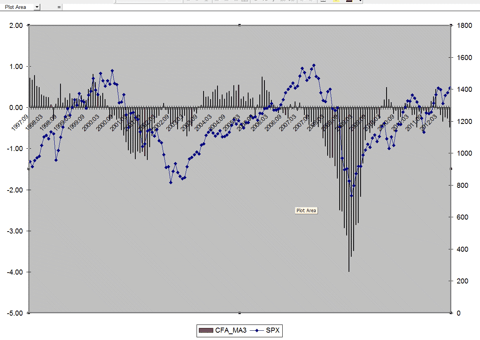 Note that the whenever the market has rallied while the Chicago Fed's 3-month moving average was consistently declining, the market has turned to follow the economy, with the most glaring examples being late 2000 and 2007. September of 2007, you may recall, had the surprise 50-basis point cuts in the Fed Funds rate. Market rallied on this excellent news to a high the following month, and we haven't been there since.
Of course you've seen the latest news on riots in Greece and Spain, where bond yields are jumping again. Or that Chinese ore demand is falling off a cliff and Singapore industrial production unexpectedly declined. But for all that, I expect the chances to be quite good for a first-half October rally.
There are several reasons for this apparent loss of sense. One is the aforementioned possibility of the Friday-Monday sell-off: if it does occur, then markets will be technically oversold.
A second reason is that the jobs report next Friday has a decent shot at showing headline improvement. It all depends on the seasonals, because unadjusted job totals did actually grow at a relatively steady clip in July and August, which might explain why ADP's August report seemed well ahead of the version from the Labor Department. In addition, the first two weeks of September (when the jobs data are collected) had the two lightest weeks for actual, unadjusted claims since November of 2007. The confidence survey showed no real change in employment attitudes. It's a reasonable chance.
A third reason is that good old standby, the we-didn't-crash-after-all rally in Europe, getting ripe for another appearance. Pimco's Bill Gross remarked on Wednesday that his group expects Spain and Italy to apply for some kind of bailout package within the coming weeks. Such a package would do nothing to alleviate the depression that Spain is slipping into, and attempting to balance the budget now would only repeat the US mistake of 1937. But what does that matter? So long as the ECB can say it's buying bonds and systemic collapse has again been postponed, it's good for a few percent in the green.
Finally, market worry levels are getting elevated. The press is filling up with stories of potential 25% corrections. A couple days of portfolio rebalancing will only get the sirens going louder and present a perfect opportunity for Mr. Market to make the maximum number of people look foolish again.
Don't get me wrong, however. I don't see this ending at all well. The question is the velocity of the decline. Does it take a year to play out, as it did from October 2007 to September 2008, or will we get lucky (in my opinion) and get one high-speed adjustment (better than enduring slow torture, for my money), like we did in 1987 and 1998?
I've been wondering how we can possibly escape third-quarter earnings season unbloodied. Two notions that have arisen of late are one, the rapidly growing expectation that earnings will be terrible - as the bar gets lower, it gets easier to beat. That part is old hat, but the trick will be to somehow finesse what are sure to be lower management guidance everywhere.
For that, we may get to thank the second possibility - Europe again. If Spain were to get bailed out in early October, rally. Then perhaps Italy gets its bailout in late October, rally again. I don't make that scenario to be odds-on yet by any means, but if Greece can manage not to throw up for one more month, it's a possibility. Of course, the higher we're able to climb on the strength of collapse avoidance and increased money-printing while the global economy continues to sink, the harder reality will smack us later. But as Lord A.E. Neuman used to say, "what, me worry?"
Disclosure: I am long SPY and short QQQ and IWM. I wrote this article myself, and it expresses my own opinions. I am not receiving compensation for it (other than from Seeking Alpha). I have no business relationship with any company whose stock is mentioned in this article.