Wednesday, the U.S. Department of the Treasury announced Zions Bancorp. (NASDAQ:ZION) has repaid its remaining $700 million in Capital Purchase Program (NYSE:CPP) preferred stock. The good news for the Troubled Asset Relief Program (TARP) program is that the overall positive return on bank programs has now reached a positive $21 billion.
For investors, this presents a new opportunity. The famous investor Peter Lynch wrote, "Whatever the queen is selling, buy it." Now that Zions has been completely divested by the Treasury (Queen of the U.S. financial system), investors should consider getting bullish on the company's stock.
With a price to book ratio of about 0.80 and a forward P/E ratio of 11.68, the company could be considered a value play. With the 52-week high being $22.81, the company is also trading near the top of its recent range with some room to appreciate.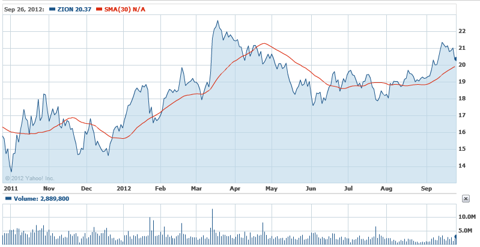 Click to enlarge
There are multiple ways to get bullish on this stock. The easiest way is to buy the stock outright. Other bullish trades are selling put options and buying call options.
The $20 strike price October 2012 expiration put options on Zion have a bid price of $0.73. If the price of the stock were to drop below $20 at expiration, the seller of puts would be required to purchase the stock for $20, but would receive compensation of $0.73 for taking that risk, creating a net cost of $19.27 per share. If shares fall precipitously, the seller of puts would be responsible for the losses, but considering Peter Lynch's investment principle of buying when the Queen is selling, it could be worth the risk.
If considering call options as a bullish play, look to longer-term expiration options. The time value of the January 2014 $20 call option is $2.88, meaning that the cost to an investor is $2.88 above the intrinsic value of the option. This would be like purchasing the stock for $20 plus the cost of the call option of $3.25, or $23.25. The interesting part is that this is still well below the reported book value per share.
Similar bullish trades could be made with American International Group, Inc. (NYSE:AIG) which is selling at a forward P/E ratio of 9.44 and with a price to book ratio of 0.55. If the government decides to swiftly exit the remainder of their position, there could be downward short-term pressure on the stock, but this stock could easily double just to reach book value.
Disclosure: I have no positions in any stocks mentioned, and no plans to initiate any positions within the next 72 hours. I wrote this article myself, and it expresses my own opinions. I am not receiving compensation for it (other than from Seeking Alpha). I have no business relationship with any company whose stock is mentioned in this article.