We at Saibus Research love furious, intellectually-stimulating debate. That's probably why we have set-up our own investment research firm. We love investment research because it is the most remunerative way for us to indulge this fancy of ours. We were pleased that our recent reports on Microsoft Corporation (NASDAQ:MSFT) and Apple Inc. (NASDAQ:AAPL) generated such strong feedback that a Nokia Corporation (NYSE:NOK) stockholder shared with us an article about how Nokia gets €8 in royalties per iPhone sold due to a patent dispute that was settled last year. After reading that article contributed to us, we think that we have the ideal two-step solution to increase shareholder value for Nokia's long-suffering shareholders.
Step 1, Fire the CEO Stephen Elop!
Step 2, Sell or Close all of Nokia operations with the exception for the entity that owns the patent that generates royalties from the Apple iPhone.
In H1 2012, Nokia has seen Apple sell 61.1M of its widely popular, cutting-edge iPhone smartphone devices. Nokia operates on a calendar year fiscal year and Apple's fiscal year ends on September 30th. For the six-month period ending June 30th, Nokia has received €488.8M from Apple due to patent license fees based on iPhone sales. Nokia received €280.5 from Apple in its Q1 2012 period and €208.3M in its Q2 2012 period.
When we consider the fact that Nokia generated only €93M in device revenue in North America for Q1 2012 and €128M for Q2 2012, we see that the €221M in North American device revenue pales in comparison to the nearly €489M in patent revenues it received from Apple. We can also see that the patent revenue it received from Apple generates a much higher gross margin than the revenue from its proprietary devices, since there are no marginal costs of goods sold associated with collecting royalty revenue from Apple, unlike with the production and distribution of Nokia's devices.
We also see that there are no marginal operating expenses associated with collecting royalty revenue from Apple, unlike with the production and distribution of Nokia's devices.
Click to enlarge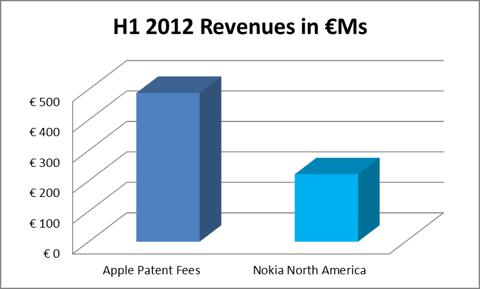 Sources: Webpro and the MRQ reports from Apple and Nokia
The reason why Nokia needs to sell off its ailing business units to stronger firms is because Nokia is losing tremendous money operating these businesses. While Nokia bulls plead that Nokia was free cash flow positive in the second quarter, we have to roll our eyes back and say "That weak, whack argument is the best you can come up?!"
Nokia generated €102M in Operating Cash Flows during the quarter, spent €115M in CapEx and salvaged €35M from the disposal of business assets. We're going be generous and calculate its annualized cash flow/equity ratio using ending period equity balances but even so, Nokia's annualized cash flow/equity ratio is maybe 1.2%. We used to think that Nokia's stakeholders could do better than 1.2% annually, but now we're not so sure.
Since Nokia can only eke out €23M in free cash flows per quarter and since Nokia can only do this by cutting its capital expenditures by 27% and by selling off assets, we think that it would be prudent for Nokia's CEO Steve Elop to realize his limitations and to begin salvaging what he can for Nokia's long-suffering shareholders.
We are glad that Nokia's book value of €9B (US~$11.63B) exceeded Nokia's market cap of US~$10.02B and we believe that if Nokia should consider selling off its business units in order to at least salvage book value. We believe that Ericsson (NASDAQ:ERIC) would be more likely to generate a profit from Nokia Siemens than Nokia.
If Ericsson can generate a profit during the worst environment for telecom equipment firms and considering that Ericsson generates as much revenue as Alcatel-Lucent (ALU) and Nokia Siemens combined, then we believe that Ericsson could whip Nokia Siemens into shape.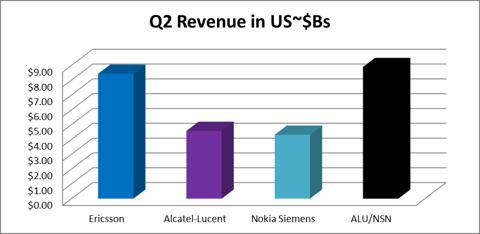 Source: Morningstar Direct
While Nokia Location & Commerce (legacy NAVTEQ) has reported a €189M operating loss in H1 2012 on a reported IFRS basis, we noted that the division generated a staggering €77M operating profit on an adjusted basis. If we annualize it, we will estimate that Nokia Location and Commerce will generate an astounding adjusted profit of €154M in 2012.
Considering that Nokia paid €5.7B cash for NAVTEQ in 2008, we're pleased to announce that the payback period for Nokia Corporation with regards to its NAVTEQ acquisition is only about 38 years if we don't include taxes or capital costs. Despite the fact that Apple had difficulty with its mapping app, we believe that Apple could probably make this operation pay better than Nokia has. Or Google (NASDAQ:GOOG) could acquire it in order to expand its dominance in the mapping business and rub Apple's nose in the mapping snafu.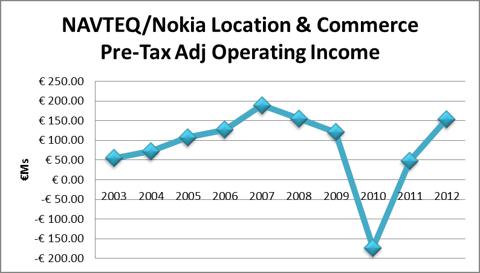 Sources: NAVTEQ's 2003-2007 Annual Reports, Nokia's 2008-2011 Annual Reports and Our 2012 Estimates
We almost forgot about Nokia's Devices businesses. Nokia bulls protest about how the Lumia has only been around since last November, that's why it only sells about 1M per month. We counter that by pointing out that Nokia has been selling mobile phones since 1971 and smartphones since 2000. How long does it take Nokia to get its act together?
Despite the fact that Microsoft is releasing a buggy Windows 8 software system, we believe that Nokia should sell its devices business (excluding patents licensed to Apple) to Microsoft, since former Microsoft Business head honcho Steve Elop is Nokia's CEO and because Elop Osborned Nokia with his Burning Platform memo, we believe that it would be apropos for Microsoft to step in and assume responsibility for Nokia's devices businesses.
It would be worth it for Microsoft to take a flyer with acquiring Nokia since Nokia's enterprise value as of the end of the quarter is expected to be about €4B and Microsoft can use its $50B in foreign source cash holdings to acquire Nokia just like Microsoft did with Skype. Plus, Microsoft can use its foreign source cash holdings to help fix what is ailing Nokia.
In conclusion, we believe that Nokia needs to realize that it is no longer the preeminent device maker that it used to be. We think that the best thing that it can do to salvage money for its long-suffering shareholders is to sell off its devices business, excluding the Apple patents to Microsoft, then sell off its mapping business to Apple or Google and then sell off its telecom equipment business to Ericsson.
Nokia and its predecessors evolved from a diversified industrial products conglomerate to a once-great leader in communications networks and devices. Unfortunately, Apple moved Nokia's Cheese in 2007 when it introduced the iPhone and Google moved it again by allegedly ripping off the iOS operating system to create Android.
We find it amusing that the company made more money from licensing patents to Apple (€489M) than it does from operating its businesses (-€1.223B). We think that the best thing that Nokia can do to respond to this is to try to sell off their weak, fading business units, keep the Apple patents and use the licensing fees to pay dividend distributions to its long suffering shareholders.
Considering that we have been analyzing and evaluating Nokia since February, we believe that if we are to reverse our opinion and to swing at Nokia, we are going to have to see a "perfect pitch a la Warren Buffett". When we see that Lumia sales gains are not offsetting shrinking Symbian sales, we will wait for another pitch. When the facts change, we'll change our opinion and not until then.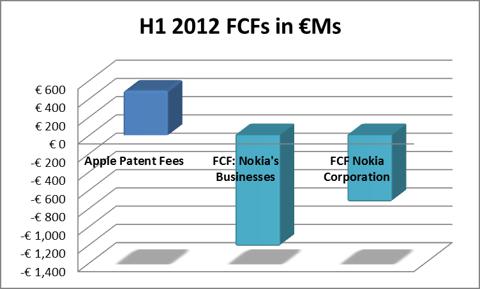 Sources: Webpro and the MRQ report from Apple and Nokia
Disclosure: I am long AAPL. I wrote this article myself, and it expresses my own opinions. I am not receiving compensation for it (other than from Seeking Alpha). I have no business relationship with any company whose stock is mentioned in this article.
Additional disclosure: This article was written by an analyst at Saibus Research. Saibus Research has not received compensation directly or indirectly for expressing the recommendation in this article. We have no business relationship with any company whose stock is mentioned in this article. Under no circumstances must this report be considered an offer to buy, sell, subscribe for or trade securities or other instruments.