Dear readers,
We hope everyone who downloaded the SA Portfolio iPhone app is enjoying it. Following its launch on Sept. 5, the app quickly made its way to the Top 10 list for finance apps.
Early reviews have been positive, and yes, we are working on an Android app! We'd love to hear from you if you have any feedback, suggestions, or just a compliment. Feel free to email us at product@seekingalpha.com.
Since the launch, our developers have been busy brewing our first post-release update - one that leverages the iPhone 5's 4" screen. When developing the app, we put a lot of thought into how to best to utilize the limited space of a mobile device, providing as much information as possible while keeping the interface simple and uncluttered. More screen space means we can fit more tickers on one screen, and more headline news into one view. Here's an example: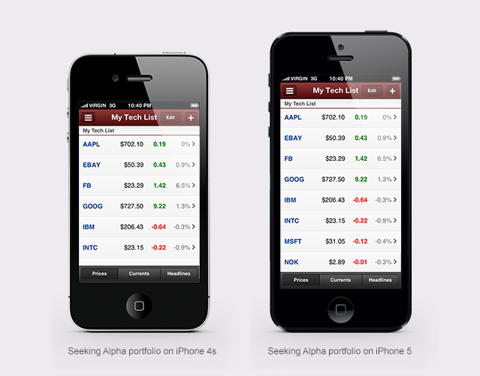 We hope you enjoy this new version of our app. We have plenty more surprises and features slated for upcoming releases.
And of course, if you haven't already, download and install the app now»
Yariv and the SA Product Team