Of all the companies in my portfolio, I've been holding onto Dow Chemical (NYSE:DOW) the longest. To return the favor, it has been extremely volatile, with a high dividend yield and a high beta to match. Predictions about the stock seem to be all over the place, with current price targets ranging from $29 (hold rating, Jefferies Group) to $45 (overweight rating, Alembic Global Advisors). Having followed this stock for some time, I'd like to give my own interpretation of what's going on in, why, and a recommendation.
The Rohm and Haas Incident
In 2008, Dow Chemical decided to buy Rohm and Haas for $15.4 billion, as part of its new strategy to focus on specialty chemicals and additives rather than large commodity resins (like polyethylene or polypropylene). Not having that kind of cash on hand, Dow planned to finance it through another deal, where they would form a joint venture with Petrochemical Industries Company of Kuwait (PIC), returning $7.5 billion dollars. This was a risky move because if something caused the deal to not go through, Dow would be left with a $15.4 billion bill and not enough cash to pay for it…
(Foreshadowing)
…and, of course Kuwait backed out. Dow Chemical was left with a contract that it couldn't afford and as a result tried to back out of the deal to buy Rohm and Haas. They couldn't, resulting in a dividend cut, a new debt burden, and fleeing investors.
Since then, Dow has been able to recover a large portion of the dividend. It stood at $0.42/share in 2008 before the deal and then dropped to $0.15/share after. As of June 2012, the dividend went back up to $0.32/share, a 113% rise over the low of 2009 through early 2011. In addition, the company was able to recover $2.16 billion from Kuwait in arbitration court. Dow reached a high of about 40.99 in 2011, compared to the high of about 42.88 in 2008, before the market crash.
Ties to Industry
One of the biggest strengths of Dow Chemical is how diversified it is. Their products, while sold mostly to manufacturers and not end-users, can be found in almost every industry. So how is it that a company spread through the entire economy was able to lose about 30% in share price from the high in 2011 to now?
The strategic plan, behind the purchase of Rohm and Haas, was to move into specialty chemicals, instead of cheaper, more commonly used materials, such as polyethylene. In fact, the deal with PIC that never went through was supposed to cut Dow's plastic business in half. If everything had worked out as planned, Dow would have replaced a significant chunk of its plastics business with a specialty chemicals business.
The reason for this strategy was to reduce the unpredictability in its income. These plastics, like polyethylene and polypropylene, are cyclical in that they are refined from petroleum and are therefore tied to the oil industry. The oil industry, in turn, is tied closely to a million factors that no one can predict; if tensions in the Middle East led to an oil embargo, for example, the shortage of supply would cause the price of oil to go up. This higher price would drive up the price of plastics, which are produced from oil. Dow Chemical could keep their prices the same, producing lower margins; increase the price of the plastics, driving the demand down; or do a combination of both, still leaving them with less profit. This is just a single example. The reality is that the price of oil seems to fluctuate daily on any unimportant news. Dow decided that the best strategy was to move away from this cyclical nature of their business and focus on selling products that would have a steady, predictable demand. It was a good strategy in 2008 and it's a good strategy now.
What Went Wrong?
The price drop in the summer of 2011 mirrored a price drop in the entire market, which was to be expected because Dow Chemical deals in cyclical products (although it's trying not to). This 2011 Q3 drop seemed to affect Dow more than other companies, but there was no news to support it.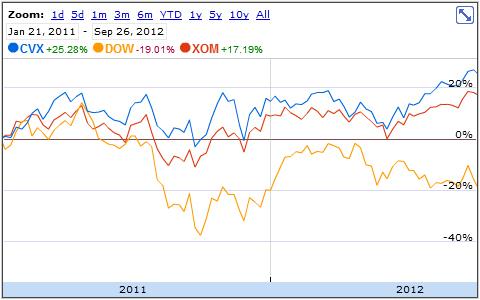 In fact, the 2011 Q3 earnings report actually gave them their third highest earnings in company history, and they increased the dividend 66% from $0.15 to $0.25 as a result. The chart above compares Dow with Exxon Mobil (NYSE:XOM) and Chevron (NYSE:CVX). The cyclical nature of Dow is very visible here, along with the large drop, which is contradicted by earnings for that quarter.
Unfortunately, a lackluster 2011 Q4 brought the company down to a low of $20.61 and since then mixed earnings have had the price fluctuating between $30 and $35 per share. The most recent report, 2012 Q2, gave lower earnings, as a result of a weak European economy. As you can see, until Dow can fully implement the strategy of dealing in specialty chemicals, the earnings reports will mimic the market, going wherever their clients take them.
Making a Decision
With all that in mind, this leaves Dow Chemical as a company trying to gain solid footing by implementing a new strategy that makes sense. To me this shows smart management caught in a bad situation. They recognize the problem and are working to fix it, but a few bumps along the way, such as a bad deal with Kuwait, have put them a little behind schedule. Before 2008 they paid a strong dividend with increases when business was doing well, and it looks like they want to continue doing that. Right now they pay a fantastic 4.40% yield. Given that their earnings are still very much cyclical, the dividend is probably a little higher than it should be, in order to restore faith in investors. If you can endure the uncertainty in earning and stock volatility while the company reinvents itself, you'll be handsomely rewarded in the long run.
Please leave comments below. I want to hear your thoughts on Dow Chemical and if there are any other factors I missed that would explain why the stock is doing so poorly. If I'm investing for the wrong reasons, I want to know!
Disclosure: I am long DOW, CVX. I wrote this article myself, and it expresses my own opinions. I am not receiving compensation for it (other than from Seeking Alpha). I have no business relationship with any company whose stock is mentioned in this article.