I've been told several times that it's the retail investors who are buying at the top of the market and throwing in the towel at the bottom. And I have a confession to make: I threw in the towel and sold the majority of my portfolio within a week of that happening.
On July 15th, the S&P 500 tested the 1200 mark, closing down for the day slightly above there. On July 16th, the S&P opened flat, lost a few points, and proceeded to rally into the close. The market has basically been up since that point.
On July 21st, I sold all the shares I owned of USG (NYSE:USG) and American Eagle (NYSE:AEO). The macro picture deteriorated beyond my expectations, and I took a not-fun loss on both positions. I'm also swearing off apparel retail for a very long time; I don't get fashion and the moats in the business tend to be weak, particularly at younger age levels. Still, I anticipate that the several hundred dollars I lost on each will be more than worth the lessons I learned from being invested in my first very difficult market.
I was then faced with a dilemma of having about one-quarter of my account in the common stock of Primus (PRS), and a chunk of cash. What to do? The next day I limit ordered all that cash into the 7% senior notes (NYSE:PRD), locking in a yield of 23%. Why the debt, and not the equity? This might seem counterintuitive because I'm obviously making a very large bet on Primus, but I liked the extra capital cushion provided by the seniority of the notes, and I think the total return offered by the debt is very competitive with the potential returns offered by the common – which I already have plenty of exposure to, thanks.
Since then, the common is up 46% and the notes are up 35%. USG is up 4.5% since I sold it, as it faded the post-earnings rally, and AEO is down 1%. If only I could make moves like that more often…
My main concern now is that I'm making money too quickly, which basically means I'm taking on too much risk.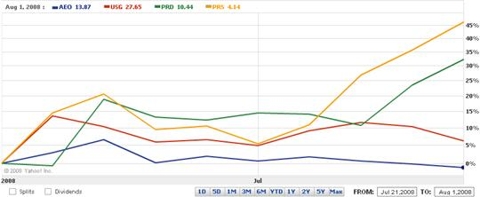 Click to enlarge
Now, of course, I'm faced with looking into earnings week (Primus reports Wednesday morning), and the GAAP number will probably be ugly. Even though credit default swap spreads were very high at the end of last quarter thanks to the Bear Stearns (NYSE:BSC) fallout, it looks like they ended this quarter even higher, using the MarkIt North America Investment Grade CDX index as a proxy.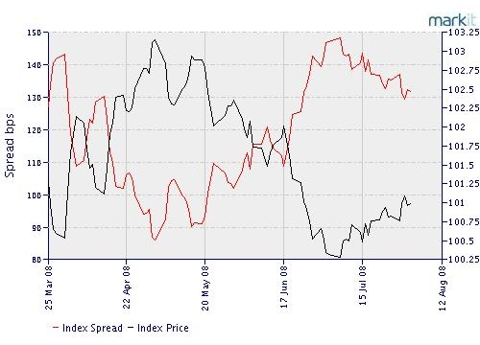 Click to enlarge
Remember though, the GAAP number means next to nothing. It's all about cash, or economic, earnings, and the number to watch on that is to see what kind of credit mitigation charges Primus takes to offset exposures it doesn't want to carry anymore.
Now I just need to try to deal with the stress of being 100% long a credit derivatives products company going into earnings week…
Read the Primus Guaranty Stock Report for more on why I like Primus.
Disclosure: As I make clear, I have sold my long positions in USG and AEO. I currently own shares of PRS and PRD.