Commodity related stocks took a hit Monday. For example, the SPDR S&P Metals & Mining Fund (NYSEARCA:XME), which holds 24 companies including Alcoa (NYSE:AA), Freeport McMoran (NYSE:FCX), and Peabody Energy (BTU), tumbled $5.54 to $70.71 a share. The move was sparked by a morning reversal in crude oil along with talk of big hedge funds selling off commodities in general. In addition to shares of oil-related companies, mining, natural gas, coal, and agricultural stocks all finished the day sharply lower.
The move sparked a flurry of put activity in the XME. At the end of the day, 36,000 puts and only 1,015 call options had traded on the session. The top two trades included an order of 18.583 August 67 puts trading offerside for $1.05 a contract and an order of 7,634 September 62 puts for $1.82. It appears that some investors were scrambling to buy some short-term protection from the risk of another round of selling in shares of metals and mining companies.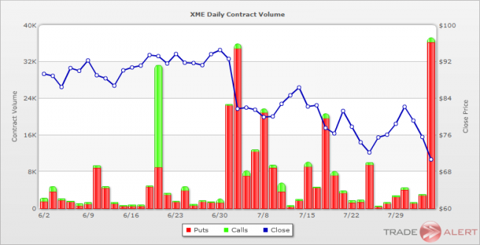 Terra Industries (TRA) was one of the individual commodity-related names seeing bearish trading. Shares fell along with other agricultural stocks, closing the session down $7.97 to $45.94 a share. The move seemed to be part of the commodity sell-off (metals, mining, oil, coal) and came ahead of weekly USDA crop reports due out Monday afternoon.
In the options market, TRA volume rose to 6 times the usual. 29,000 puts and 8,400 call options traded on the day. The top two trades included an order for 10,000 December 40 puts traded for $3.70 a contract and another 10,000 December 30s for $1.10; both orders trading on the PHLX at approximately 12:45 when TRA was trading at $49.45.

Sources on the exchange tell WhatsTrading.com that the action is part of a substantial bear put spread, where the strategist bought the 40s and sold the 30s for a net debit of $2.60. If so, it is a big bet that TRA will continue to slide and has a maximum payoff potential of $7.40 if the stock falls to $30 or less by December options expiration. So far so good because, by the end of the trading session Monday, the spread had already widened to $3.10.
Stock position: None.