Intel (NASDAQ:INTC) , along with its peers (AMD, TXN, HPQ), has taken quite a bit of heat in the last several months. It reached a high of nearly $27 in late April and dropped to a recent low of $22.50 for a 17% decline. The last time a correction this large occurred, it was a 22% from April 2010 - September 2010. Since 2005, less 2008/09, the lowest of the lows ranged roughly between $18 and $20, and the highest of the highs, less 2011/12, ranged roughly between $20 and $24.
With the retreat of 1.14% to $22.53, we have, in my opinion, entered the territory to begin buying Intel. Much of the Dow and S&P 500 seem to be overbought but Intel presents an opportunity to invest in a solid company at a discount. Being fairly comfortable with the reported financials of the business, with the least amount of total debt to assets (10.31%) among its peers (AMD 41%, TXN 27%, HPQ 24%) , the lowest P/E ratio of approximately 9.54 and a respectable dividend yield of 3.95%, Intel seems to be a great deal.
Indeed, the company has had its ups and downs, most certainly a direct and indirect effect of the geoeconomic downturn of the overall middle class in the last 5 years. With tablets and i-devices flooding the market, personal computing upgrades have declined for quite some time. I hold the belief that our personal computers are not going anywhere. Many people think our tablets and smartphones are the new laptops, and to a certain extent they are correct, however there has yet to be a device released that truly offers all the abilities of a personal computer.
With the geoeconomic downturn likely to continue in the short to mid-term, Intel and its peers will struggle to find its place in investors' hearts. Despite the headwinds that these types of companies face, Intel seems to be a diamond among the rough. Usually after I've done my homework I like to look at the charts and see what trends are present. It is my opinion that we are in the last leg of the stock's downturn, and have now entered the territory of the highest highs and lowest lows for the past 5 years.
It's my opinion that now is the time to start building a position in this company. With that stated, I would not go "all in" but instead start buying smaller chunks of shares. While we have entered what I consider buying territory, it's possible, hopefully not likely, that we see an additional 5-10% decline. I personally anticipate a roughly 5% further decline in the stock price, and will continue buying into the selloff.
The picture below shows that multiple charts (MACD, KDJ, RSI, and FSTO) are all in the bottom of their cycles, indicating that Intel is undervalued/oversold. This for me is the final indicator that now is the time to begin buying.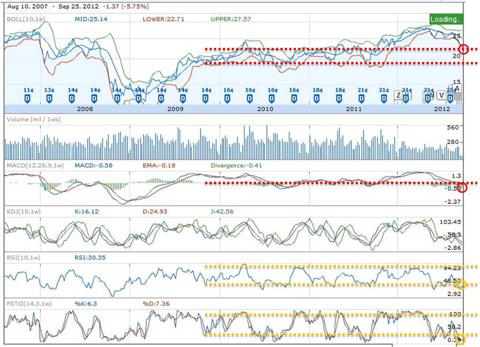 Disclosure: I am long INTC. I wrote this article myself, and it expresses my own opinions. I am not receiving compensation for it (other than from Seeking Alpha). I have no business relationship with any company whose stock is mentioned in this article.
Additional disclosure: Information provided should not be considered investment advise and before buying anything you should do your homework and consult with your personal investment advisor.