Royal Dutch Shell (NYSE:RDS.A) is a large oil and gas producer in North America that has been making acquisitions that are sure to increase its yields in the future. Shell is looking to make an impact in shale oil production, an industry that has the potential to change our entire economy in the next five years. Shale oil refers to a rock that releases petroleum like liquids when heated up and are richer in crude, a process that will revolutionize the oil industry. Domestically, it can be found in many different states and could potentially produce between 1.2-1.8 trillion barrels of oil in the future. To put these numbers into context; America consumed an estimate of 7 billion barrels of oil in 2011 according to the U.S. Energy Information Administration. The Royal Dutch Shell have viewed the extreme amounts of shale oil in America as an opportunity to expand and multiple their production in future years.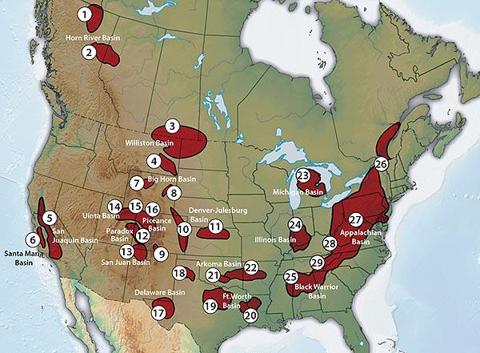 (EnergyIndustryPhotos.com)
Since 2008, Shell has made key acquisitions in Texas' Eagle Ford Shale, Marcellus Shale, and a recent 2 billion dollar addition on September 12th of properties from Chesapeake Energy Corp (NYSE:CHK). This addition of the Texas based energy corp. that produces nearly 26,000 barrels of shale daily will more than triple Shell's global production of shale oil. In the next five years, it hopes to increase this number ten-fold to over 250,000 barrels a day. Executive Vice President Russ Ford believes that recent evolution of shale oil in the United States will provide the opportunity for tremendous growth. Shell is currently producing about 381,000 barrels of regular oil a day in the United States, and hopes to one day produce these types of numbers in shale oil as well. With its $32 billion investment of capital in 2012 alone, it seems as if these estimates are extremely attainable and will make Shell an even larger global oil giant.
Royal Dutch Shell is a European based oil company that is heavily invested in oil drilling in North America, Egypt, Oman, and is looking to expand to Russia and Turkey in the near future. $1.89B of Royal Dutch Shell's shares is held by ETFs and the firm has a history for releasing above average dividend distributions in the past. According to "Dividend Channel" the annualized dividend paid out this year is $3.44/share, which is paid in quarterly installments. The graph below shows the increasing growth of its quarterly dividends per share: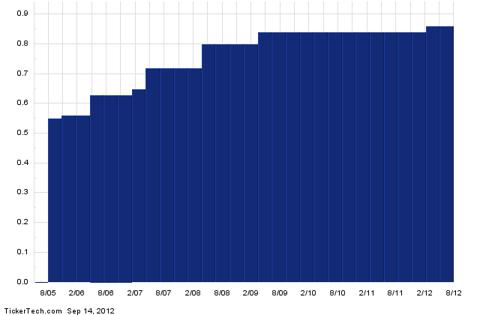 Shell's ability to pay its shareholders large dividends while investing billions of dollars into expanding its production shows how well management is performing. Even though it has been positioning itself to be a global leader in shale oil production in the next five years, investors have still received favorable returns from the continuous release of dividends. Investing in RDS provides the potential for both immediate income and high growth in future years.
Royal Dutch Shell (NYSE:RDS.B) knows of the opportunity that exists in shale production in the near future and is doing its part to secure high levels of production for the next five years. By making acquisitions in large American production companies, Shell is sure to benefit from the huge shale oil boom that will change the entire economy. America's high demand for oil will continue to drive Shell to increase their production to gain further market share. Management's commitment to shareholders while securing global dominance will lead to continued high yields and dividends in the future.
Disclosure: I have no positions in any stocks mentioned, and no plans to initiate any positions within the next 72 hours. I wrote this article myself, and it expresses my own opinions. I am not receiving compensation for it (other than from Seeking Alpha). I have no business relationship with any company whose stock is mentioned in this article.
Additional disclosure: This article was written by an analyst at Saibus Research. Saibus Research has not received compensation directly or indirectly for expressing the recommendation in this article. We have no business relationship with any company whose stock is mentioned in this article. Under no circumstances must this report be considered an offer to buy, sell, subscribe for or trade securities or other instruments.