Shares of Kraft Foods (KFT) have steadily returned 20.46% over the past 12 months. At $41.27 per share, the stock is trading very close to its 52-week high of $42.44 attained recently. Kraft is positioned to experience a short-term catalyst that the company's North American grocery business will be spun off to form a new publicly-traded company. I strongly believe that the two new public entities will help unlock shareholder values as their stocks will represent two different characteristics - growth-driven and dividend-driven, and those features will likely spark significant demand from institutional investors with either growth or income mandates. As Kraft is still trading reasonably, I am of the view that investors should take the current opportunity to establish a position prior to the spin-off event. My opinion is based on the following three reasons:
1. Kraft trades reasonably to the company's earnings potential (see table below). Analysts in average predict Kraft's EPS to rise by a relatively strong 2-year CAGR of 13.4% over the current and next fiscal years, substantially higher than the average of 8.7% for a peer group consisting of Kraft's competitors such as General Mills (NYSE:GIS) and Kellogg Company (NYSE:K). Accounting for the earnings growth estimate, the stock is trading at 1.8x PEG, lower than the peer average at 2.0x.

2. Kraft shares also appear to be reasonably priced relative to the firm's other financial fundamentals (see table above). Although the firm's revenue and EBITDA 2-year CAGR estimates of 2.3% and 5.7% are slightly below the peer averages, its EBITDA margin is forecasted to expand by 1.1% in the next 2 fiscal years, compared to the peer average at only 0.2%. Kraft's profit margins are generally in line with the peer group, however, the company's ROE and ROIC are significantly lower. Kraft also assumes an in-line leverage as reflected by its below-average debt to capitalization ratio but higher-than-average debt to EBITDA rate. In terms of liquidity, the company's LTM free cash flow margin is fairly comparable to the average, but its interest coverage ratio is lower. Both Kraft's current and quick ratios are slightly higher than the averages, reflecting a relatively healthy balance sheet.
Accounting for Kraft's in-line financial performance, strong brand equity, and solid international market share, a stock valuation premium should be warranted. Presently, Kraft trades at 11.2x LTM EV/EBITDA, 20.5x LTM P/E, and 25.9x LTM EV/FCF. The valuations represent an average premium of 13% over the three peer-average trading multiples (see table above), suggesting that the stock should be reasonably priced.
3. Both Kraft's LTM P/E and LTM EV/EBITDA multiples are currently trending just slightly above the company's five-year average level (see charts below), indicating a fair valuation level.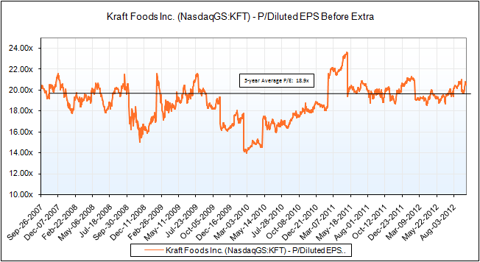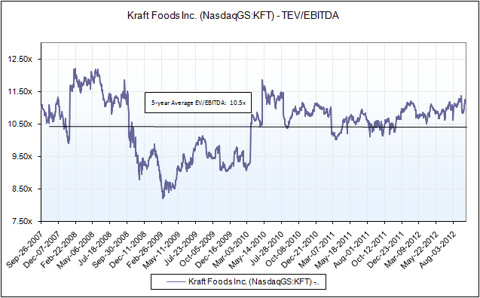 Bottom line, I believe the current stock price is still not reflecting the potential combined value of the two publicly-traded entities, and as such, I recommend acquiring the shares now so as to benefit from the spin-off event in October.
Comparable analysis table is created by author, all other charts are sourced from Capital IQ, and all financial data is sourced from Morningstar and Capital IQ.
Disclosure: I am long KFT. I wrote this article myself, and it expresses my own opinions. I am not receiving compensation for it (other than from Seeking Alpha). I have no business relationship with any company whose stock is mentioned in this article.