Regular readers of my columns know that I am a fan of stocks just under $5 a share with good fundamentals and solid growth prospects. I have found this can be a good investment strategy as a lot of institutions are prohibited from owning stocks below $5 a share. This means these stocks tend to be underfollowed and they can also pop if they get above $5 and are exposed to greater institutional buying. Here are two stocks that are trading just above $4 that I like here.
"RF Micro Devices, Inc. (RFMD) designs, develops, manufactures, and markets radio frequency components and compound semiconductor technologies primarily in the United States and Asia." (Business description from Yahoo Finance)
4 reasons RFMD is a great speculative buy at $4 a share:
Cantor Fitzgerald reiterated its buy rating on the company today. The analyst firm cited confirmation of

RF Micro's solutions in the iPhone5 as a key reason for the continued buy rating.

By end of year, the company's top two customers should be Samsung and Apple (NASDAQ:AAPL). Last year RF

Micro

's top three customers included Research in Motion (RIMM) and Nokia (NYSE:NOK). A positive turn of events.
The company has over $140mm in net cash on its books (just under 15% of market capitalization).
S&P also has a "buy" rating and a $6 price target on RFMD. The stock has also just started to bounce off a technical support level and just went over its 100 day moving average (

see

chart)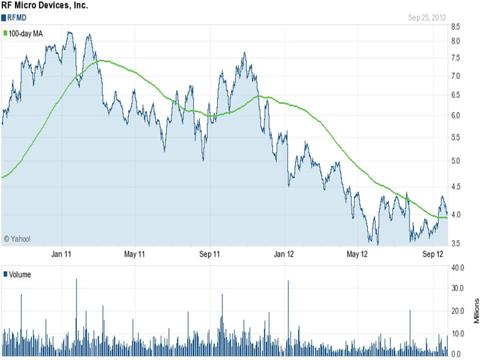 "Amkor Technology, Inc. (NASDAQ:AMKR) provides outsourced semiconductor packaging and test services in the United States and internationally. It offers package formats and services using wirebonding and flip chip interconnect technologies that connect the die to the package carrier." (Business description from Yahoo Finance)
4 reasons AMKR is a bargain at $4.50 a share:
The median analyst price target on the stock is $6 a share. Credit Suisse has an "outperform" rating and also has a $6 price target on AMKR.
The company has crushed earnings estimates each of the past three quarters (average beat over consensus of approximately 40%) and consensus earnings estimates for FY2013 have came up nicely over the last two months.
The stock is cheap at just 8% over book value and just over 5 times forward earnings. The five year projected PEG on AMKR is under 1 (.87).
The stock has solid technical support at these levels (

see

chart)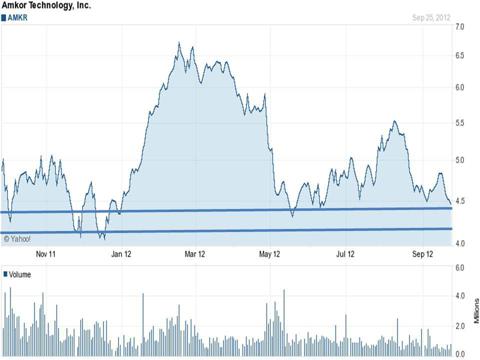 Disclosure: I have no positions in any stocks mentioned, but may initiate a long position in AMKR, RFMD over the next 72 hours. I wrote this article myself, and it expresses my own opinions. I am not receiving compensation for it (other than from Seeking Alpha). I have no business relationship with any company whose stock is mentioned in this article.