With several leading international pharmaceuticals having lost (and continue to lose) patents for their blockbuster drugs around the world, they have set out to seek opportunities to compensate for the loss of the resultant revenue drops. The market for generics will be increasingly important for big pharmas, and as we explain below, the need to tap the market has forced many pharmas to strike deals with Chinese drug companies to benefit from both the broader Chinese market and the expanding generics market.
Pfizer (NYSE:PFE) lost exclusivity for its drug Lipitor, which accounted for $9.6b of revenues in 2011, and the company is yet to find an alternative that can replace the star product in terms of cash flows. Part of the answer to the difficulties faced by major pharmaceuticals is to tap the market potential of emerging economies. As these economies grow, the pharmaceutical sector in these countries is set to grow as well, as lifestyle diseases spread, spending on healthcare spending increases, and access to affordable healthcare services is made easier. According to a report by IMS, these emerging markets are projected to witness healthcare spending shooting to $345-$375 billion by 2016, up from $194 billion last year.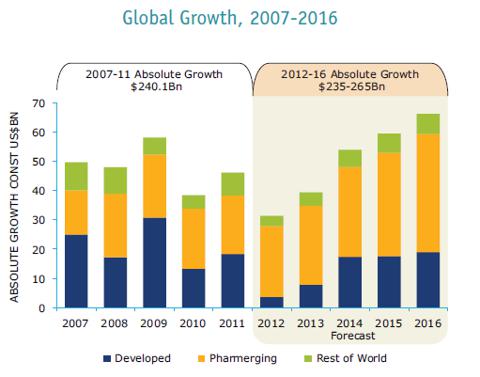 Source: FT
Europe will be the laggard in terms of growth (of 1-2 %) in the spending, owing to several austerity programs and healthcare cost-containment programs, and as can be seen from the chart given above, global spending growth will be largely realized through emerging economies.
One very important point in the report by IMS is the fact that pharmas will experience minimal growth in their branded products through 2016. The report claims that companies will witness flat-to-3% annual growth, whereas global generics will witness spending increases of 77% by 2016. Generics will witness a rise from 57% of the total spending on medicines in emerging markets in 2011 to 65% in 2016, whereas branded products are set to contract from 30%-to-24% of the market. Generics, hence, will account for 83% of the overall growth.
Due to the reasons given above, big pharmas have been increasingly looking towards emerging economies to generate much-needed sales growth. Pfizer witnessed a 14% growth in operational revenue for 2Q2012 in its emerging market unit, owing to strong volume growth in China and Russia. Furthermore, Pfizer wishes to ink deals with Chinese drug companies to make inroads in the generics drug market, and push its off-patent drugs in China and other emerging economies. International pharmaceuticals have been expanding their footprints in China, as they seek to cut costs and bolster sales. For example, Pfizer's joint venture with Zhejiang Hisun Pharmaceutical seeks to manufacture and sell off-patent drugs in China and other parts of the world. Zhejiang's expertise in the production of active pharmaceutical ingredients (API), and the fact that Chinese law and regulations favor drugs manufactured in China, will all benefit Pfizer. Hisun owns a 51% stake in the venture, while Pfizer is entitled to the remaining stake. Registered capital is $250 million and new factories are in Fuyang and Zhejiang provinces. Merck on the other hand has signed a deal with China's Simcere Pharmaceutical Group; a venture that aims to lower costs and allow the company to be in a better position to penetrate the Chinese markets. The existing sales network of Simcere will provide Merck's products access to China's second and third-tier cities.
| | | | | | |
| --- | --- | --- | --- | --- | --- |
| | PFE | GlaxoSmithKline (NYSE:GSK) | Johnson & Johnson (NYSE:JNJ) | Novartis AG (NYSE:NVS) | Merck (NYSE:MRK) |
| Forward P/E | 10.5x | 11x | 12.5x | 11x | 12x |
Pfizer provides a dividend yield of 3.67% and Merck yields an attractive 3.81%. Analysts mean price targets for PFE and MRK are $26 and $46, respectively. We are positive on both stocks and rate them both as buys.
Disclosure: I have no positions in any stocks mentioned, and no plans to initiate any positions within the next 72 hours.
Business relationship disclosure: The article has been written by Qineqt's Healthcare Analyst. Qineqt is not receiving compensation for it (other than from Seeking Alpha). Qineqt has no business relationship with any company whose stock is mentioned in this article.