The weakness in the U.S. economy is becoming quite evident. On Thursday investors got a durable goods number that was just abysmal. According to the Commerce Department, orders for long-lived manufactured goods fell 13.2% in August, the largest drop since January 2009. This was so far below expectations (-5%) that one wonders why economists bother forecasting anymore. Additionally, July's figure was revised down from a 4.1% increase in orders to a 3.3% increase.
If you are wondering what this means for stocks (other than a slip in the futures), consider the following graphic which shows 15 years of core durable goods orders and the performance of the S&P 500: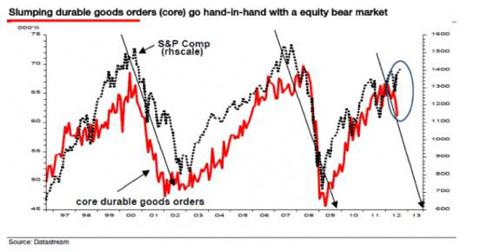 Source: Datastream via Robert Howcroft and ZeroHedge
Note that the graphic shows core capital goods and these actually rose 1.1% in August after falling 3.4% in July. Nonetheless, the trend this year has been negative (as the chart shows) and a 1.1% uptick isn't momentous. Additionally, as CNBC notes regarding core capital goods,
"...shipments of these goods, which are used to calculate equipment and software spending in the gross domestic product report, fell 0.9 percent after declining 1.1 percent in July...suggest[ing] third-quarter economic growth would probably not improve much from the April-June's 1.3 percent annual pace."
Speaking of GDP, the final estimate of second quarter growth came in far lower than expected at 1.3% (annualized). This was the slowest pace in nearly a year and missed everything as far as expectations were concerned coming in even lower than the lowest Street estimate. Consumer and business spending were also weaker than previously thought.
Thursday's U.S. economic data paint a rather bleak picture for the U.S. economic recovery. Investors should note that everything seems to be moving decidedly in the wrong direction. The pace of the 'recovery' has nearly flatlined in the U.S., U.S. stocks have retraced all of their post-QE3 gains, borrowing costs and CDS spreads are back on the rise in Spain and Italy, while austerity protests in Madrid and Athens have escalated to full blown riots complete with firebombs and rubber bullets.
Perhaps it is time investors take their cues from those who have sent the spread of the investment grade CDS index (IG CDX) widening dramatically over the past week. In other words, buy put protection on the S&P 500 (NYSEARCA:SPY) and the Nasdaq (NASDAQ:QQQ).
Disclosure: I have no positions in any stocks mentioned, and no plans to initiate any positions within the next 72 hours. I wrote this article myself, and it expresses my own opinions. I am not receiving compensation for it (other than from Seeking Alpha). I have no business relationship with any company whose stock is mentioned in this article.