All truth passes through three stages. First, it is ridiculed. Second, it is violently opposed. Third, it is accepted as being self-evident. -- Arthur Schopenhauer
The summer is over, and so goes with it the Summer Surprise of 2012 and "Great Realization" I wrote of here on Seeking Alpha on June 23. The core concept behind the Summer Surprise was that we would see an "end to the end of the world trade" as money realized that it had talked itself into a 2008 scenario without an actual Lehman event having taken place. The U.S. stock market, despite the most recent period of hesitation in trend, is nearing all-time highs, fund flows into equities are finally kicking in, and central bank paranoia is causing forced reflation to be in front of everyone's mind.
Following my series of writings on the Summer Crash of 2011, Fall Melt-Up, Winter Resolution of 2012, Spring Switch, and Summer Surprise, I believe the fall of 2012 will bring with it new Dow all-time highs, serving as the catalyst for money to accelerate a chase into risk assets. A global moment of cognitive dissonance likely occurs when every headline in unison focuses in on stocks being at multiyear highs, as the 2012 event no one saw coming in the face of the negative narrative ends up being price itself. This likely happens through a combination of a weakening U.S. dollar (NYSEARCA:UUP) and strength in emerging markets leading the charge.
Take a look below at the price ratio of the SPDR S&P Emerging Markets ETF (NYSEARCA:GMM) relative to the iShares MSCI ACWI Index Fund (NASDAQ:ACWI). As a reminder, a rising price ratio means the numerator/GMM is outperforming (up more/down less) the denominator/ACWI.
Click to enlarge image.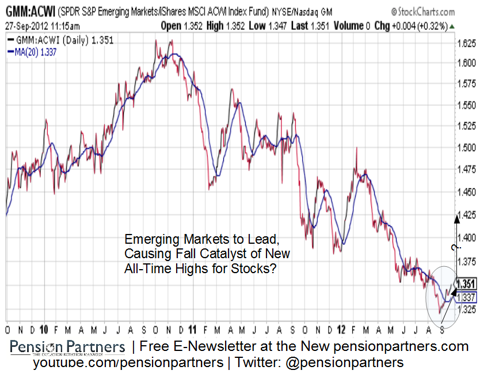 Click to enlarge
Notice the strength that appears to be just kicking in on the far right of the chart. Emerging markets have broadly been terrible performers relative to the U.S. for the past two years, but that may be about to change. More proactive measures by the People's Bank of China to stimulate might be enough to turn sentiment around, combined with what could be the end of other country easing cycles on growth expectations returning. The rotation into emerging markets in the next three months seems ever more likely as well due to the career risk hedge fund managers are facing because of vast underperformance relative to the S&P 500 this year, forcing them to trade a catch-up play overseas.
Having said that, market internals in the very short-term are hesitating. Our ATAC strategies used for managing our mutual fund and separate accounts are sensing some deterioration and may reposition into bonds for a quick trade. But make no mistake about it -- this has been a bull market in stocks few believed in but those listening to price. Inter-market trends still favor risk assets broadly ... at least for now.
Disclosure: I have no positions in any stocks mentioned, and no plans to initiate any positions within the next 72 hours. I wrote this article myself, and it expresses my own opinions. I am not receiving compensation for it (other than from Seeking Alpha). I have no business relationship with any company whose stock is mentioned in this article.
Disclaimer: This writing is for informational purposes only and does not constitute an offer to sell, a solicitation to buy, or a recommendation regarding any securities transaction, or as an offer to provide advisory or other services by Pension Partners, LLC in any jurisdiction in which such offer, solicitation, purchase or sale would be unlawful under the securities laws of such jurisdiction. The information contained in this writing should not be construed as financial or investment advice on any subject matter. Pension Partners, LLC expressly disclaims all liability in respect to actions taken based on any or all of the information on this writing.