Looking for the next gem takes a lot of effort and time. Gems are everywhere. This time, I was looking for promising US companies in the vitamin and dietary supplement market.
Background
According to a 2011 National Institutes of Health (NIH) study published in the Journal of Nutrition, 54% of all American adults took dietary supplements in 2006 (the last year figures were available). That figure, which was up by nearly 10 percentage points in the last decade, trails more recent industry survey results, many of which point to usage in 2011 settling around the 70% mark. Vitamins and Dietary Supplements (VDS) enjoy broad acceptance in the United States, where nearly half of all users reported using more than one supplement daily, and nearly 10% took five or more supplements a day. While all-in-one multivitamins remain the most commonly taken supplement, a rising consumer interest in nutrition and the skyrocketing popularity of daytime health and wellness television programs like "Dr. Oz" have helped encourage a new mass interest in specialty supplements.
VDS Spending (RSP and Per Capita) in the US, 2001-2011
Source: Euromonitor
Looking at global trends, the categories of vitamins, dietary supplements and herbal/traditional products significantly increased their combined retail value by 16% in the 2006-2011 period to reach $97.6 billion (constant terms/fixed exchange rate 2011). In contrast, OTC (over-the-counter) drugs saw their retail value rise 7% to $81.5 billion. This comparison shows a faster rise in consumer expenditure on vitamins, dietary supplements and herbal/traditional products to treat minor ailments, fill nutritional deficiencies or prevent diseases.
Regulation
Higher regulation of dietary supplements and herbal/traditional products can have several implications. While consumers will have access to safer and efficacious products to treat or prevent conditions, they may also see a narrowing array of options approved by regulatory agencies. Enhanced regulation seeks to remove unscrupulous companies from the marketplace while serious competitors build trust among consumers.
In the end, the new approach to healing will be based on an evidence-based combination of conventional OTC drugs and alternative options (vitamins, dietary supplements and herbal/traditional options). Consumers may start treating a headache with an alternative option. But if their headache is not going away, they may end up taking their OTC analgesic. Finding the right balance will be fundamental moving forward.
Companies are changing their views and adopting corporate strategies to face further regulatory requirements on dietary supplements and herbal/traditional products. Pharmaceutical and ingredient companies are endorsing "pharmaceutical grade" supplements that can potentially comply with future regulations.
Regulatory agencies pay significantly more attention to health claims and benefits supported by scientific evidence. That's why several non-pharmaceutical companies are cutting their product lines to focus only on those that seem the most promising in supporting health claims. Food companies such as Danone, Nestlé and Unilever are investing in medical nutrition that could meet future regulatory standards.
Growth
Several factors support the growth story that is emerging in the VDS market. Aging populations increasingly turn to VDS for preventive care, while marketing and consumer education campaigns emphasize general health and wellness. In addition, rapid urbanization fosters more sedentary lifestyles and unhealthy diets, raising the appeal of VDS as a quick nutritional fix.
The excitement over novel ingredients (like cranberry) with health benefits along with the renaissance of old remedies brought back to modern times are opportunities for investors looking for exposure in the VDS market.
Companies To Watch
GNC Holdings, Inc.
GNC Holdings (NYSE:GNC) is a leading global specialty retailer of health and wellness products, including vitamins, minerals, and herbal supplement products, sports nutrition products and diet products. As of June 30, 2012, GNC has more than 7,800 locations, of which more than 6,000 retail locations are in the United States (including 933 franchise and 2,157 Rite Aid franchise store-within-a-store locations) and franchise operations in 55 countries (including distribution centers where retail sales are made). The company - which is dedicated to helping consumers Live Well - has a diversified, multi-channel business model and derives revenue from product sales through company-owned retail stores, domestic and international franchise activities, third party contract manufacturing, e-commerce and corporate partnerships. GNC's broad and deep product mix, which is focused on high-margin, premium, value-added nutritional products, is sold under GNC proprietary brands, including Mega Men®, Ultra Mega®, GNC Total Lean, Pro Performance®, Pro Performance® AMP, Beyond Raw®, and under nationally recognized third party brands.
Earnings growth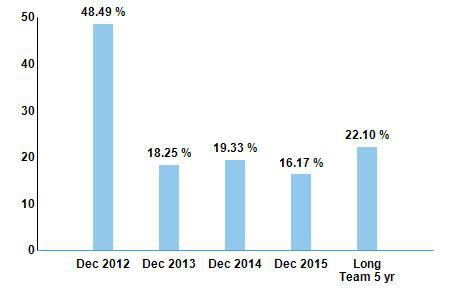 source: Nasdaq
Over the next five years, the analysts that follow this company are expecting it to grow earnings at an average annual rate of 22.1%. This year, analysts are forecasting earnings increase of 48.49% over last year. Analysts expect earnings growth next year of 18.25% over this year's forecasted earnings.
Analyst P/E Estimates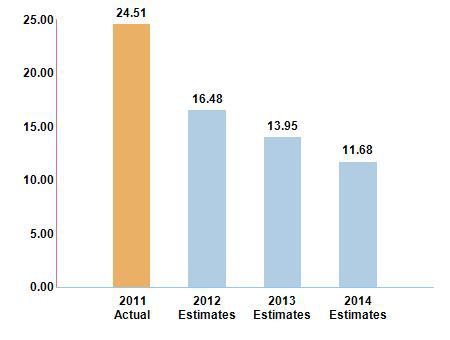 source: Nasdaq
Comparing the growth with a P/E 2012 between 16-17, there is still room for the stock to run to $45-$50, from the current level of $37.25.
More about the company can be seen in their latest investor presentation or here at Seeking Alpha.
Natural Grocers by Vitamin Cottage, Inc.
Natural Grocers (NYSE:NGVC) is a rapidly expanding specialty retailer of natural and organic groceries and dietary supplements whose products must meet strict quality guidelines. Grocery products may not contain artificial colors, flavors, preservatives, sweeteners, or partially hydrogenated or hydrogenated oils. The company provides extensive free science-based nutrition education programs to help customers make informed health and nutrition choices. Founded in 1955, the company currently operates 58 stores in 12 states, and has signed six leases for stores opening by Spring of 2013.
The company has positive comparable store sales growth for over 40 consecutive quarters. Sales have increased at compound annual growth rate of 13.3% and EBITDA of 10.4% from fiscal 2009 to 2011.
ChromaDex Corporation
ChromaDex, Inc. (NASDAQ:CDXC) is an innovative natural products company that provides proprietary, science-based solutions and ingredients to the dietary supplement, food & beverage, animal health, cosmetic and pharmaceutical industries. ChromaDex's pipeline of proprietary products include patented pTeroPure® pterostilbene, which was named the 2010 North American Most Promising Ingredient of the Year by the independent research company Frost & Sullivan. The company has also launched ProC3G™, a natural black rice extract containing 40% cyanidin-3-glucoside and is in the process of developing Nicotinamide Riboside, a novel next-generation B-vitamin. All products are backed with extensive scientific research and intellectual property.
As of December 31, 2011, it had developed and launched the BluScience line of new retail dietary supplement products containing the patented pTeroPure® pterostilbene ingredient. This ingredient is also sold as an ingredient for incorporation into the products of other companies.
Some big news for the company came on September 20. Findings from a Phase 2/3 trial at the University of Mississippi Medical Center shows that the company's patented nutritional ingredient pTeroPure® significantly reduced blood pressure in adults. The findings from the study, the first clinical trial of the pure compound, were presented at the American Heart Association's High Blood Pressure Research 2012 Scientific Sessions.
According to Wikipedia, pterostilbene is a stilbenoid chemically related to resveratrol and is found in blueberries and grapes. It belongs to the group of phytoalexins, agents produced by plants to fight infections. Based on animal studies it is thought to exhibit anti-cancer, anti-hypocholesterolemia, anti-hypertriglyceridemia properties, as well as the ability to fight off and reverse cognitive decline.
Exposure
ChromaDex initiated its first nationwide retail product line roll out with the launch of BluScience in GNC stores in late 2011. As mentioned before BlueScience contains pTeroPure® pterostilbene, a supercharged antioxidant found in blueberries. In early 2012 the product line became available at Walgreens (WAG) and is now available in more than 17,000 outlets in the U.S.
Final Note
Recent supplement acquisitions by big pharmaceutical companies show a trend toward alternative formats, as witnessed by two of the most well-known predominantly non-pill supplement producers - Alacer (maker of Emergen-C) and Airborne - both being acquired in 2012 by Pfizer (NYSE:PFE) and Schiff Nutrition International Inc, respectively.
My opinion is that ChromaDex could be a takeover target for big pharmas looking for candidates in the neutraceutical industry that are legitimate and have intellectual property. Big pharmaceuticals and some food producers are seeking growth in the proprietary ingredient business. For speculative investors ChromaDex could be interesting because of the growth prospects of their BlueScience product line and the possibility of an acquisition.
Disclosure: I have no positions in any stocks mentioned, but may initiate a long position in CDXC over the next 72 hours. I wrote this article myself, and it expresses my own opinions. I am not receiving compensation for it (other than from Seeking Alpha). I have no business relationship with any company whose stock is mentioned in this article.
Additional disclosure: The word VDS is often used and refers to Vitamins and Dietary Supplements.