Is Ford (NYSE:F) a bargain or a total lemon to stay away from? On the plus side, Ford's earnings per share look good overall compared to Toyota (NYSE:TM), Tata Motors (NYSE:TTM), or even General Motors (NYSE:GM). Ford currently has EPS of $4.40, with Toyota at $4.67, Tata Motors at $4.06, and GM at $2.81.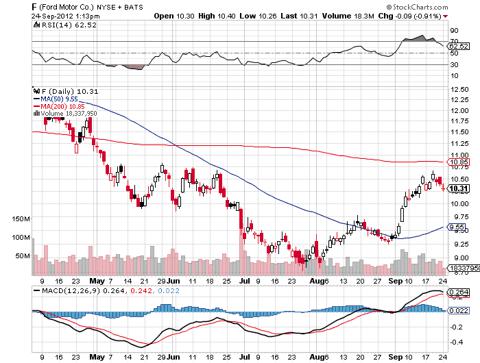 Looking at share price, some people think Ford is a real bargain, but the charts show a different story. The company suffered serious losses over the summer, and its share value has never really recovered. Ford's share value sank, even though its sales increased by 13% in the U.S. in August. Ford has delivered some bestselling models, including the Escape SUV, the Focus compact, and the Fusion sedan. News reports indicate that sales for the new Escape increased by 37%, and Fusion sales increased by 21%.
The problem is that Ford's success in its home market is not being duplicated overseas. The biggest problem for Ford is Europe, where its sales are now in free fall because of aggressive competition and a lousy economy. Ford's European business reported a $404 million pretax operating loss in the second quarter of 2012. That is more than double the loss for the same period last year. Ford admitted that it lost $1,125 per car it made in Europe in the last year, and that its losses on the continent for this year might exceed $1 billion.
What this seems to indicate is that for every dollar it makes in the U.S., it loses in Europe. That doesn't seem like a value investment to me; very much the opposite. The situation is made worse by Ford's limited presence in China, which is widely seen as the future of the auto business. Ford has failed to export cars to China even though some of its cars, such as the Mustang muscle car, are popular there.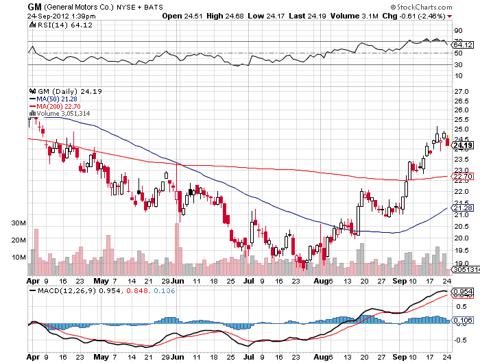 General Motors, on the other hand, has a massive presence in China, where it has just opened that country's largest vehicle testing plant. GM sold 2.5 million vehicles in China in 2011, which has made it the sales leader among global automakers.
Ford's China Strategy-Too Little Too Late?
Ford does have a plan for China, but it's hard to see what it is. Ford CEO, Alan Mulally, told CBS news that Ford's plan for China is Henry Ford's original strategy for the company. That sounds good for a sound bite, but China in 2012 is not the United States in 1912. Mulally also told CBS that the Chinese "market is hot," but that's something we've known for years, and he's only figuring it now. Perhaps Ford needs to buy its executives a few tickets to China or get some new blood in the corner office.
Ford is only now building its first coastal plant in China just as the boom there seems poised to end. The company is planning to build a $760 million factory in Hangzhou near Shanghai that will build 250,000 vehicles a year. Ford is also making plans to introduce its Lincoln luxury brand to China in 2014, years after competitors, such as Audi AG (NYSEMKT:NSU), General Motors (maker of Cadillac), Tata (maker of Jaguar), and BMW (BMW.DE), landed.
Ford's lagging shows in its sales and income figures. Even though Ford's income grew by 208.1% in the last year, its sales only grew by 5.7%. In the same period, GM saw its sales grow by 10.8% while its income grew by 62.5%. So General Motors has been able to register more sales growth, but it only has a net profit margin of 3.13%. Ford, on the other hand, has a net profit margin of 13.28%.
Ford is making money, but how long will it be able to make money if it can't tap the China market? Will Ford be able to deliver that 13.28% net profit margin and earnings per share ratio of $4.42 if the problems in Europe continue?
Ford Has a High Debt to Equity Ratio
There's another ticking time bomb under Ford that some value investors have been ignoring. The company has a debt to equity ratio of 5.86%. That's high for an auto company despite all of its troubles; General Motors has a debt to equity ratio of just .36%.
You might call me a pessimist, but I have to ask-how can Ford pay off all that debt and finance a big expansion in China with the big losses in Europe? Despite its recent successes, Ford seems to be a company in need of vision and leadership. Its current strategy seems to be to follow GM and hope they get it right.
Ford is not necessarily a value investment. The company is facing massive losses in Europe and carrying a heavy debt load. This might limit its ability to expand in the one market it needs desperately: China.
Disclosure: I have no positions in any stocks mentioned, and no plans to initiate any positions within the next 72 hours. I wrote this article myself, and it expresses my own opinions. I am not receiving compensation for it (other than from Seeking Alpha). I have no business relationship with any company whose stock is mentioned in this article.