Amazon (NASDAQ:AMZN) is heavily investing in capital expenditures that may or may not pay off in the future. The company is hoping the heavy cost to build the infrastructure that would be needed to compete with them will hold off the competition. The market is beginning to notice the stock again but will price appreciation continue without increases in earnings? Recently the price has been rising as is evidenced by this graph provided by Barchart: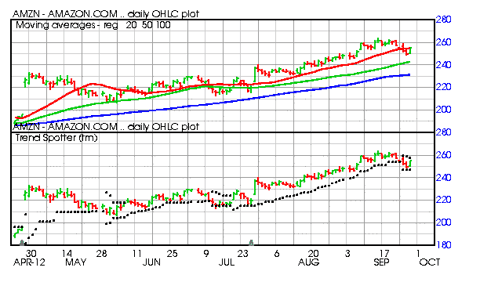 Click to enlarge
Although this recent price rise is nice, during the past year the stock has gained 14% while the market as measured by the Value Line index is up 20%: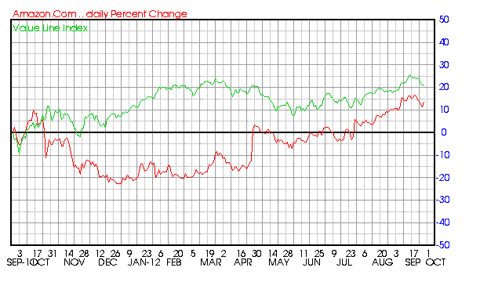 Click to enlarge
Amazon.com, Inc. operates as an online retailer in North America and internationally. It operates retail Websites, such as amazon.com and amazon.ca. The company serves consumers through its retail Websites and focuses on selection, price, and convenience. It also offers programs that enable sellers to sell their products on Websites and their own branded Websites. In addition, the company serves developers and enterprises through Amazon Web Services, which provides access to technology infrastructure that developers can use to enable virtually various type of business. Further, it manufactures and sells the Kindle e-reader. Additionally, the company provides fulfillment services; miscellaneous marketing and promotional agreements, such as online advertising; and co-branded credit cards. Amazon.com, Inc. was founded in 1994 and is headquartered in Seattle, Washington. (Yahoo Finance Profile)
Factors to consider:
Barchart technical indicators:
32% Barchart technical buy signal
Trend Spotter hold signal
Trading below its 20 day moving average but above its 50 and 100 day moving averages
9 new highs and up 4.48% in the past month
Relative strength Index is 55.30%
Barchart computes a technical support level at 244.46
Recently traded at 255.36 with a 50 day moving average of 242.94

Fundamental factors:
31 Wall Street brokerage firms have assigned 42 analysts to run the numbers on the company
The analysts predict revenue will be up 31.80% this year and another 28.60% next year
Earnings are estimated to decrease by 13.10% this year but increase by 110.10% next year and continue to grow by an average 30.21% annually for the next 5 years
Analysts think if these projections are correct investors could see a total annual rate of return in the 9% - 11% range over the next 5 years
The stock has a P/E of 311.68 and pays no dividend while the market has a P/E of 15.30 and pays a 2.30% dividend
The balance sheet rates an A+ for financial security
The earnings are being effected by a very heavy capital investment that has a shorter depreciation schedule due to the rapid obsolescence in the technology sector.
Investor interest:
I use the readers of Motley Fool to gauge individual investor sentiment and 6,605 Fool readers gave the stock an 80% vote of confidence to beat the market - I like to see this indicator at 85% or more
TheStreet give the stock a C+ rating which is not that high either

Wall Street analysts however give 13 strong buy, 16 buy, 12 hold and only one under perform recommendation

Firms giving a thumbs up are Canter Fitzgerald, Lazzard Capital, Morgan Keegan and Jefferies
Jim Cramer still likes the stock

Competition:
Competition for your online dollars is high and I always look to the market for the final vote. During the past year Amazon's price rose 34%, Google (NASDAQ:GOOG) was up 26%, eBay (NASDAQ:EBAY) up 23% and since trading Facebook (NASDAQ:FB) is down 46%: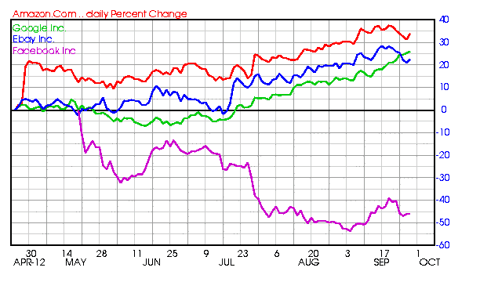 Click to enlarge
My conclusion: Some major advisory firms are recommending waiting for a price pullback to enter into this trade. Although the P/E is very high I think the train is leaving the station on this one. You should get on this speculative trade now if you intend to ride at all. A review of the recent turtle channels should convince you to fish or cut bait now: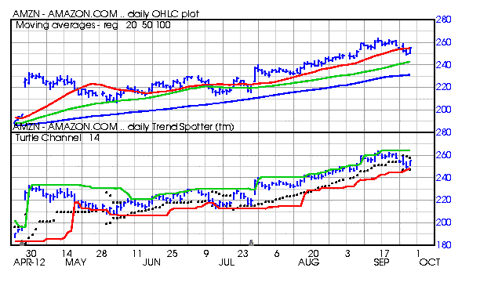 Click to enlarge
Disclosure: I have no positions in any stocks mentioned, but may initiate a long position in AMZN over the next 72 hours. I wrote this article myself, and it expresses my own opinions. I am not receiving compensation for it (other than from Seeking Alpha). I have no business relationship with any company whose stock is mentioned in this article.