Both gold and silver continued their winning seasonal ways in Q3, with the gold ETF rising 9.4% and the silver ETF increasing by an inspiring 23.3%. Both have handily outpaced the S&P 500 index, which has climbed a very respectable 5.8%.
But, will their winning ways continue in Q4?
Every quarter, the Seasonal Investor considers which baskets and stocks are likely to benefit from head and tailwinds. The following charts show how both the gold and silver ETFs have historically performed in Q4 by month.
This first chart shows GLD's average monthly returns versus the SPY since GLD's inception in 2005.
You can see that GLD typically takes a breather in relative return in the months of October and December. However, November has been a stellar month for market excess.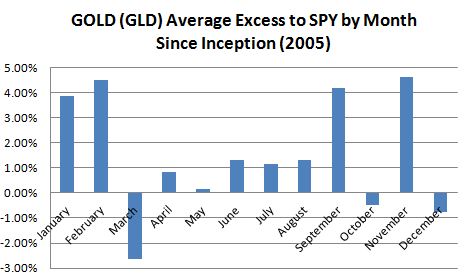 This next chart shows the average monthly returns for the GLD by month. While it may have a tendency to trail the SPY in October and December, average returns in those months are at least still positive.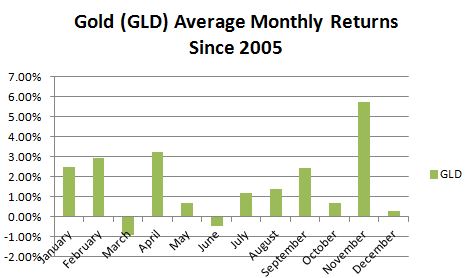 Now let's take a look at the Silver ETF . Similar to above, the first chart shows the SLV's average excess return to the SPY by month. In it you can see it has historically outpaced the market in October and November, before lagging in December.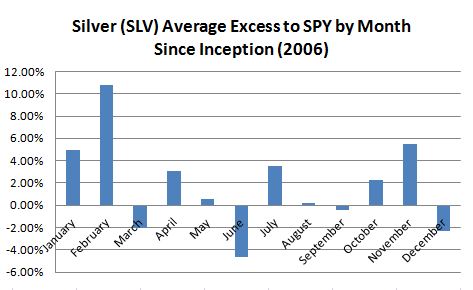 The next chart shows the average returns for the SLV ETF by month. Historically, the SLV ETF has posted absolute positive returns in October and November before sliding in December.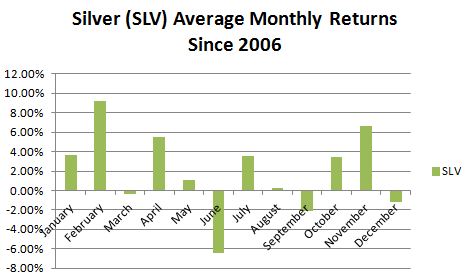 Looking at the yearly Q4 performance of both the GLD and SLV ETFs, gold has fairly strong seasonality having finished higher in 6 of its 7 years since inception. Silver has finished higher in 4 of its 6. Silver is also much more volatile, posting a standard deviation of 17.88% versus Gold's 5.56%. Gold has clearly been more predictable, posting an average median return of 8.45% in the quarter.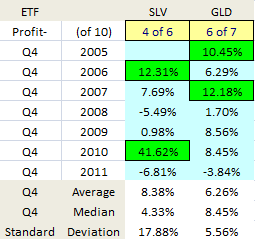 Seasonally seems to suggest investors are better suited holding gold for the quarter than silver, mostly because of the volatility.
But, for those more active and willing to take on more risk, a strategy might include overweight silver to gold in October and November before switching to a gold overweight for December.
Disclosure: I have no positions in any stocks mentioned, and no plans to initiate any positions within the next 72 hours. I wrote this article myself, and it expresses my own opinions. I am not receiving compensation for it (other than from Seeking Alpha). I have no business relationship with any company whose stock is mentioned in this article.