The Chinese government's revision of its fiscal and monetary policy will stimulate economic growth in the country in the second half of 2012. In our opinion, these economic stimuli will enhance energy consumption growth, while the relaxation in the fuel price mechanism will benefit two giants, namely PetroChina Limited (NYSE:PTR) and Sinopec (NYSE:SNP). Both these stocks are trading at cheap valuations, and have considerably strong dividend yields. Therefore, we suggest investors to take long positions in these stocks based upon the following investment thesis.
Sinopec
Despite Sinopec improving its cost controls, refinery throughput, oil and gas production, and total sales volume of oil products, it has witnessed a decline of 40% in net profits over the last one year. The decline was primarily because of the decrease in refining profitability, which was in turn caused the government's unfavorable fuel pricing policies. Despite the decrease in the net profit from 20.5 billion Yuan in 1Q2011 to 11.09 billion Yuan in 2Q2012, it beat the average analyst estimate of 8.43 billion Yuan. The company's high capability and good growth prospects are depicted in its future guidance, which is increasing its crude oil refining processing by 104% over the next one year. Its new discoveries in the Ordos basin, Shegali Oil field, Tarim basin, Sichuan basin and the Jungar basin will enhance its volume growth. Moreover, the stock is trading at cheap valuations, with a forward P/E of 6.3x, in comparison to the industry average of 7.3x. Therefore, we have a bullish stance on the stock.
China is the largest consumer of energy in the world. The Chinese economy has been growing at a real rate of around 10% per year over the last 10 years, which is fueling energy consumption in the country. The recent slow growth in energy consumption is reflected in China's GDP growth of approximately 7.8% in 1H2012, which is lower than in the previous three years. According to a forecast by the U.S. Energy Information Administration, China and India will consume around 31% of the world's total energy in 2035, due to their strong economic growth prospects.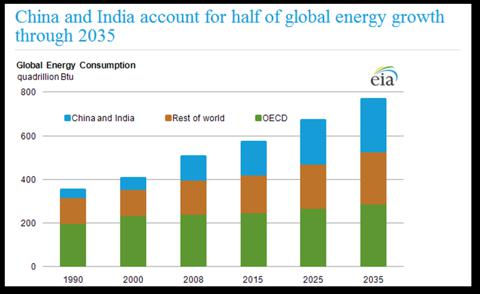 Click to enlarge
Source: U.S. Energy Information Administration
The company's major exposure is to the downstream refining business. The Chinese government's fuel pricing policies to control inflation have impacted the company's refinery profitability, as well as those of its competitors. Its direct competitor, PetroChina , has registered a loss of 6% in earnings due to a decline in refining to 490mboed in 1H2012.
The company has registered a refining loss of 18.5 billion Yuan in 1H2012. Its chemical business' operating income declined by 107% in the last one year, due to a slow economic growth rate and high competition in the chemical business segment.
The company was not able to transfer higher crude oil prices to its final customers, due to the Chinese government's fuel pricing policies. Because of this, the company's net profit has witnessed a decline of 40.5% over the last one year. The decrease was limited because of a better performance in its production and exploration business segment. Its operating profits in the E&P segment have considerably increased from 34.6 billion Yuan in 1H2011 to 40.46 billion Yuan in 2H2012.
In our opinion, the company's financial health will be restored in the second half of the current year; primarily because of the initiative taken by the Chinese government to boost economic growth by revising its fiscal and monetary policy. The government's plan to enhance consumer spending and increasing infrastructure investment will improve the energy consumption growth rate. We believe these economic measures will stimulate the refined oil and chemical products' demand and enable the company to generate higher profits in the coming period.
Going forward, the Chinese government is also expected to show flexibility in the pricing mechanism which would help the stock to acheive better margins.
Valuation
| | | | |
| --- | --- | --- | --- |
|   |   |   |   |
|   | China Petroleum & Chemical | CNOOC (NYSE:CEO) | PetroChina |
| PEG (5 yr expected): | -11.71 | -1.75 | 0.64 |
| P/S (NYSE:TTM): | 0.19x | 2.42x | 0.73x |
| Forward P/E | 6.3x | 8.18x | 8.4x |
| EV/Revenue | 0.3x | 2.17x | 0.89x |
| EV/EBITDA | 5.04x | 4.4x | 5.77x |
SNP is currently trading at a P/S of 0.19x, in comparison to P/S of 2.4x and 0.73x of CNOOC and PetroChina , respectively. Its EV/Revenue is 0.3x, which is lower than the 2.1x of CNOOC and the 0.89x of PetroChina .
PetroChina
Despite the slow economic growth in China, the company has managed to register a turnover increase of 10% in the last one year. The stock is trading at cheap valuations, with an EV/Revenue of 0.8x, which is at a discount when compared to the industry average of 1.1x. The company's low 5-year expected PEG ratio of 0.64 reflects that investors can buy growth on the cheap. It has a strong dividend yield of 3.87%, as compared to the industry average of 2.3%. The company is attractive to investors due to its higher return on equity of 12.8% in comparison to the industry average of 7.6%. Its lucrative shale gas projects, including Weiyan and Zhatotang, will be expected to bring a large amount of growth for the company.
PetroChina is an oil and gas company involved in the production, exploration, development, refining, supply, and marketing of oil and gas. The company's business operations are divided into four segments, namely Natural Gas and Pipeline, Exploration and Production, Refining, and Marketing. The company has been generating the major proportion of its revenues from the Exploration and Production segment.
In its upstream business segment, the management expects the Changqing Oilfield to continue producing high volumes. Moreover, its underdeveloped projects of Keshen, Sulige and Dabei will enhance its capacity to meet increasing demand for natural gas. The company's effective operations in the Sandstone reservoirs will bring improvements in its margins.
The company will economically benefit through its prioritizing of exploration of unconventional natural gas, in the order of tight, coal methane and shale gases. The management believes this order of gas exploration will reduce the geological complexities in petroleum engineering.
Its long-term focus on natural gas development projects is in line with the China Energy Development Program. Despite the company incurring losses due to high imported natural gas prices, the increasing proportion of natural gas consumption will improve the situation. The expected flexibility in the pricing mechanism will enable the company to transform these losses into profits.
| | | | |
| --- | --- | --- | --- |
|   |   |   |   |
|   | PetroChina | CNOOC | China Petroleum & Chemical |
| Market Cap: | 236.63B | 88.66B | 79.49B |
| Qtrly Rev Growth (yoy): | 3% | -5% | 5% |
| Gross Margin : | 36% | 72% | 18% |
| Operating Margin : | 9% | 35% | 3% |
The company recorded an increase in revenues primarily due to its good cost control, optimization of investments, and an increase in production and exploration projects in the last one year. It has reported EPS of $0.05, which decreased by 5% in the last one year. This decline in profitably was attributed to higher prices of imported natural gas.
The company's gross and operating margins of 36% and 9% are higher than China Petroleum's margins of 18% and 3%, respectively. On the other hand, the figures were considerably lower than CNOOC's gross margin of 72% and operating margin of 35%. Going forward, we expect that the margins will improve with the increase in economic growth and a relaxation in the government's fuel price policy.
The stock is trading at 0.7x to its sales, at a discount when compared to CNOOC's P/S of 2.4x and at premium when compared with China Petroleum & Chemical's 0.19x.
Disclosure: I have no positions in any stocks mentioned, and no plans to initiate any positions within the next 72 hours.
Business relationship disclosure: The article has been written by Qineqt's Energy Analyst. Qineqt is not receiving compensation for it (other than from Seeking Alpha). Qineqt has no business relationship with any company whose stock is mentioned in this article.