Sirius XM (NASDAQ:SIRI) shares have exhibited considerable strength lately, shooting up from lows around $2.34 on September 14th to today's closing price of $2.59, for over a 10% gain in less than two weeks of trading. With the majority of trades in today's trading going for the asking price, money flow into the stock showed heavy accumulation on high volume of 77 million shares traded.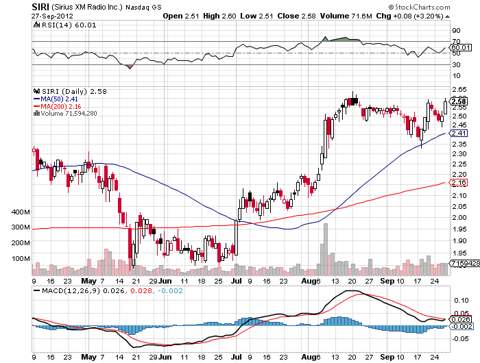 Click to enlarge
Investors should take note. While comments around the web indicated that sentiment was that the week's rise was due to additional purchases by Liberty Media (NASDAQ:LMCA) in its pursuit of control of Sirius XM, to date there have been no forms filed indicating that Liberty has increased its stake. Given that these forms are required to be filed no more than 3 days after purchase, if Liberty has been purchasing, expect a form 4 to be filed and posted on this website soon. For each day that no form 4 is filed, it can be assumed that trading activity was not due to Liberty Media for 3 days or more prior.
Because Liberty currently sits at roughly 49.6% control of Sirius XM, and because Liberty is still waiting on an FCC green light to go ahead and raise their stake to over 50% to gain control, it is my opinion that it's unlikely that Liberty is making large purchases at this time. In that case, who is? Traders? Another big player? Retail investors?
It may be difficult to tell, but one theory that may hold up is that the current move is being fueled by expectations that Sirius XM will be releasing updated guidance soon on subscribers for 2012. Because it is widely accepted that the company has guided low at a current 1.6 million additions for the full year, and because it has already reached over 1 million additional subscribers for the first half of the year, many expect guidance to be increased by 25% or more to 2 million. An excellent read on this can be found in fellow author Spencer Osborne's article.
Consider Spencer's prediction:
"With that, the next burning question is where 2012 subscriber guidance will be. At the low end of my model the subscriber total after Q3 will be about 1,520,000. The high end would be about 1,550,000. This would mean that we will be about 450,000 to 480,000 away from 2 million. I can realistically see the Q4 subscriber number being in the same proximity as the Q2 number of 622,000. If we consider that happening, the realistic number for 2012 will be in the neighborhood of 2.1 million for 2012."
2.1 million. That's significant, especially when considering that Sirius XM started the year off with expectations of 1.4 million additional subscribers. It's a 50% beat over guidance in what many argue is a depressed economy where individuals are cutting back on non essentials and discretionary spending. Apparently Sirius XM, by many, is considered to be essential.
Are these high hopes? Unreasonable expectations? There are those who will argue that Sirius XM is on its last leg. Certainly Sirius XM bulls have heard that enough over the years. The fact of the matter is that no matter how many times bears type up their "opinion" of Sirius XM CEO Mel Karmazin "killing" the company, or that Liberty Media will "destroy" the stock, or that Pandora (NYSE:P), or Apple's (NASDAQ:AAPL) iPod will "crush" satellite radio, they have all been completely and utterly wrong. There's no reason to expect that Sirius XM will not increase guidance early in October, and there's no reason to expect that Sirius XM will show anything but continued strength going forward.
Investors should watch the share price carefully. $2.59 is a multi year high close going all the way back to 2008, and matches the previous high close of the year. If the share price can break through this level, I would not be surprised to see prices increase to my current target range of $2.75 to $3 for 2012 in very short order.
Disclosure: I am long SIRI. I wrote this article myself, and it expresses my own opinions. I am not receiving compensation for it (other than from Seeking Alpha). I have no business relationship with any company whose stock is mentioned in this article.