Market Recap
After five down days, the market recovered some on the unlikeliest of days. Despite a major drop in GDP estimates, durable goods orders, and pending home sales, the market rallied. GDP estimates for Q3 dropped to 1.3% vs. 1.7% expectations. Durable goods fell13%, and pending home sales declined over 2%. A slate of bad news was buoyed somewhat by initial jobless claims coming in at 359K vs. 380K expectations. The market was also seeing some potential window dressing as we end Q3 and the month of September on Friday. Further, we hit some major support levels in the market yesterday, with 13400 on the Dow Jones and 1425 on the S&P. As such, the market ignored bad data, as it is more concerned with QE3 being a rally chip after a nice consolidation. All in all, it may be setting up for a nice end to the week.
Here are some stocks we like moving through the week and beyond:
Stocks To Trade
Today, we are looking at an earnings trade in Goldman Sachs (NYSE:GS), longs in Disney (NYSE:DIS) and TJX Companies (NYSE:TJX), and shorts in Polycom (NASDAQ:PLCM) and Boeing (NYSE:BA).
For an earnings trade, we like the looks of a bullish position in Goldman Sachs. Last year, the Q3 report for GS was a disaster, but the company should be very solid in its report this year. It is expected to see a nearly 100% increase in revenue YOY, as well as a 300% increase in earnings. The company should benefit from a very bullish market for July-September that was great for trading profits versus last year. M&A still remains limited for the company, but we believe there are no expectations for anything major from that. With such strong growth in EPS and revenue, we expect a solid run up into earnings. Additionally, after the company formed such a great bull flag, it's looking ready to power to 120. We recommend being long the stock paired with a nice bull put spread to offer some hedge.
Trade: GS, Long and GS, Oct20, 105/100 Bull Put Spread
Max Gain: 8% on spread
(click image to enlarge)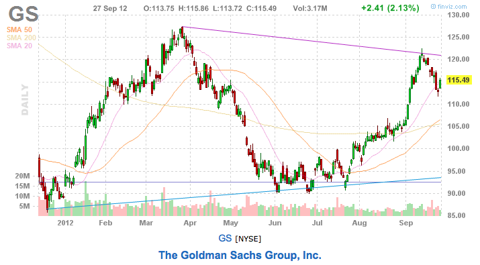 Click to enlarge
For longs, we like the looks of Disney and TJX Companies. Disney looks ready to breakout even higher. After the deal made between the NFL and refs, football may be just about ready to blow the roof off of ratings, as fans will pour in to watch games over the next few weeks. Disney, which runs ESPN, will definitely benefit from this deal, and we believe it should be set for a very strong earnings report after successful film releases in Q3 like "Brave" and "The Odd Life of Timothy Green." The company is very solid technically in a great uptrend, and it looks to be nearing a breakout point at 53.50. Additionally, TJX Companies is a stock we continue to like. TJX's lineup offers a good spot of value in shopping that still remains since the job market continues to be depressed. For that reason, we continue to believe that cash flow will remain for TJX. The stock recently showed a nice bottom in its upward channel at 44 that we believe can be used for an options play.
Stock Trade: Long, DIS
Breakout Point: $53.50
Options Trade: TJX, Nov17, 42.50/40 Bull Put Spread
Max Gain: 22%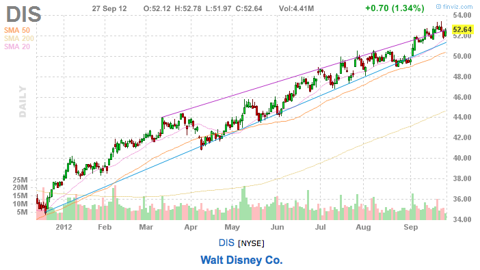 Click to enlarge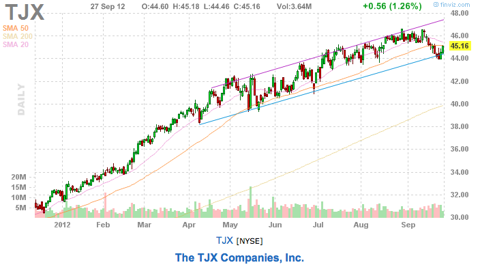 Click to enlarge
For shorts, we like the looks of Polycom and Boeing. Neither company took part in today's rally, which is not a good sign for either. Yet it's just one day. The problem for both is they have been depressed for awhile here, and we do not see a lot of upside. Polycom has put together two fairly bearish earnings reports, and it is in a very strong downward trend. The long-term outlook for the company looks speculatively interesting, but until it starts to turn some earnings and revenue growth, the stock will remain suppressed. Right now, the stock looks like it could be on the verge of another breakdown after rallying with the market. The stock has solid support at 10 with its 50-day MA, but if it loses that MA and theoretical support line at $10, it could see a lot of selling. The short float is only 8% as well, which is not significant for a company that has performed so poorly this year. Boeing has also been struggling since recent FAA inspections started surfacing and analysts have backed off the stock. We would be cautious with Boeing, as its orders have been limited as of late, and the FAA inspections put a black eye on the stock. The stock has pretty significant resistance above it right now, and the 72.50/75 bear call spread seems solid.
Stock Trade: PLCM, Short
Breakout point: Failure of 50-day MA and $10
Options Trade: BA, Oct20, 72.50/75 Bear Call Spread
Max Gain: 14%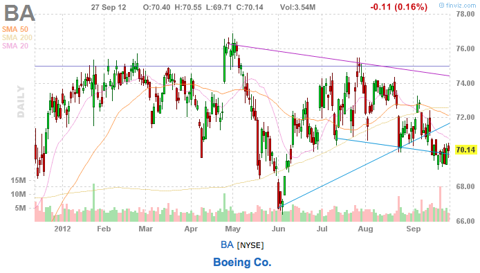 Click to enlarge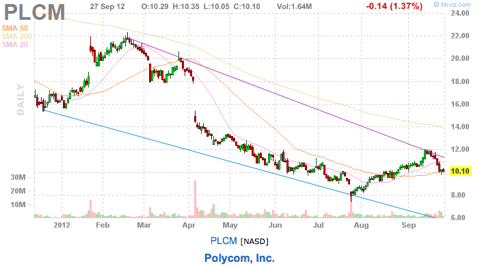 Click to enlarge
Tomorrow's Outlook:
As we speculated yesterday, the market seemed to have found a near-term bottom, and with window dressing occurring as well as cash flow readjustments next week, we may be looking at a market that wants to use this consolidation as a buying opportunity. Today's data was pretty weak, and if we get another weak slate of data, the market could be limited in its upside. At the same time, the last day of the quarter should see some window dressing, and shorts that are not out will be likely to close positions tomorrow. Look for a lot of stocks to get pinned to key levels tomorrow. Michigan Consumer Sentiment and Personal Spending data will be very important to the market's move tomorrow. If good, we could see a very strong day tomorrow. If weak, we expect a more flat move.
Our Moves/Holdings:
We had a pretty nice day, as we closed half of our long in Las Vegas Sands for a 1.5% gain. We also got a 20% gain on a long-term position in Dominos Pizza (NYSE:DPZ). We did, however, close out our puts on F5 Networks for a slight loss. We added a long in Seagate Tech (NASDAQ:STX) on a breakout of 31.40, as well as a pair trade long Freeport-McMoRan (NYSE:FCX) and short the S&P (NYSEARCA:SPY). Further, we added a bullish play on Goldman Sachs, discussed above.
We have the following positions:
In our Short-Term Equity Portfolio we are long Las Vegas Sands (NYSE:LVS), Seagate Tech and Freeport-McMoRan. We are short the SPDR S&P.
In our Options Portfolio, we are long Williams-Sonoma (NYSE:WSM), Apple (NASDAQ:AAPL). We are short iShares Russell (NYSEARCA:IWM).
In our Earnings Alpha Portfolio, we are long Goldman Sachs, Alexion (NASDAQ:ALXN), Costco (NASDAQ:COST), Polaris (NYSE:PII), Crocs (NASDAQ:CROX). We are short Buffalo Wild Wings (NASDAQ:BWLD).
In our Goldman Sachs Up/Down Paper Portfolio, we are long American Water Works (NYSE:AWK), Walgreens (WAG), Apple, Manitowoc (NYSE:MTW), and Netsuite (NYSE:N). We are short Transocean (NYSE:RIG).
Charts courtesy of finviz.com.
Disclosure: I have no positions in any stocks mentioned, and no plans to initiate any positions within the next 72 hours.
Business relationship disclosure: The Oxen Group is a team of analysts. This article was written by David Ristau, one of our writers. We did not receive compensation for this article (other than from Seeking Alpha), and we have no business relationship with any company whose stock is mentioned in this article.