We are bullish on Portugal Telecom (NYSE:PT) based on its recent results, regardless of the ongoing financial crisis in the region. Despite competitive pressures and tough regulatory measures it has revived its revenue growth, with revenues returning to the pre-crisis level in FY 2011. Because of its exposure to high-growth markets of Brazil, the domestic weakness has somewhat been smoothed. Even though the overall macroeconomic environment in Portugal will continue to have an adverse impact on the company's domestic operations, we expect its pay-TV service, as well as the recent launch of its 4G data share plan, to be catalysts for growth. Another catalyst can be identified as the company's Brazilian subsidiary, Oi, which has done well in terms of both prepaid and postpaid customer growth, as well as expansion in its pay-TV subscription base.
The stock is cheap based on valuation multiples, and is currently 35% off from its 52-week highs. PT offers a trailing 12 months dividend yield of 16%, which is higher than its peers, and well supported by its cash flows. The key risk to the upside remains a possible downgrade by various credit rating agencies; however, the company has taken various steps to improve its financial flexibility, which include cutting its dividends. The dividend cut to 0.325 euros per share, and the share-repurchase plan translates to a slightly lower, but still attractive, dividend yield of 11%.
PT, together with its subsidiaries, provides communications and multimedia services mainly in Portugal and Brazil, with operations in various African countries as well. The company has more than 97 million customers worldwide, with Brazil accounting for almost 75% of total customers. Even though it has been incorporated in Portugal the company depends on its overseas operations for the majority of its revenues, and as of the year ended December 2011, Brazil accounted for almost 60% of total revenues. PT has a market cap of $4.6 billion.
PT is the largest telecom operator in Portugal and, due to its large market share, it is often considered a de facto monopoly. PT has a 100% stake in PT Comunicacoes, the nation's largest landline company, and operates through brands that include Meo, a triple-play service provider, and SAPO, which is a web content provider. Apart from the wireline business, the company also owns the largest mobile operator in Portugal. Internationally, Brazil is the largest market for the company, and as of the half ended June 2012, its operations in Brazil accounted for over 45% of the company's total revenues. PT ended the second quarter with a drop in profits, largely due to the deepening recession in Portugal. Despite the recession in the region, and careful spending by customers, the company beat analyst expectations of net earnings of 61 million euros by posting net profits of 69 million euros.
Overall, consolidated revenues in the first half of 2012 increased by 25%, despite domestic weakness, largely due to the company's strength in its Brazilian operations. A tough regulatory environment, the postponement of investment decisions by corporate customers, pricing pressures, and of course the recession in the region all led to the deterioration in the company's domestic operations, which reported a decline of almost 6% in revenues. The company has severely opposed the market regulator's decision to cut mobile termination rates, which are fees a telecom operator charges to another for making or terminating calls on its network; the cut in MTR had a significant impact on the company's revenue stream (15 million euros in the first half of 2012).
However, the drop in revenues was partially offset by the strength in its residential customer segment, which was able to grow, largely based on the performance of its Meo Triple play offer, which provides voice, broadband and pay-TV services. The company has done well to transform its offerings from the traditional landline services to its triple play bundle, which is benefiting the company, as the services provided under the bundle are differentiated and more resilient to current unfavorable economic conditions. Pay-TV subscription base expanded by 26% in the first half, with net additions of 104,000 as compared to 83,000 in the first half of 2011.
However, the company struggled in the prepaid mobile market, and continues to lose customers due to competitive price offers both in wireless and voice broadband. Both average revenue per user and minutes of use declined in the first half; however, the company recently launched its mobile broadband offer that offers high speed, access to live TV channels, and allows sharing of data among various devices that include PCs, smartphones, and tablets. At the launch in March, the service was available to only 20% of the Portuguese population, which expanded to 80% in a matter of two months after the acquisition of the 800MHz spectrum. While the results of this offer haven't been reflected in the first half, they can be expected to give a boost to the company's declining mobile customer base in Portugal.
As mentioned previously, the company, through its stake in Oi, operates in the high growth Brazilian market. Revenues from Oi jumped up by 85%, largely due to the company's decision to consolidate the results on a proportional basis. However, revenues from fixed voice services continue to decline, as is the case for the majority of other telecom operators, but this decline was offset by an increase in mobile revenues caused by postpaid customer growth, as well as an increase in demand for data services. Like the domestic Portuguese market, Oi also launched the triple play offer for its customers, and since the launch, it has expanded its content by adding the Bloomberg Channel and ESPN, among others. The demand for its bundle service can be judged from the expansion in its pay-TV customer base, which reached 487,000 customers in the second quarter, showing an improvement of over 35% over Q2 2011 with net addition of 91,000 customers. Below is a summary of the company's key business metrics and operational data.
Click to enlarge image.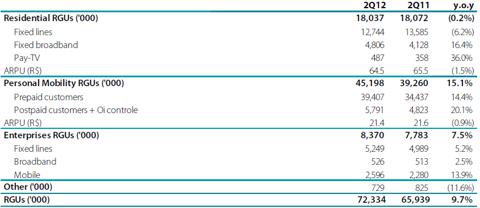 Source: www.telecom.pt.
Dividends
The company paid over 610 million euros in dividends in the first half of the year, while receiving dividends of 25 million euros from its various subsidiaries. Also in the first half, the company generated operating cash flows of 705 million euros. The stock currently offers a very high trailing dividend yield of 16% (future dividends can be cut to a 11% yield but shares will be repurchased as well), which is well supported by its operating cash flow yield of 50%. The company has a significant debt on its balance sheet; however, it has taken measures like reducing dividends per share, as well as announcing a three-year 200 million euro share buy back program to give it more financial flexibility in terms of reduced debt burden.
The stock is trading at cheap valuations as compared to most of its peers, namely Telefonica (NYSE:TEF), France Telecom (FTE) and Vodafone (NASDAQ:VOD), operating in the region. A brief summary of its valuations is presented below:
| | | | | |
| --- | --- | --- | --- | --- |
| | PT | TEF | FTE | VOD |
| Forward P/E | 7x | 7x | 7.4x | 11x |
| P/S | 0.5x | 0.7x | 0.6x | 1.9x |
| EV/EBITDA | 4.9x | 5.1x | 4x | 8x |
Disclosure: I have no positions in any stocks mentioned, and no plans to initiate any positions within the next 72 hours.
Business relationship disclosure: The article has been written by Qineqt's Telecom Analyst. Qineqt is not receiving compensation for it (other than from Seeking Alpha). Qineqt has no business relationship with any company whose stock is mentioned in this article.