PC growth has been slowing for last couple of years, particularly in developed markets' consumer segments. This is confirmed with an in depth look at the accounting behind Intel (NASDAQ:INTC) and AMD (NYSE:AMD) from the x86 market. Without going into details which you can find in other articles, I would like to give a consumer angle to those skeptical about the PC market. We will ignore potential growth prospects for these semiconductor designers outside of core CPU/GPU products to see if they are fairly valued in their core market, given even half the predicted growth.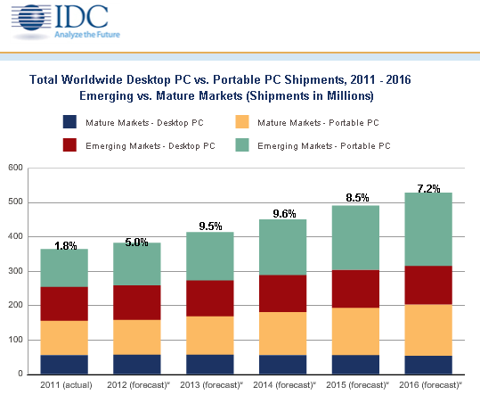 The consumer view - falling shipments
There are multiple factors behind the fear of falling x86 shipments, but the most important is that the PC market is now mature in most developed countries, with shrinking CPU upgrade demand. In the developing world PCs are either too expensive or not necessary for simple browsing. Cheaper tablets are serving that purpose. However, tablets currently are information-consumption devices. They are not great at producing reports or using applications like spreadsheets. A clear majority of Amazon (NASDAQ:AMZN) users agree that the market leader, the Apple (NASDAQ:AAPL) iPad, is not a replacement for a laptop, be it MacBook or PC.
In addition, tablet based decline of PC sales is expected to stop with the introduction of fast touch friendly Clover Trail and Hondo chipsets combined with Windows 8. As is normal AMD will probably enter the foray after Intel, and compete on price and GPU performance. This is good news for both companies as PC demand is flattening at worse and cannot fall much due to enormous growth still in China and South America. Just take a look at long term IDC demand forecasts showing total shipments growing to 47% in 2016 and 36% in 2015. Incidentally 2015 is the year when a big chunk of AMD debt will be due. Does that favor bankruptcy? Only if desktops and notebooks start running ARM (ARM). A remote possibility given the massive professional software ecosystem.
Nevertheless, the PC market needs more than "slim" gimmicks to increase average selling prices. Intel's Ultrabook push failed to spark a rush to get new devices nor have Intel's 15% per year performance increase made two year upgrade cycle's necessary. Windows 8 is a potential game changer once it arrives on the fully functional PC tablets. Fundamentally it is not in Intel or AMD's benefit to compete with each other on cost when the market is not expanding as it would drive down their margins. The word on Fudzilla is Intel is no longer competing with AMD head on but rather with Qualcomm (NASDAQ:QCOM). This will give AMD and Intel space to minimize margin erosion in classical PC market. Great news for shareholders.
Contrarian Investors
In this kind of low-growth environment, the best company in a sector is the company selling at the cheapest valuation with a high probability of survival. In the next couple of years as we get closer to the physical limits of VLSI, manufacturing capability will be less important. I personally do not read much into Intel's aggressive highlighting of manufacturing as competitive edge in its latest annual report. This wont last since Global Foundries (among others) is closing the gap with intention to roll out 20 and 14nm next year instead of 2014. This puts AMD more in-line with Intel and better able to compete in a telecom-like industry were growth has flatlined. The PC industry, particularly the semiconductor suppliers, will sooner or later return to reasonable valuation like telecoms. AMD's CEO has stock options at $6.34 and it is in his ability to raise AMD. Intel will enter mobile market and can overtake Qualcomm in addition to continuing to dominate the x86 PC market.
Based on fundamental consumer demand at the moment, Intel and AMD are both buys, and will rebound sometime in the mid-term (1-2 year) future similar to how telecom stocks recovered from lows. In particular I favor AMD due to the extremely low valuation with a current market cap of $2.32 Billion and Enterprise value of $2.89 Billion, according to Yahoo finance. This valuation implies an unrealistic assumption of fifty percent chance of bankruptcy. If AMD breaks up, the ATI division is worth at least as much as, if not more than, the market value.
Intel and AMD sales are mostly in the developing world and the Asia. In other words, more than 50% of revenue is not in Europe or USA.
AMD revenue by region
(USD millions; 2011 Annual Report)
| | |
| --- | --- |
| USA | $456 |
| Europe | $779 |
| Greater China | $3,493 |
| Singapore | $1,056 |
| Japan and others | $784 |
Intel revenue by region shares a similar distribution and is illustrated clearly in the annual report.
The death of x86 PC view
The sell side believe AMD and Intel are doomed, as there are a mass army of ARM licenses that will start producing desktops and servers with Windows and Linux using the ARM instruction set. These processors will rival x86 in terms of performance per watt and price/performance will favor Nvdia (NASDAQ:NVDA) and QualComm. So the rising demand for semiconductor microprocessors in full featured PC will be met by ARM and MIPS and the x86 architecture will go the way of the Motorola 6800 series architecture which used to be used in Macintosh's as well as Sega mega drives.
My view
Although potentially feasible to have ARM desktops, it would also assume that performance is no longer a requirement and that Microsoft (NASDAQ:MSFT) will fully embrace the ARM instruction set. After all there is no corporation today that does not run Windows on the client side or use Office or Visual Studio. Furthermore, the price and power advantage of ARM (low transistor count) will soon be diminished as it tries to rival x86 server and desktop performance with complex out of order, caching and thread handling enhancements. Last but not least, in the developing world, were software piracy is rife, hardware piracy is much more limite,d hence chipmakers are in a relatively safe position compared to software companies in markets were there will be growth.
Disclosure: I am long AMD. I wrote this article myself, and it expresses my own opinions. I am not receiving compensation for it (other than from Seeking Alpha). I have no business relationship with any company whose stock is mentioned in this article.
Additional disclosure: I may initiate a long position on INTC in the next week.