Regulators ordered Discover Bank to refund around $200 million to consumers after alleging that the unit of Discover Financial Services (NYSE:DFS) marketed deceptively. Despite this recent embarrassment, the banking and payment services firm's financial statements continue to show signs that the managers care more about appearances than reality.
The Federal Deposit Insurance Corporation (FDIC) and Consumer Financial Protection Bureau (CFPB) investigated whether Discover misled consumers into paying for credit card "add-on products" such as payment protection, credit score tracking and identity theft protection, the regulators said September 24. They noted evidence that Discover implied its products were free although they had charges, enrolled people without consent, and withheld significant information. Now Discover must refund more than 3.5 million consumers who were charged for the products between December 1, 2007 and August 31, 2011, as well as pay an additional $14 million penalty.
"We have worked hard to earn the loyalty of our cardmembers, and we are committed to marketing our products responsibly," David Nelms, chairman and CEO of Discover, said in a statement about the agreement on September 21. "As always, we will continue to strive to deliver the highest standards of customer service and satisfaction."
What these standards might be remains an open question, but Discover certainly isn't the only one to come under fire for its practices recently. In July Capital One Bank (U.S.A.), N.A. had to set aside $150 million for refunds to customers it allegedly persuaded to buy unnecessary or incomprehensible add-on products. The credit card company also paid a $25 million penalty to the CFPB and a $35 million one to the U.S. Treasury Department's Office of the Comptroller of the Currency.
But Capital One has reported its financial information more conservatively in recent months, as we discussed. Discover's financial data gives it an Accounting and Governance Risk (AGR ®) score of 23 as of August, indicating higher risk than 77% of comparable companies. This is slightly improved from an AGR of 15 as of September 2011, but still a sign that Discover's managers are presenting their financial results in the best possible light and should be taken with a grain of salt.
One reason for the low score involves the interest and fees associated with Discover's loans to customers; when these are relatively large, this can signal that a bank is extending credit to poor risks or recognizing revenue prematurely, among other things. As of May 31, the trailing twelve-month average of Discover's interest and fees on loans amounted to $6.4 billion, or more than 12% of the average of its net loans at the time versus the industry median of only 4%. While the industry median ratio has never gone up past 6% during the past three years, Discover's went as high as 15% as of November 30, 2010, when it began trending slightly downward in every quarter since.
That isn't the only red flag. For example, the trailing twelve-month average of what Discover said it set aside to meet expenses for problem loans (such as those customers fail to repay or ask to renegotiate) plunged to $804.2 million as of May 31, 2012 from $1.7 billion the same period last year, even as the average of its net loans increased to $52.8 billion from $46.7 billion during the same time frames. Discover explained in its annual filing for 2011 that lower levels of delinquency and charge-offs reduced its reserve requirements that year. Also, it had overestimated the extent of its losses in previous years, and so it played catch up by releasing those reserves in 2011. The data backs up this explanation, as Discover had provided for as much as $3.2 billion for potential loan losses as of August 31, 2010, or nearly 9% of its net loans versus the industry median of more than 5%, which suggests that Discover was reserving more for losses than its rivals at the time. Nonetheless, Discover's mistaken estimates in the past significantly boosted and masked its true profit growth later. By making the financial data look worse during the economic downturn, Discover's managers now benefit this year from profits that appear better. Basically, Discover has reported reserves in a way that complicates its financial results.
Discover's CEO David Nelms lists "simplicity" and "openness" among values that guide every action and interaction at his company, according to Discover's website. Even so, Discover's 2012 proxy statement somehow didn't disclose the performance targets and formulae used to determine annual cash incentive awards for its named executive officers. Many other companies do so, in the best interest of shareholders. Furthermore, Discover's compensation committee may make further discretionary adjustments based on its subjective evaluations, thereby complicating the nature of a pay-for-performance philosophy.
Discover described its philosophy of corporate responsibility in an overview for 2011 that it is "committed to proving[sic] our customers with simple, easy-to-understand information that helps them make wise financial decisions," such as advice on how to maintain good credit and a glossary of banking terms. "Corporate responsibility at Discover is about living up to our responsibilities to our shareholders, our customers, our employees, our communities, and our environment," CEO Nelms said in the report. "I firmly believe that when we live up to each of those responsibilities, we all benefit."
Indeed, if Discover had lived up to its responsibility to its customers in earlier years, it might have avoided its recent refund fiasco. Maybe the FDIC and CFPB can help Discover make a wiser financial decision the next time.

Region: North America
Country: United States
Sector: Financials
Industry: Consumer Financial Services
Market Cap: $ 20,241.2 mm (Large Cap)
ESG Rating: C
AGR Rating: Aggressive (23)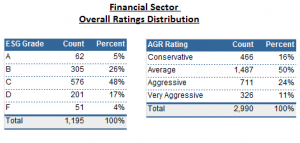 Disclosure: I have no positions in any stocks mentioned, and no plans to initiate any positions within the next 72 hours.
Business relationship disclosure: The article has been written by a financial reporter at GMI. The reporter has no business relationship with any company whose stock is mentioned in this article. Nobody paid GMI to write this article on his or her behalf.