The Federal Reserve's quantitative easing in 2010 (a.k.a. QE2) significantly boosted the share prices of resources-related ETFs. Some of the biggest winners from QE2 included iShares Oil Equipment (NYSEARCA:IEZ), SPDR Oil & Gas Exploration/Production (NYSEARCA:XOP), Market Vectors Russia (NYSEARCA:RSX), SPDR Metals & Mining (NYSEARCA:XME) and First Trust Natural Gas (NYSEARCA:FCG). Indeed, FCG went on a 50% 6-month run (10/10-4/11) shortly after the Fed enacted its second iteration of bond purchases.
With many of the major central banks in the world engaging in electronic money printing (a.k.a. QE3), would you benefit from buying previous beneficiaries of ultra-accommodative policies? Keep in mind, history is more likely to rhyme than repeat itself.
For example, QE2 centered on treasuries, whereas QE3 in the U.S. is focusing on mortgage-backed bonds. That should help real estate. Additionally, QE2 was primarily a domestic move, whereas QE3 incorporates actions by Japan, England, Europe as well as the United States. What's more, China is pumping cash into its banking system as a method to stimulate its economy, too.
What rhymes, then, is the idea that printing money and/or ultra-easy monetary policy is inflationary. It follows that inflation-fighting ETFs should reward investors with less risk.
On the other hand, ultra-accommodative easing may not prevent the global economy from sputtering. Will the realities of weakness across industrials and transportation stocks eventually overwhelm a risk-on shift back into energy and materials stocks? Indeed, on this go-around, investors may need to be far more selective in determining the ETFs most likely to succeed.
If you believe that the electronic creation of euros, yen, pounds and dollars can only benefit precious metals, then iShares Gold Trust (NYSEARCA:IAU), ETFs Physical Platinum (NYSEARCA:PPLT) and PowerShares DB Precious Metals (NYSEARCA:DBP) are worthy contenders. Precious metals should thrive in an inflationary or a "stagflationary" global environment.
(click images to enlarge)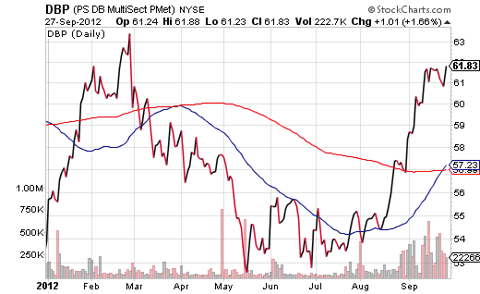 Also, corporations that provide wood could fare better than the materials segment at large. Not only does QE3 prescribe ceaseless buying of mortgage-backed bonds, but homebuilder sentiment continues to log multi-year peaks. Consider Guggenheim Global Timber (NYSEARCA:CUT).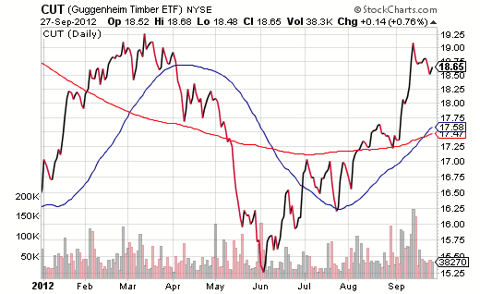 I also see the natural gas industry getting a bump from a combination of globally coordinated QE, as well as bipartisan support after the election. Whether we become exporters or transitional energy users or both, there are few competitive advantages for Americans as clear-cut as natural gas. Use pullbacks to a 50-day moving average as an entry into First Trust Natural Gas (FCG).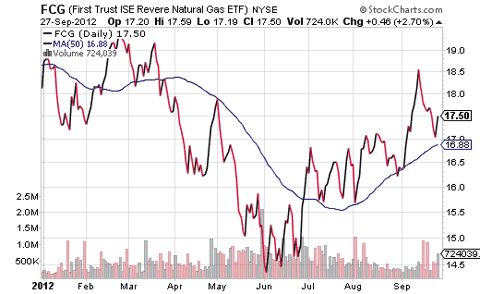 Disclosure: ETF Expert is a web log ("blog") that makes the world of ETFs easier to understand. Gary Gordon, MS, CFP is the president of Pacific Park Financial, Inc., a Registered Investment Adviser with the SEC. Gary Gordon, Pacific Park Financial, Inc, and/or its clients may hold positions in the ETFs, mutual funds, and/or any investment asset mentioned above. The commentary does not constitute individualized investment advice. The opinions offered herein are not personalized recommendations to buy, sell or hold securities. At times, issuers of exchange-traded products compensate Pacific Park Financial, Inc. or its subsidiaries for advertising at the ETF Expert web site. ETF Expert content is created independently of any advertising relationships.