Natural gas storage surplus relative to last year shrank by another 24 Bcf last week, according to the EIA report released this morning. The pace of injection into storage remains substantially lower than during the same period last year. Using a rolling three-week average to reduce the impact of short-term fluctuations, the weekly year-on-year differential in the injection rate remains essentially unchanged from the week before, at 38 Bcf/week or 5.4 Bcf/d.
(click images to enlarge)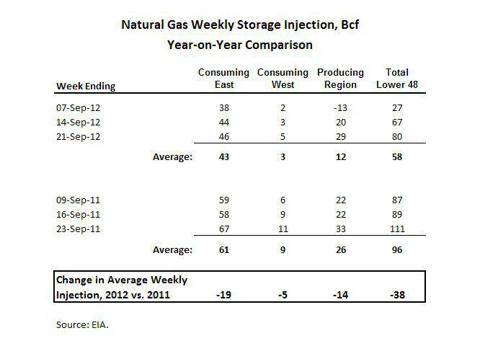 The contracting short-term contango in natural gas prices following last week's storage data release likely reflects the perception that a "containment" scenario at the end of this year's injection season is increasingly unlikely.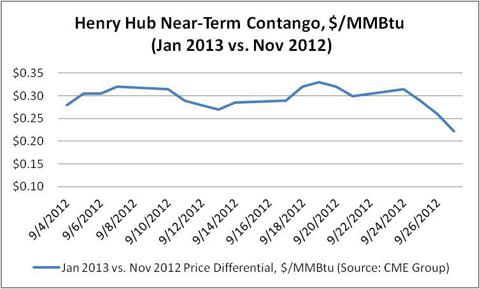 The pace of injection, which appears reasonably close to "normal" for this time of the year, indicates a better balanced natural gas supply and demand. However, it may be too early to believe that there is nothing but upside to the natural gas price going forward. It is very possible that dry gas rig count is close to bottoming, while supply declines are yet to be seen. For the first time in many months, producers in major gas shales have the ability to lock in adequate drilling economics through forward hedging.
A typical gas shale well spud today would reach its peak production in about two to three months. By hedging production for two or more years forward from that point, operators would be able to lock in average Henry Hub price of around $4 (or higher, depending on the duration of the hedge). For sweet spots within major gas shales, this would guarantee a robust rate of return at the well level. At the same time, declining drilling costs and infrastructure de-bottlenecking continue to improve overall returns.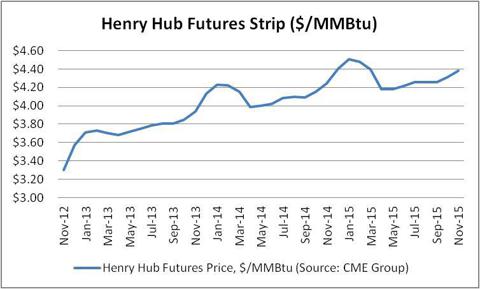 While operators never hedge 100% of their production, the forward curve of today provides the opportunity to secure returns on a portion of projected volumes and effectively guarantee minimal economics for the drilling campaign as a whole. Just a few months ago, the situation was different: in the vast majority of dry gas producing areas, new wells could not be hedged and drilled economically based on the then prevailing forward curve. Operators had no choice but to drop rigs. The incentive to reduce the rig count is no longer there. The market will take notice.
Storage Statistics Summary
According to EIA, as of September 21, working gas in storage was 3,576 Bcf. The 80 Bcf injection into storage came on top of the consensus. Stocks are 296 Bcf higher than last year at this time, and 282 Bcf above the 5-year average of 3,294 Bcf. The surplus relative to the 5-year average was 75 Bcf in the East Region, 48 Bcf in the West Region, and 159 Bcf in the Producing Region. The Producing Region has continued to see the fastest inventory growth.
Assuming six "big" injection weeks remaining in this year's season, 70 Bcf per week on average would be required to reach the 4.0 Tcf storage level by the end of the season (which would be in line with the previous two years once storage capacity additions are taken into account).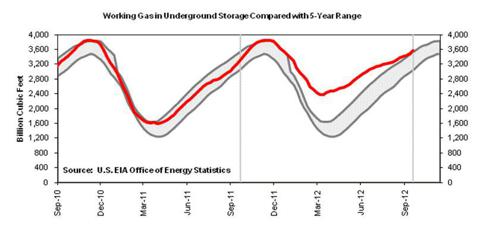 This discussion of natural gas fundamentals bears relevance to natural gas producer stocks. My natural gas producer index includes:
Chesapeake Energy (NYSE:CHK)
EnCana Corporation (NYSE:ECA)
Devon Energy (NYSE:DVN)
Southwestern Energy (NYSE:SWN)
Ultra Petroleum (UPL)
EXCO Resources (NYSE:XCO)
WPX Energy (NYSE:WPX)
Cabot Oil & Gas (NYSE:COG)
Range Resources (NYSE:RRC)
QEP Resources (NYSE:QEP)
Quicksilver Resources (NYSE:KWK)
Forest Oil (NYSE:FST)
Bill Barrett (NYSE:BBG)
Disclosure: I have no positions in any stocks mentioned, and no plans to initiate any positions within the next 72 hours. I wrote this article myself, and it expresses my own opinions. I am not receiving compensation for it (other than from Seeking Alpha). I have no business relationship with any company whose stock is mentioned in this article.