Research in Motion's (RIMM) stakeholders can celebrate the fact that the company's Q2 FY2013 adjusted loss of $0.27 per share ($142M) was less than the $192M incurred in Q1 2013. Its GAAP loss was $235M ($0.45/share), which was less than the $518M ($0.99/share) in the prior quarter. The company benefited from the absence of $335M in Goodwill impairments during the quarter. If we were to exclude the $335M in goodwill from Q1 losses, the company's reported loss would have increased from $183M in Q1 2013 to $235M in Q2 2013. RIMM's stakeholders should not read too much into the $84M in free cash flow generated in the quarter, because it was less than 50% of the $169M generated in Q1 2013. While linked quarter revenues increased by a staggering 2%, RIMM's Gross Margin % declined from 28% to 26% in this period.
(click images to enlarge)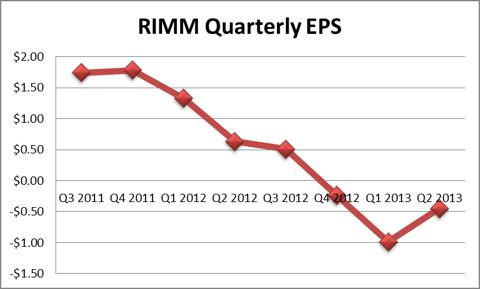 Source: Morningstar Direct
We are actually amazed that the overall BlackBerry subscriber base grew to 80M in Q2 2013 versus 78M in Q1 FY 2013 and 77M in Q4 FY 2012. However, RIMM saw a rapid decline in its BlackBerry smartphone shipment volumes from 10.6M in Q2 FY 2012 to 7.4M in Q2 FY 2013. The worse news for RIMM was that BlackBerry Playbook tablet computer volumes failed to see growth from last year, from 200,000 in Q2 FY 2012 to 130,000 Q2 FY 2013. These trends explain why RIMM saw a steep 31% decline in its revenue versus the comparable quarter last year. RIMM couldn't cut operating expenses fast enough to offset this rapid revenue reduction, resulting in the company's third straight quarterly loss from operations. Despite the fact that the BlackBerry has been in the market eight years longer than Apple's (NASDAQ:AAPL) iPhone, the iPhone sold 26M units in its most recent quarter, compared to 7.4M units for the BlackBerry smartphone. Furthermore, Apple's iPad tablet computer sold 17M units in its most recent quarter, compared to 130K units for the PlayBook, even though the "brand-new" Playbook is $100 less expensive than the old Apple iPad 2.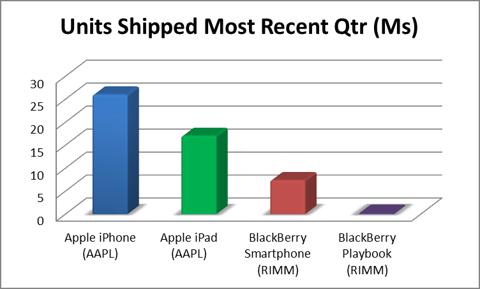 Sources: Apple's Q3 FY 2012 Earnings Release and RIMM's Q2 FY 2013 Earnings Release
To no one's surprise, RIMM previously announced that it had delayed the product launch date to the first quarter of calendar year 2013. Even though RIMM is finally able to confirm this target, it will be faced with a four- to six-month disadvantage versus Apple's iPhone 5 device. The Apple iPhone 5 was released for sale on Friday, September 21, and despite a few hitches, Apple has already sold 5 million iPhone 5 devices. Considering that RIMM only sold 7.8M BlackBerry devices in Q1 2013 and 7.4M in Q2 2013, RIMM's stakeholders should be embarrassed by the sales volumes of the BlackBerry devices.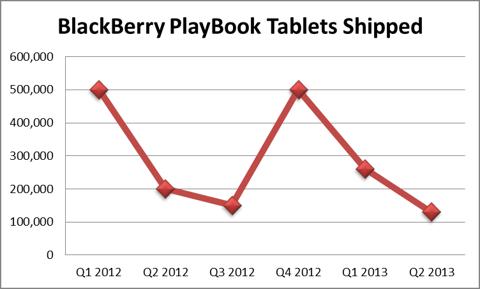 Source: Research In Motion's last six earnings releases
We see continued operational challenges for RIMM going forward. We see lower sales volumes for the BlackBerry Playbook tablet for the next few quarters. We also believe that BlackBerry smartphone sales volumes will continue to struggle until it releases BlackBerry 10. We continue to see a greater proportion of entry-level devices sold with regard to total devices sold, and an aggressive effort to sell BlackBerry 7 platform handsets before the BlackBerry 10 devices are available for sale. We not only see the company incurring losses in Q3 FY2013, we see losses extending into the rest of FY 2013 and the beginning of FY 2014.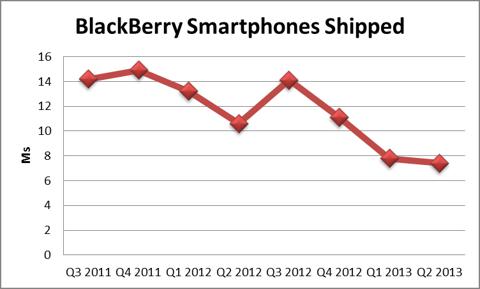 Source: Research In Motion's last six earnings releases
We are glad for RIMM's shareholders that the company is trying out new leadership. RIMM recently hired Steve Zipperstein as its Chief Legal Officer. Zipperstein retired in 2011 after serving as General Counsel for Verizon Wireless for eight years. He joins Kristian Tear, Chief Operating Officer and Frank Boulben, Chief Marketing Officer, as the latest additions to RIMM's executive management team. The hiring of Frank Boulben fills us with concern, however, because he came from the bankrupt telecom network firm LightSquared. We are also concerned about the hire of Kristian Tear because of his experience with Sony Ericsson. Until Ericsson sold its 50% share of Sony Ericsson to Sony, it had racked up nearly SEK11B in operating losses during the last three years. We believe that this new leadership team will at least be more focused on trying to restore RIMM's relevance than bringing a hockey team to the Golden Triangle.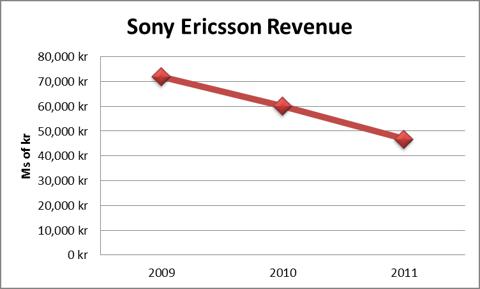 Source: Ericsson's 2011 20-F
Based on these observations, we see choppy performance for RIMM's stock and continued declines in operating income until it releases BlackBerry 10. While RIMM lost less than analyst expectations because it deemed $93M of after tax expenses as "non-recurring" and declared an adjusted loss of $0.27/share, we noticed that RIMM's reported loss of $0.45/share was comparable to the $0.46/share expected by analysts. RIMM's stakeholders shouldn't be too jubilant with regards to this EPS "beat," because analysts expected RIMM to lose $0.20 in the quarter 90 days ago, according to FactSet.
We still believe that investors should take a "show me" approach before even considering investing in RIMM. RIMM stakeholders can point to RIMM's $4.47 per share of cash and marketable investment securities, and that the company is debt free. However, we see that the company has no real chance to generate a significant level of cash until BlackBerry 10 is released. Plus, investors in BlackBerry should take note of the fact that of RIMM's $253M in free cash flows during H1 2012, $483M was due to net changes in the company's working capital, as it is liquidating its inventory and accounts receivable, and $561M was due to reductions in capital investment spending. We don't see the company being able to repeat this trick next year.
Disclosure: I am long AAPL. I wrote this article myself, and it expresses my own opinions. I am not receiving compensation for it (other than from Seeking Alpha). I have no business relationship with any company whose stock is mentioned in this article.
Additional disclosure: This article was written by an analyst at Saibus Research. Saibus Research has not received compensation directly or indirectly for expressing the recommendation in this article. We have no business relationship with any company whose stock is mentioned in this article. Under no circumstances must this report be considered an offer to buy, sell, subscribe for or trade securities or other instruments.