As predicted, this has been the year of the special dividends. Armstrong International (NYSE:AWI), Limited (LTD), HollyFrontier (NYSE:HFC), and Choice Hotels (NYSE:CHH) all have declared large special dividends.
It makes good financial sense to make these large dividend payments to shareholders before the end of the year. Unless things change, taxes on dividends are set to go up come January 1. Instead of 15%, dividends will be taxed at personal rates.
As we get closer to January 1, expect more companies to take advantage of what may be the last of the dividend tax advantage.
I'm going to go out on a limb and speculate Cal-Maine Foods (NASDAQ:CALM), the egg producer, will announce a special dividend this year. (If they haven't considered it they should.)
Here's why.
1. The company is unusually cash rich. They have $261 million in cash and short-term investments, or almost $11 a share. In fact, they've been piling up the cash despite paying out a dividend equal to a third of their profits. Really, management has been very disciplined. They are wonderful savers.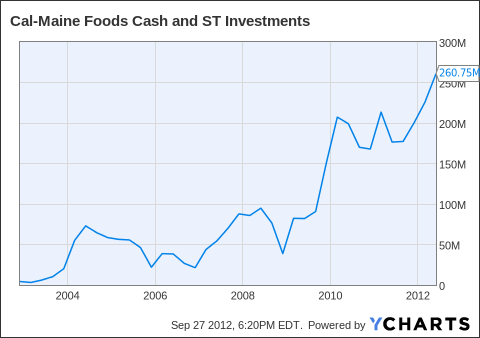 2. Their balance sheet is unusually strong. Debt/Equity is at a historically low 0.14. Take a look at how their debt/equity ratio has been dropping. Current ratio has climbed to 3.14. Cal-Maine could easily afford a $2 to $3 a share special dividend.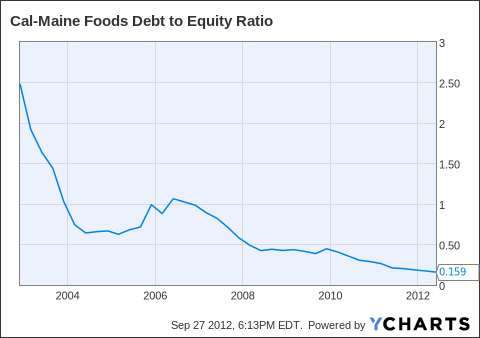 3. Insiders hold 36% of the stock. It makes good sense to reward themselves and the rest of Cal-Maine's shareholders before taxes go up.
What's in it for you and me (besides the dividend)?
Cal-Maine has a large 14% short interest. Usually, investors get leery of stocks with big short positions. Don't. This isn't a new phenomenon. The shorts don't know anything you or I don't know about Cal-Maine. There have been huge short positions in Cal-Maine for the last 5 years. Cal-Maine's been proving the shorts wrong, rewarding loyal stockholders with excellent dividend payments and almost doubling their share price.
I doubt the shorts have considered a $2 to $3 special dividend. A special dividend would likely create a giant short squeeze as those shorts rush to cover.
Bottom line:
Cal-Maine is a shareholder-friendly company. Their strong balance sheet affords them the luxury of making a giant special dividend before year's end upending the large short position.
Disclosure: I have no positions in any stocks mentioned, and no plans to initiate any positions within the next 72 hours. I wrote this article myself, and it expresses my own opinions. I am not receiving compensation for it (other than from Seeking Alpha). I have no business relationship with any company whose stock is mentioned in this article.
Additional disclosure: Disclaimer: The opinions in this document are for informational and educational purposes only and should not be construed as a recommendation to buy or sell the stocks mentioned. Past performance of the companies discussed may not continue and the companies may not achieve the earnings growth as predicted. The information in this document is believed to be accurate, but under no circumstances should a person act upon the information contained within. We do not recommend that anyone act upon any investment information without first consulting an investment advisor as to the suitability of such investments for his specific situation.