Last year, we evaluated Student Transportation Inc (NASDAQ:STB) as an investment. We were intrigued by its high yield of 8% however we were displeased by the fact that the company was guzzling gas for acquisitions and increased capital expenditures. We were not foolhardy enough to recommend an outright short sale of the company because we felt that the 8% dividend yield was supporting the price of the shares and that dividend hungry investors didn't know, didn't show or didn't care that the company's biggest source of cash inflows was debt and equity issuance. We determined that it would be an underperformer relative to the major indexes such as the S&P 500 and the NASDAQ composite and we can see that our expectations back in September have come to pass as STB's recent share price of $6.87 for its NASDAQ shares is slightly lower than the $7 it fetched when it went on the NASDAQ on September 6th, 2011.
September 25th was the big day for STB as it needed to prove to Saibus Research and Prescience Investment Group that it has changed its ways and was focused on shareholder friendly financial management. Based on its Q4 2012 results, we can see that the company is focused on chasing revenue at the expense of net income, EPS and ROICs and that is the subject of our report.
We didn't mind the fact that the company had spent $6.4M on acquisitions during the quarter, especially since the company was able to realize an immediate bargain purchase gain for accounting purposes of $6.925M. However, we were shocked to see the company incur nearly $29.4M in net capital expenditures in the fourth quarter. We were hoping that the company would have realized that it got lucky in Q3 2012 when its secondary offering was oversubscribed and that it wouldn't be prudent to count on dividend hungry retail investors to buy the shares from the company's Canadian I-Bankers. We can see that STB's management has already allocated more than half of the nearly $80M in cash from the Q3 2012 secondary offering for its typical ACD uses of cash which are as follows:
Acquisitions: $6.4M
Capital Expenditures: $29.4M
Dividends $8M
STB generated 15% total year-over-year revenue growth during the quarter, which was significantly lower than the 24.5% growth rate experienced in Q3 2012 and Q2 2012. We were content that in this quarter, EBITDA increased 16.1% in Q4 2012, though it was certainly lower than 31.5% in Q3 2012 versus Q3 2011 and the 19.5% EBITDA growth in Q2 2012 versus Q2 2011. Net Income jumped to $9.2M in the quarter versus $2M last year's comparable quarter however this was due to gain on bargain purchase for one of its acquisitions. EPS increased by 367% from $.03 in Q3 2011 to $.12 in Q4 2012.
BUSINESS SEGMENT REVIEW
STB's Oil and Gas Segment's revenue declined from $5.9M in 2011 to $5.1M in 2012 due to lower production volumes of oil and gas products and lower oil and gas commodity prices. The 13.6% decline in segment revenues was compounded by a 9% increase in operating, general and administrative expenses. While the $300K decrease in depletion expense helped offset the increase in cash operating expenses, it was not enough to forestall a 30% decrease in operating income for the segment in FY 2012.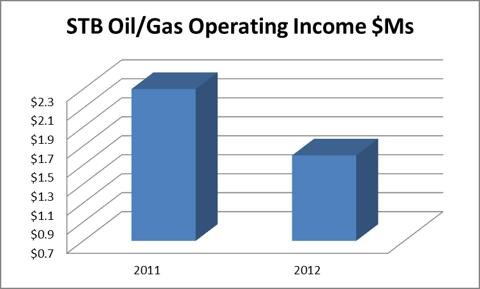 Source: STB's Q4 2012 MD&A
STB's School Bus Transportation Segment
Revenue: STB's School Bus Transportation Segment is the core business of the company. The segment saw its revenue increase by $64.6M and reach $363.9M in FY 2012. This represented a 21.5% increase from 2011 and it was primarily due to 7 acquisitions with closed during the year, as well as the inclusion of a full year's worth of revenue contributions from 4 acquisitions in 2011. The company also started operations on nine new-bid contracts in 2012 and did not renew two contracts for 2012. Acquisitions and bid-in contract revenue accounted for $51.7M in incremental revenue, contract rate increases and net increases in service requirements added $15.2M. These revenue gains more than offset $1M in negative impacts from the translation of Canadian Dollars into US Dollars and $1.3M revenue reduction from the two contracts not renewed in 2012. On balance, we would strongly prefer to see the company breakout further the incremental revenue from acquisitions and the incremental revenue from new contract bids.
Costs of Operations: Unfortunately for STB's School Bus Transportation Segment, its acquisition strategy has not generated operating leverage as 2012's costs of operations increased by $48.4M (22%) versus 2011 levels. This was due to the inclusion of the aforementioned acquisitions as well as new contracts. We were disappointed that driver's wages as a % of revenue increased by 40bp and that maintenance wages as a % of revenue increased by 10bp. As a percentage of revenues, operating expenses increased by 90bp due to an additional year of vehicle leasing expenses and fuel costs increased by 130bp. These were partially offset by a 50bp decrease in insurance costs due to favorable developments in prior year accrued claims and fringe benefit costs decreased by 80bp due to favorable developments in prior year workers compensation claim accruals.
General and Admin Expenses: General and admin expenses for the segment were $38.3M in 2012, an increase of $7M (22.4%) versus last year. $3.4M of this incremental expense was due to new business for the company and the rest of this admin expense growth was due to increased accounting and professional service fees associated with its conversion to US GAAP and the company's share listing on the NASDAQ stock exchange.
Acquisition, Depreciation and Amortization Expenses: We were pleased to see that the company seemed to have some operating synergies here as these expenses totaled $40.4M in 2012, an increase of $5.6M (16.1%) versus last year. We were pleased to see that these expenses increased at a slower rate than revenues.
Non-Cash Equity Compensation Expenses: We were displeased that Non-Cash equity compensation expense increased by 42% in 2012 ($3.6M) versus 2011 ($2.55M) and we were especially displeased considering that this expense was 61% greater than the company's 2012 Net Income. We were especially displeased considering that it was 22X greater than the company's pre-tax income and that it represented more than 10% of the company's cash flow from operations. We don't think that management should be adding back this expense to Adjusted EBITDA because the Class B shares granted to executives are putable and the company has spent $15M since 2007 repurchasing Class B shares from management. In Q1 2013, the company granted 127,541 Class B Series Three shares worth $847K at the time of the July 2 grant to STB's management and 2,500 shares were put back by STB's management pursuant to the terms of the plan.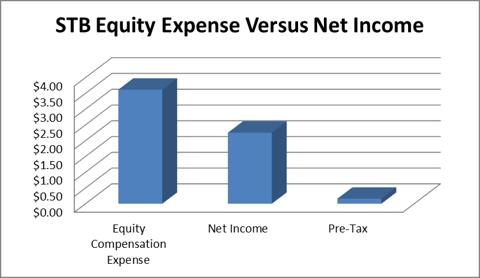 Source: STB's Q4 2012 MD&A
CORPORATE FINANCIAL AND ADMINISTRATIVE MANAGEMENT
Capital Expenses: STB spent $40.5M on capital expenses for new-bid contracts (including $1.2M in new oil and gas wells) and $8.1M on vehicle replacement. The company also spent $61M to fund seven acquisitions during the year as well and harvested $1M from the disposal of old assets. The company also entered into nearly $30M of new lease agreements in Q1 2013 for replacement CapEx. The term of these leases is for six years, annual lease payments will be $4.3M and the effective interest rates range from 2.8%-4.6%. We're tired of hearing from management about "growth capital expenditures versus maintenance capital expenditures". Despite all this sophistry management has been spouting about their growth story, operating cash flows have stagnated since 2009 even with the benefit of $246M in total acquisition and CapEx spending.
Operating Income and Interest Expense is a bit of good news, bad news and ugly news. The good news is that its transportation segment operating income grew by 22.33% and this figure outpaced transportation revenue growth by 83bp. The bad news is that the company's oil/gas segment suffered a $700K decline in its operating income due to lower natural gas prices. The ugly news is that the company's operating income of $14.2M was 8% less than the $15.3M in interest expenses.
Conclusion
In conclusion, though we still believe that STB is overvalued relative to our fair value target, the company still offers an 8.1% dividend yield. However, we don't believe that yield is suitable enough relative to the risks associated with the company. If the company's management was willing to pause its acquisition and capital expenditure spree and focus on improving the ROIC, Net Income and Free Cash Flow results of the company, we think it would be a great idea for income oriented investors. However, we believe that is not likely to happen because STB's management compensation is focused on revenue growth at all costs and has been focused on its acquisition and capital expenditure spree in order to chase revenues. We were disappointed in the incorrigible nature of STB's management with regards to managing cash flows. We think that they should have been surprised that the I-Bankers were willing to raise $80M for the company on a bought deal basis every with its shoddy fundamentals and that the deal was oversubscribed. We were satisfied with STB's Q3 2012 performance and we have raised our estimated fair intrinsic value of STB's common stock twice from the end of March to May. However, based on the performance of the company in Q4 2012, we think that the company is overvalued by 50-70% unless it becomes more disciplined with its cash flows and financial management.
Disclosure: I have no positions in any stocks mentioned, and no plans to initiate any positions within the next 72 hours. I wrote this article myself, and it expresses my own opinions. I am not receiving compensation for it (other than from Seeking Alpha). I have no business relationship with any company whose stock is mentioned in this article.
Additional disclosure: This article was written by an analyst at Saibus Research. Saibus Research has not received compensation directly or indirectly for expressing the recommendation in this article. We have no business relationship with any company whose stock is mentioned in this article. Under no circumstances must this report be considered an offer to buy, sell, subscribe for or trade securities or other instruments.