Hedge funds have underperformed as of late. If we see a year-end rally, it will be a function of beta chase by active managers because of the fear of underperformance. For data collected since 2009, Citi reports that an average rally into the year-end has been 11%-15%, with high beta stocks outperforming the broad market by 1%-8%. It also reports that so far 2012 has been a bad year for active management and that the resulting beta chasing will be much higher as compared to the previous years. In the last three years, only 18% of actively managed funds have beaten their benchmark by 250bp, as compared to the long-term average of 29% of funds. The HFRX Equity Hedge Index has a YTD return of 3.38%. The report also notes that the mutual fund beta has fallen to a two-year low of 0.69, and that 63% of funds, currently, have a below market beta (less than 1).
What follows from these trends is that active managers will again be on the lookout for high beta stocks as the year goes on. As of now, the financial, homebuilding, technology and healthcare sectors have outperformed the S&P 500 index. The financial, homebuilding and technology sectors are also among the above-average risk sectors (high beta cyclical sectors). The table below represents sector-wise risks and returns. We believe these sectors will be the focus of hedge funds in order to yield above market returns in the hope of a market rally.
Table: 1
| | | |
| --- | --- | --- |
| | YTD Return | Beta |
| (NYSEARCA:SPY) | 16.53 % | 0.99 |
| (NYSEARCA:XLF) | 21.42 % | 1.49 |
| (NYSEARCA:XHB) | 48 % | 1.44 |
| (NYSEARCA:XLK) | 22.66 % | 1.03 |
Chart 2:

Click to enlarge
Bonds to Stock Rotation
The general rule of thumb is that as stocks go up, buying pressure on bonds eases, which results in a decline in the value of bonds. As highlighted before, we forecast a beta chase as active managers go after high-beta investments that will dictate a rotation of investment from bonds to stocks. Another factor that will lead to the rallying of the stocks is the QE policy pursued by the Fed. The recent round of easing, which is the Fed's third attempt to flex its monetary policy even further, will primarily involve the purchase of mortgage-backed securities. Such initiatives by the Fed are generally expected to increase investor confidence and also their appetite for risks. The expected outcome will be increased flocking of investors in high-beta stocks, as investors leave bonds in search of higher returns.
Chart: 2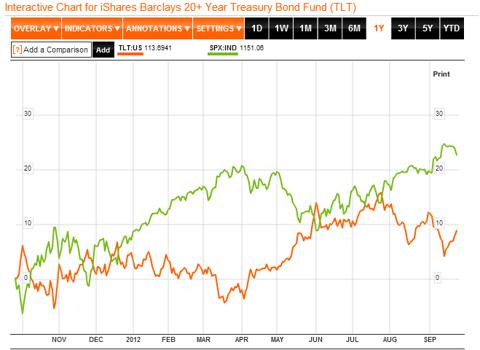 Click to enlarge
Conclusion
Empirical evidence suggests an increased activity of the stock market during the year end. SPY rose by 14% last year in the four months, from October till the end of the year. Citi also predicted that last year's trends will be repeated, albeit in a more aggressive manner. We also expect a shift towards stocks, away from bonds, as we project an increase in the risk appetite of investors.
Disclosure: I have no positions in any stocks mentioned, and no plans to initiate any positions within the next 72 hours.
Business relationship disclosure: The article has been written by Qineqt's Macro Analyst. Qineqt is not receiving compensation for it (other than from Seeking Alpha). Qineqt has no business relationship with any company whose stock is mentioned in this article