AGCO Corporation (NYSE:AGCO) has one of the more impressive streaks for earnings surprises, having beaten the Zacks Consensus Estimate every quarter over the last 5 years. Most recently, this agricultural equipment maker surprised by nearly 15% in the second quarter, and also raised its earnings guidance for 2012. With low valuation metrics, including a price-to-sales (P/S) ratio as low as 0.5, this Zacks #2 Rank (Buy) stock is worth considering as a value pick.
AGCO's Winning Streak Continues
On July 26, AGCO Corporation reported second quarter earnings of $2.08 per share, surpassing the Zacks Consensus Estimate of $1.81. Profit advanced 53% year over year to $204.9 million. The results were boosted by higher sales and production volumes, improved pricing in North America and Western Europe, low levels of material cost inflation, and synergies from the GSI Holdings acquisition.
Revenue jumped 14% year over year to $2.7 billion. Barring an unfavorable currency translation impact, revenues soared roughly 25%. The growth was mainly driven by robust sales from North America.
North American revenues soared nearly 86% to $733.4 million. The Asia-Pacific region saw a roughly 52% surge in sales to $101.3 million. In the Europe/Africa/Middle East (EAME) region, sales improved 0.5% to $1,406.9 million. However, revenues dipped nearly 10% in South America to $448.5 million.
The company raised its adjusted earnings guidance for 2012 to a range of $5.50 to $5.75 per share from the prior view of $5.50 per share. Moreover, its Board approved a $50 million share repurchase program.
GSI Holdings, which AGCO Corporation acquired in 2011, performed strongly in the second quarter and is expected to contribute to earnings growth in the second half. In addition, production at the new assembly facility at the Marktoberdorf plant in Germany is expected to start during the back half of 2012, increasing the company's production capacity and efficiency.
However, the prevailing drought conditions in the U.S., which have ravaged the Corn Belt, may hurt the demand for AGCO Corporation's farm equipment in the remainder of 2012.
The company will report its third-quarter results on October 30. At the moment, the Zacks Consensus Estimate is calling for $1.01 per share.
Rising Earnings Estimates
The Zacks Consensus Estimate for 2012 has increased 3.4% over the last 90 days to $5.72 a share, reflecting a projected annualized growth of roughly 27.7%. For 2013, the Zacks Consensus Estimate rose 1.2% over the same timeframe to $5.82 per share, representing an estimated year over year growth of roughly 1.8%.
A Cheap Stock
AGCO Corporation's cheap valuation should beckon investors seeking value. In addition to having a low P/S, the stock has an attractive forward P/E ratio of 8.0. It also has a low price-to-book (P/B) ratio of 1.4. (A P/S ratio lower than 1.0, a P/E below 15.0 and a P/B ratio under 3.0 generally indicate value.) Moreover, the company has a PEG ratio of 0.63, a 37% discount to the benchmark of 1 for a fairly priced stock.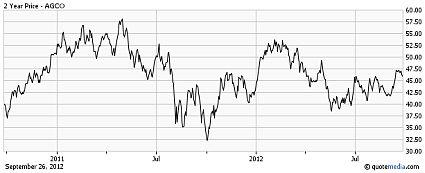 Founded in 1990, AGCO Corporation makes and distributes agricultural equipment and related replacement parts globally. The company, which has a market cap of roughly $4.5 billion, offers a full range of farm equipment through a wide network of dealers and distributors in more than 140 countries across the globe. AGCO Corporation's product line is categorized under five groups – tractors, replacement parts, combines, application equipment/sprayers, and other machinery. The company also distributes an array of implements, planters, and other equipment for its product lines.
Disclosure: None