The world of food and agriculture has garnished increasing attention in recent months as drought prompted food prices to climb to new highs. Yet in the midst of a food crisis, a little known endeavor by one company to revolutionize the food industry is only beginning to come to surface despite years in the making. Solazyme-Roquette Nutritionals [SRN], a 50-50 joint venture between renewable oils innovator Solazyme (SZYM) and Europe's No. 2 starch processor, Roquette, is preparing to introduce some of the most innovative food materials to date that correspond to multiple consumer trends. The astonishing fact is that these products are derived from the most unlikely of candidates - algae.
Whole algalin flour and protein products under the company's brand of Almagine will be able to be used across the food product spectrum varying from cookies, to beverages, to dressings, and even to ice cream. Used as an ingredient for processed food products, the inputs cost less than their alternatives and are able to significantly reduce calories, fat, saturated fat, and cholesterol while simultaneously adding fiber and protein. Additionally, all of these results are made possible through natural, whole-ingredient, non-allergenic, vegan, and gluten-free means. Most importantly, the taste remains neutral and the consistency fair. Having personally tried samples in a visit to Solazyme's San Francisco location back in March 2012, I can vouch for the latter two. Some examples of the benefits can be found in the image below.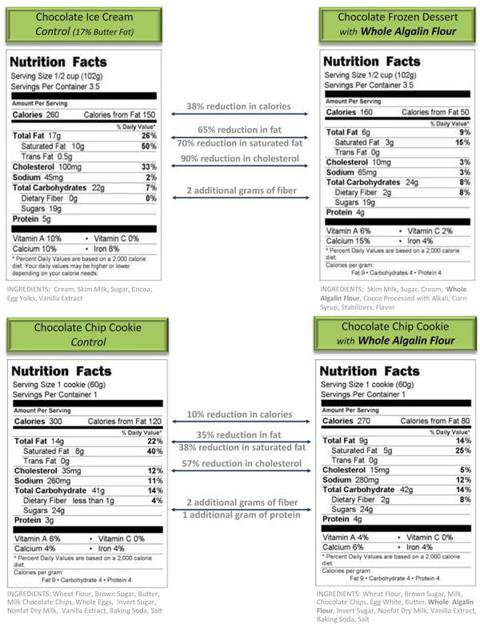 Solazyme's joint venture is beginning to ramp up its production capability and is now in the process of delivering test samples to prospective clients. According to a minutes report by the Council on Development Finance for the State of Delaware, SRN recently requested a grant for $150,000 for the establishment of a small operations office on the east coast. In the report found here, a more definitive detail regarding upcoming clients can be ascertained from the following note:
"Acting Chairman Sears asked who would be SRN's customers. Mr. Billig stated that the customers would include Sears, General Mills, ConAgra, Cadbury, Hershey and Kraft. It was asked what product these customers were using now. Mr. Billig stated that the present sources of protein are whey and soy. He further stated that the product lipid is a new entity and SRN is in the process of convincing customers that they could use SRN's products instead of using eggs, cream and butter. He stated that this product would cost less and fewer products could be used to achieve the same type of functional use."
With such specific companies mentioned, it would appear likely then that the first companies to incorporate this new food material into their products also happen to be amongst the most established food product companies in the world. Kraft Foods (KFT), which operates both Kraft & Cadbury, is a packaged food product titan which boasts everything from beverages to dressings, from chocolates to, of course snack foods. ConAgra (NYSE:CAG) also dabbles across the board in the food product sector and is likely to strongly benefit from a healthy egg improvement as the creator of Egg Beaters. On the other hand, General Mills (NYSE:GIS) has a strong emphasis on grains and snack foods with a high gluten content. Hershey (NYSE:HSY), like Cadbury, is most affectionately known for its chocolates, which have a high dependence on eggs, cream, and butter. Perhaps the most questionable of the future customers on the list lies in the naming of Sears (NASDAQ:SHLD), who is probably sought after for its wide distribution network in various packaged goods.
For investors, the most direct means to capitalize upon this novel ingredient introduction appears to rest in Solazyme itself. While the cost savings of a cheaper input along with increased product capability are sure to benefit the target customer, the exclusive ability for SRN to manufacture Almagine allows for increased margin control. Considering Solazyme's 50% interest in the company along with gross margins estimated at 40-70%, there can be little doubt that the company is sure to turn a considerable profit. This is especially so given that Roquette entered into the joint venture so enthralled by Solazyme's technology, that they offered to pay all the capital costs and expenditures associated for the construction and operation of two facilities totaling an approximate 55,000 metric ton [MT] per year capacity.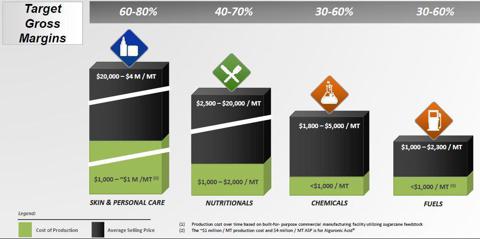 Even considering Solazyme's low-end revenue estimates of $2500/MT, the proposed initial production facility could result in a theoretical $68.75 million (50% of $137.5 million) in cost-free value to the company's holdings annually. As what is being considered as a side business by some investors for a company most commonly associated with renewable biofuels and chemicals, Solazyme's nutritionals sector alone may very well justify the current valuation of the company, now resting on a market capitalization of $709 million as of September 27, 2012. Construction phase 2 of 3 is now underway, which will result in an aggregate 5,000 MT plant expected to be completed in 2012 and operational by 2Q 2013. Phase 3, the 50,000 MT facility, will also be financed by Roquette through means of equity and debt.
Despite meeting and often exceeding its milestones since its IPO in 2011, Solazyme continues to trade at a 35% discount to its IPO price of $18/share. This fact remains puzzling as the company has stated in its conference calls that the company has more than enough capital to sustain operations until it reaches profitability. For investors with a long-term investment strategy, the promising future of Solazyme offers a diversified approach to capitalizing upon leased technology to its established joint ventures. Already witnessing the potential of Solazyme's nutritionals sector by itself, investors should be comforted by the company's significant strides found also in the fields of renewable energy, chemicals, and skincare. More information about these sectors can be found in my many other articles listed here.
Disclosure: I am long SZYM. I wrote this article myself, and it expresses my own opinions. I am not receiving compensation for it (other than from Seeking Alpha). I have no business relationship with any company whose stock is mentioned in this article.