Even though investing in small-cap stocks is a risky proposition, Communications Systems, Inc. (NASDAQ:JCS) has consistently produced good results, which is evident in its generally expanding gross and operating margins. Moreover, the improving housing market has also benefited the company in the form of increased demand for its products from various telephone companies and distributors.
With a considerably low debt, a long-term debt-to-equity ratio of only 1.4%, and an attractive dividend yield of 5.5%, JCS can be considered a safe investment. In addition, its dividend yield is well backed by its upward trending operating cash flows, and a free cash flow yield of 11%. The stock, with its relatively cheaper valuations, is trading close to its 52-week low of $10, which could be a good entry point for investors seeking dividend income and capital appreciation.
Communications Systems Inc. operates directly, as well as through its subsidiaries that are located in the U.S., United Kingdom and China. JCS has three reportable segments. Through its Suttle and Austin Taylor business, the company manufactures and sells modular connecting and wiring devices for voice and data communications.
The company's Transitions Network business is involved in the manufacture of network interface devices and media converters; and through JDL Technologies, it provides technology solutions, including wireline and wireless network designs. It is a small-cap technological company, with a market cap of $93 million and a dividend yield of almost 6%.
The company recently announced its quarterly results, which showed revenue generation of around $26 million in the second quarter, which was less than what it earned in the same quarter of the previous year. The decline was due to a large one-time project in its Transitions Network and JDL businesses, which makes the YoY comparison rather difficult.
However, excluding the one-off impact of the project, its Transitions Network business' second quarter revenues increased by over 8% as compared to 2Q2011. Similar growth was seen in its Suttle business, which generated a 14% growth in revenues due to the improvement in the housing market, especially for multi-tenant dwelling units. It also made the most of new opportunities in copper and fiber connectivity products, within its existing customer base.
The company also gained new customers in Latin America and Europe. The majority of the company's sales are to telecom operators. These sales have been improving consistently, largely because of the increase in multi-tenant dwelling unit constructions in the U.S. housing market. These sales accounted for 75% of Suttle's sales in Q22012, as compared to 64% in 2011.
Sales by Customer Group

Q22012

Q22011

Telephone Companies

$7.7mn

$5.7mn

Distributors

$1.4mn

$1.08mn

Others

$0.038mn

$0.032mn
Overall, the company has consistently increased its revenues over a number of years, with revenue growth reaching 20% in the financial year ended 2011. This growth has generally trickled down to its operating income. This has caused an expansion in its margins, which have increased to 12% in FY2011 from 8% in FY2007. Earnings have also risen at a 4-year CAGR of almost 11%.
As evident in the chart given below, the company has a history of increasing dividends. It recently announced a quarterly dividend of $0.16 per share for FY2012. The stock currently yields 5.5%, which is well supported by its free cash flow yield of approximately 11%. In FY2011, the company incurred a total of $7.9 million in capital expenditures and dividend payments, while generating operating cash flows of $14 million, which indicates JCS's capacity to finance its dividends through its operating cash flows.
Click to enlarge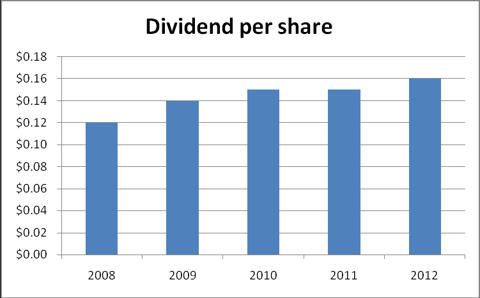 Click to enlarge
Based on P/S and EV/EBITDA multiples, the stock looks cheap as compared to its rivals, TE Connectivity Ltd. (NYSE:TEL) and Emerson Electric Co. (NYSE:EMR). However, it is trading at a premium when compared on a P/E basis. Below is a summary of the key multiples that the stock is trading at.
| | | | |
| --- | --- | --- | --- |
| | | | |
| Forward P/E | 24x | 10x | 13x |
| P/E (TTM) | 22X | 14X | 15X |
| P/S | 0.8x | 1.03x | 1.45x |
| EV/EBITDA | 6X | 8X | 7X |
Disclosure: I have no positions in any stocks mentioned, and no plans to initiate any positions within the next 72 hours.
Business relationship disclosure: The article has been written by Qineqt's Telecom Analyst. Qineqt is not receiving compensation for it (other than from Seeking Alpha). Qineqt has no business relationship with any company whose stock is mentioned in this article.