Carter's (NYSE:CRI) makes apparel and footwear for babies, toddlers, and young children. Specific products include body-suits, undershirts, playclothes, sleepwear, outerwear, washcloths, receiving blankets, layette gowns, bibs, caps, booties, hosiery, and shoes. The company markets its products under four brand names: Carter's, OshKosh, Child of Mine, and Just One Year.
The Carter's brand generated 62% of first half 2008 sales. It focuses on basic goods for newborns and kids up to size 7. The OshKosh brand, which produced 20% of sales, targets newborns to size 16. OshKosh concentrates on making apparel for active kids and relies on durable fabrics such as denim.
The Carter's and OshKosh brands are distributed through wholesale (39% of sales) and retail (43% of sales) channels. Wholesale customers include Kohl's,Toys "R" Us, JCPenney, Costco, Macy's, and Sam's Club.
Retail operations consist of about 230 Carter's stores and 160 OshKosh stores located in outlet centers and strip malls. The remaining 18% of sales are from the Child of Mine and Just One Year brands, which are sold through Wal-Mart and Target.
CRI also derived $15.1 million in royalty income during the first half of 2008. This income, which is not included in the top line, is the result of numerous domestic and international licensing agreements.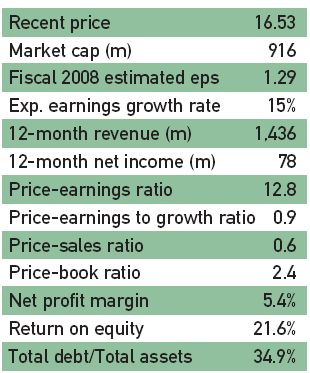 Despite significant improvements in the Carter's brand, 2007 proved disappointing overall for the company. Struggles at OshKosh resulted in a 10.2% drop in wholesale revenues and a 4.3% decline in comparable store sales for the brand. CRI took a $154.9 million write-off, which resulted in a net loss of $70.6 million or $1.22 per share. The company has since taken steps to improve in-store marketing efforts and more effectively convey the brand's lifestyle image. It took similar steps in the past when the Carter's brand was struggling.
While still early, recent results suggest these actions are bearing fruit. Q2 net sales rose 4.8% year-over-year to $301.7 million. The Carter's brand jumped 10.3% and OshKosh sales gained 7.7%. However, Child of Mine and Just One Year sales plunged 13.6%.
Margin improvement in Carter's retail operation was not enough to offset discounting activity in the wholesale business and in the OshKosh stores. The pro forma net operating profit margin fell 145 basis points to 4.84%. Pro forma net income fell 20.8% to $6.1 million or 10 cents per share, yet this surpassed the company's own guidance, which predicted a small net loss.
Despite recent improvements, the OshKosh brand remains unprofitable. Moreover, weak consumer spending trends, which are likely to persist in the near term, were partly responsible for greater-than-expected order cancellations. We are also concerned that the performance of the Child of Mine brand deteriorated despite its value-priced orientation.
On the bright side, inventory levels have improved, which should reduce discounting activity during the second half of this year. Given its value proposition and current trends, Carter's retail operations will likely remain the primary driver of growth over the near term. The OshKosh brand should also improve and contribute to profits as the year progresses. Management noted that the fall season for both brands is off to a strong start. It expects better margins in its OshKosh retail sales channel.
Perhaps most importantly, a boom in domestic births over the past two years guarantees an ample supply of customers.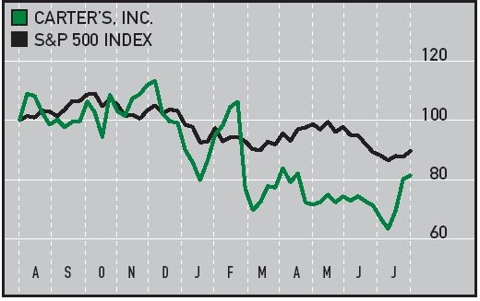 Click to enlarge