Deutsche Bank endeavored to create, promote and list a Buffett-like exchange-traded vehicle on a U.S. exchange. Through the Elements namesake, they called it the Morningstar Wide Moat Total Return ETN (NYSEARCA:WMW).
In case you're not familiar with the "moat" concept, companies that have a wide moat are believed to have substantial competitive advantages. In other words, competitors aren't getting past the alligators in the water or the guards on the drawbridge.
Automatic Data Processing (NASDAQ:ADP), for instance, dominates payroll services. Cisco (NASDAQ:CSCO) keeps competitors at bay in the world of Internet connectivity. And Coca Cola (NYSE:KO) on brand name recognition as well as an unparalleled global bottling network is a beverage superstar.
"Wide moat" investing opportunities is what Warren Buffett seeks. In essence, Mr. Buffett looks for monopolistic types with recurring streams of revenue, whether that's a seemingly indestructible brand like Coca Cola or a "you'll-be-back-eventually" company like Home Depot (NYSE:HD).
In theory, of course, the Wide Moat Total Return ETN should have been a hit. After all, long-term investors who focus on the competitive advantages of 20 mega-companies with a single "wide moat" investment should do well... right?
Here's the problem with Wide Moat ETN: There simply hasn't been a lot of interest in this exchange-traded note.
It sounds gimmicky... even if it is not. It costs 0.75%, which is on the high side of the exchange-traded universe. And it doesn't have the appeal or the track record that a direct investment in Buffett's Berkshire Hathaway (NYSE:BRK.B) has.
Looked at another way, why do we invest in exchange-traded funds and notes? Low cost diversification, tax efficiency, liquidity and transparency are the primary colors. Arguably, Berkshire is a diversified mutual fund-like vehicle that owns shares of many a wide-moat corporation. Buffett holds his purchases for many years, offering tremendous tax efficiency. And it doesn't cost an additional 0.75% in an expense ratio to own BRK-B.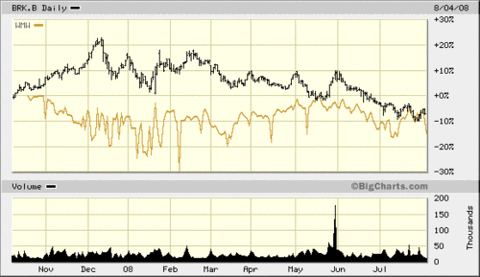 Since the bear began in October of 2007, both Berkshire Hathaway and Morningstar Wide Moat seem to be on equal footing. But if you had to choose one over the other? If you had to invest in a conceptual exchange-traded vehicle with some of the things one likes about exchange-traded investing or a holding company that has more of those desirable features and a world-renowned track record... which would you choose?
(If you're interested in this debate, or if you want to know more about each investment's stake in financial companies, re-read "What to Make of Warren Buffett's Stake in Mega-Financials.")
Disclosure Statement: ETF Expert is a web log ("blog") that makes the world of ETFs easier to understand. Pacific Park Financial, Inc., a Registered Investment Advisor with the SEC, may hold positions in the ETFs, mutual funds and/or index funds mentioned above. Investors who are interested in money management services may visit the Pacific Park Financial, Inc. web site.