Shares of Lululemon Athletica (NASDAQ:LULU) have returned 33.4% over the past 12 months. At $74.26 per share, the stock is trading not far off from its 52-week high of $81.09. The market has generously assigned a very rich valuation to Lululemon given the company's highest growth rates in the apparel sector as well as its strong financial condition. However, I am of the view that the lofty valuation has left very limited margin of safety and investors should avoid this highly risky investment. My opinion is based on the following three reasons:
1. Lululemon's stock price appears extremely expensive even relative to the company's robust financial performance (see table below). Analysts on average predict Lululemon's revenue, EBITDA, and EPS to rise by CAGRs of 29.9%, 27.8%, and 33.0%, respectively, over the current and next fiscal years, significantly higher than the average rates for a peer group consisting of major players in the sports apparel sector such as Under Armour (NYSE:UA) and Nike (NYSE:NKE). However, the company's EBITDA margin is expected to shrink by 1% over that period, compared to an average expansion of 0.5% for the peers. Lululemon's profitability is substantially superior to all its peers as all of the firm's margin and capital return measures are the highest in the group. In addition, the company assumes no debt, compared to the peer average debt to capitalization and debt-to-EBITDA ratios of 23.4% and 0.5x, respectively. In term of liquidity, Lululemon's has a robust capability in generating free cash flow as reflected by the firm's LTM FCF margin at 12.9%, significantly higher than the peer average of just -1.3%. The firm's both current and quick ratios are standing at 8.0x and 6.0x, respectively, reflecting an extremely healthy and fortress-like balance sheet.

Click to enlarge
Accounting for the financial excellence, the shares should of course deserve a large valuation premium. However, Lululemon's current valuations - 8.8x EV/sales, 28.9x EV/EBITDA, 9.1x P/S, and 49.9x P/E (all on LTM basis) represent an overwhelming average premium of 427% over the four peers' average trading multiples (see table above), suggesting that the current market premium is likely exaggerated by market's over-optimism.
2. Comparing with Lululemon's current financials with what they were exactly a year ago (see table below), the company's revenue and EBITDA growth estimates have largely come down and the expected change in EBITDA margin has also gone from positive to negative, but EPS growth remains solid. The firm has also become less profitable as reflected by a slightly decline across all of the margin and capita return measures. Despite the weaker growth and profitability, the stock's forward P/E and EV/EBITDA multiples have only dropped very little (see charts below), meaning that the current valuations have become more expensive over the year.

Click to enlarge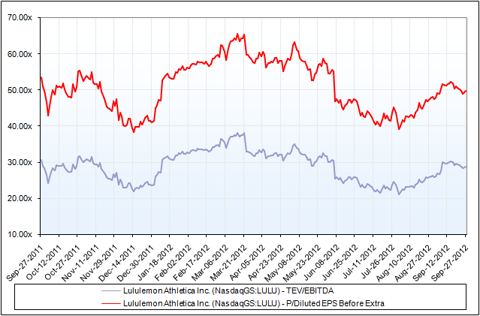 Click to enlarge
3. Lululemon's stock is likely priced for the assumption that the company can continuously deliver positive surprises. John Zolidis at The Buckingham Research Group wrote in his recent research note:
"At current levels LULU is trading within 5% of its 52-week high and has an $11 B market cap. On any reasonable, fundamental basis, this valuation is absurd. However, we don't think the stock is really owned by fundamental investors. It's owned by momentum-style, chartists, growth-at-any-cost investors. These investors don't care about the valuation. As long as revisions to earnings are positive, the growth rate isn't slowing, and the outlook is for further upward revisions, we don't think many of the shareholders involved with the stock will sell, regardless of the price."
Bottom line, at the current stretched and fragile valuations, any subtle disappointments made by Lululemon would likely trigger a sizable sell-off. However, I am not shorting the stock as the company still has a sound fundamental and spectacular growth in the retail sector. Also the PEG ratio stays at 1.4x, which is slightly lower than the peer average of 1.6x, implying that going against the stock may also be highly risky. As such, I encourage investors to avoid this investment.
Comparable analysis table is created by author, all other charts are sourced from Capital IQ, and all financial data is sourced from Capital IQ, Morningstar, and Thomson One.
Disclosure: I am long NKE. I wrote this article myself, and it expresses my own opinions. I am not receiving compensation for it (other than from Seeking Alpha). I have no business relationship with any company whose stock is mentioned in this article.