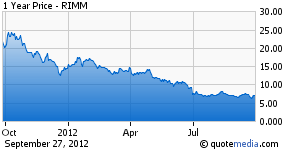 Research In Motion (RIMM) surprised everyone, including myself, by reporting a loss of "only" 27 cents per share. Analysts had been expecting a loss of 46 cents, so naturally, the stock shot up in after-hours trading. As of this writing (around 7:30 p.m. Sept. 27), the stock is trading at $8.52, up 19.5% from the closing price of$7.14, and a full 37% higher than its 52-week low of $6.22, set just three days ago. Already, the message boards are lighting up with "Short RIMM in the After Hours!!!! Trade of a Lifetime," and other posts to the same effect, but I'm not so sure about that.
The company shipped 7.4 million of their smartphones this quarter, a full million above expectations. Where analysts seem to have underestimated the company most is its thriving markets in countries such as Indonesia and Venezuela, among others. It sold more and lost less than expected, and even with its loss managed to expand its cash on hand to $2.3 billion from $2.2 billion.
Assuming last night's gains hold today, RIMM is still only trading at around $2.40 above its net asset value, which in theory only values RIMM's business itself at around $1.26 billion. The company's fundamentals look very appealing, with $4.38 per share of cash on hand, over half of the share price simply represents cash RIMM holds. The remainder of the share price represents the company's physical assets. It is also worth noting that the company holds no debt whatsoever.
Even assuming an $8.50 open in the morning, the stock still only trades at 0.45 times tangible book value. What will make or break this company will be its ability to convince current Blackberry users to choose a new Blackberry 10 device come upgrade time. Let's be honest, virtually no smartphone users are going to ditch their iPhones or Androids for a Blackberry, and the company knows this. All the free cash will come in handy to market their new devices and to ensure a smooth rollout.
While this stock is a bit of a gamble, the valuation alone makes it extremely cheap and worth a look. Theoretically, even if RIMM threw in the towel and liquidated its assets, the shares would be worth $6.00 or so. Therefore, the short-term downside is very limited (the company most certainly can run through its cash over time), and the upside potential of the Blackberry 10 greatly outweighs the downside risk.
Disclosure: I have no positions in any stocks mentioned, but may initiate a long position in RIMM over the next 72 hours. I wrote this article myself, and it expresses my own opinions. I am not receiving compensation for it (other than from Seeking Alpha). I have no business relationship with any company whose stock is mentioned in this article.